Empowering Businesses with Secure Crypto Solutions: ChangeNOW's API for Seamless Integration
In the rapidly evolving digital landscape, businesses are constantly seeking innovative solutions to stay ahead of the curve. It is particularly true for companies operating within the cryptocurrency sphere, where the demand for secure, efficient, and reliable services is on the rise. This is where ChangeNOW's exchange API comes into play, a potent tool that offers diverse benefits to businesses, making it an invaluable asset in today's dynamic crypto ecosystem.
Understanding ChangeNOW's Exchange API
ChangeNOW's exchange API, or Application Programming Interface, is an advanced communication protocol that links businesses to ChangeNOW's robust cryptocurrency exchange platform. This dynamic tool enables businesses to offer their customers efficient crypto transaction processing for over 850 cryptocurrencies. It allows companies to broaden their service offerings without the need for significant investment in infrastructure, making it a cost-effective solution for businesses.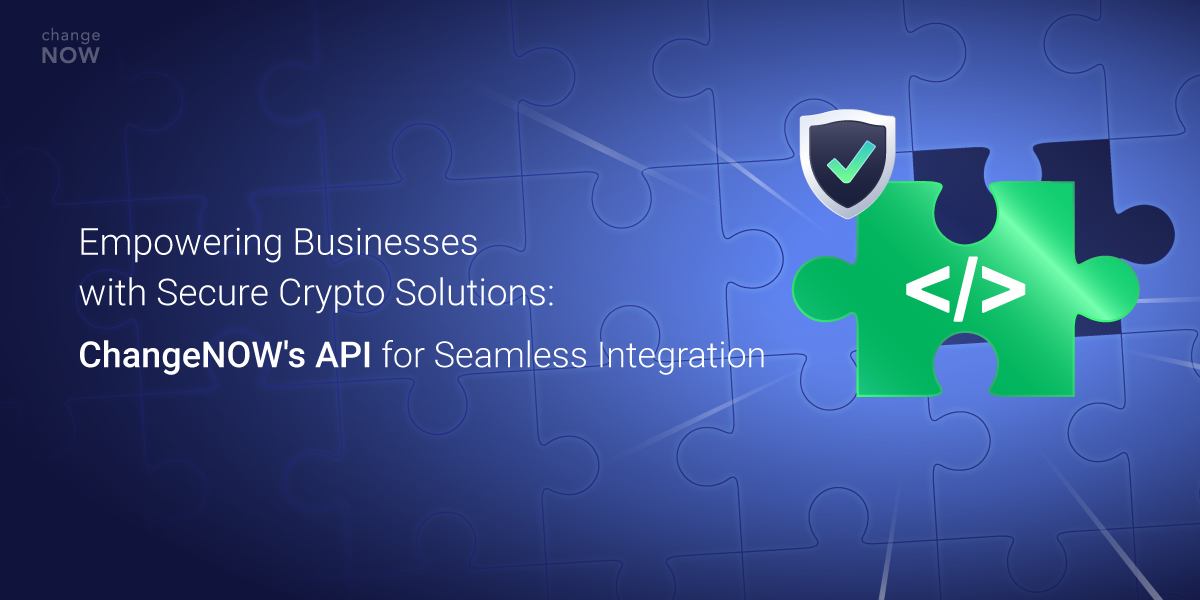 ChangeNOW as a Solution for Businesses
ChangeNOW's API offers businesses a suite of tools designed to enhance their services and cater to the evolving needs of their customers. Some of the key tools offered by ChangeNOW's API include:
Instant exchange API: Allows businesses to run their cryptocurrency exchange with the ChangeNOW API. It is open-source and highly adjustable to fit the specific needs of businesses.

Payment Processing API: With this tool, businesses can start receiving payments in 850+ crypto assets and withdraw their income in 11 cryptocurrencies and fiat currencies.

Custody API: It enables businesses to manage the financial flow between their account and their user's deposits automatically, based on the amount of their consumption or performance.

White Label Exchange: Businesses can launch their cryptocurrency exchange platform for free and start earning. It's a fully customized turnkey solution to run their non-custodial crypto wallet.
Why ChangeNOW API is Secure
Security is a top priority for businesses dealing with cryptocurrencies. ChangeNOW's API is designed with robust security measures to ensure secure transactions for businesses and their customers. Here are some key points that highlight the security features of ChangeNOW's API:
Non-Custodial Approach: ChangeNOW follows a non-custodial model, meaning it does not store any user data or funds on its platform. This eliminates the risk of funds being compromised in the event of a security breach.

Enhanced Security Measures: ChangeNOW is committed to implementing advanced security measures to protect users' transactions. One notable addition is the recently introduced AML-beta feature, which helps detect and prevent suspicious cryptocurrency transactions. You can learn more about this feature in our blog post.

Optional KYC: ChangeNOW offers optional Know Your Customer (KYC) procedures for businesses that require additional identity verification. This ensures compliance with regulatory standards while still providing flexibility for businesses that prioritize privacy.

Proven Track Record: ChangeNOW has a solid track record in the industry, having facilitated millions of secure and reliable cryptocurrency transactions. This reflects the trust and confidence placed in ChangeNOW's API by businesses and users worldwide.
These security features and practices make ChangeNOW's exchange API one of the most secure options available in the market. You can rest assured that your transactions are protected and your customers' funds are secure with ChangeNOW.
Why Secure Exchange API is Important for Crypto Wallets
Cryptocurrency wallets such as Ledger, Bitkeep, Phantom and others are becoming increasingly popular as more people invest in digital currencies. However, these wallets are also becoming a prime target for hackers due to the large amount of funds they hold. In order to protect their users' assets, it is crucial that these wallets implement secure exchange APIs.
Secure APIs, like the one that ChangeNOW offers, provide an additional layer of security for users, making it more difficult for hackers to gain access to their accounts and steal funds. By prioritizing security measures like integrating secure exchange APIs, these wallets can not only provide a safer user experience but also build customer loyalty and trust.
Implementing trustworthy API can also help these wallets stand out in a crowded market. With so many options available to investors, security is becoming a top priority for many users. By offering a secure experience, these wallets can differentiate themselves from their competitors and attract more users.
In addition to protecting funds, with integration of the exchange API, they can also safeguard users' personal information. With the rise of identity theft and other cyber threats, it is more important than ever for companies to take steps to protect their customers' data. By implementing a secure exchange API, these wallets can provide users with peace of mind knowing that their information is being kept safe.
Wallets Using ChangeNOW's API: Success Stories
Several wallets have already integrated ChangeNOW's exchange API and have reaped significant benefits. Here are some successful use cases:
Zelcore: Zelcore, a multifunctional cryptocurrency wallet, has successfully integrated ChangeNOW's API to offer its users a seamless and efficient way to exchange cryptocurrencies within the wallet. This integration has enhanced the overall user experience, allowing Zelcore users to easily access a wide variety of cryptocurrencies.

Cake Wallet: Cake Wallet is a popular mobile cryptocurrency wallet focusing on ease of use. By integrating ChangeNOW's API, Cake Wallet has been able to offer its users a seamless way to exchange cryptocurrencies directly within the wallet, enhancing the overall user experience.

Trezor: Trezor is a leading hardware wallet provider that offers advanced security for holding cryptocurrency private keys. Additionally, Trezor wallets provide the convenience of fast and easy cryptocurrency swaps thanks to ChangeNOW.

Exodus: Exodus, a renowned cryptocurrency wallet and portfolio management platform, provide a smooth and seamless exchange experience for its users. With the integration of ChangeNOW's API, Exodus users can easily exchange more than 850 cryptocurrencies without leaving the wallet's intuitive interface.

D'CENT, a hardware wallet provider, has incorporated ChangeNOW's API to offer its users a built-in exchange function with a custom user interface. This integration provides D'CENT wallet users with a secure exchange experience, further enhancing the utility and convenience of the wallet.
These success stories highlight the benefits that come with integrating ChangeNOW's exchange API, providing a competitive edge in the increasingly crowded crypto market.
Why Crypto Wallets Should be Using API
In today's dynamic crypto ecosystem, every wallet should consider integrating an exchange API. ChangeNOW's API offers a plethora of benefits that can significantly enhance the services offered by wallets. By incorporating ChangeNOW's API, wallets can offer their users the ability to perform secure and efficient crypto transactions directly within the wallet's interface. This not only improves the user experience but also fosters customer retention and loyalty.
How to Integrate ChangeNOW's Exchange API
Integrating ChangeNOW's exchange API is a straightforward process. Here are the steps involved:
Sign Up: Register for an account on the ChangeNOW website.

Generate API Key: Create an API key. This key will allow your platform to communicate with ChangeNOW's API.

Integration: Collaborate with your development team to integrate the API into your platform. ChangeNOW offers comprehensive documentation to guide you through the process.
Once the integration is complete, you can offer your customers the ability to perform crypto transactions securely and efficiently.
Revolutionize Your Business with ChangeNOW's API
In conclusion, ChangeNOW's exchange API offers businesses a powerful tool to enhance their services, boost their revenue, and cater to the evolving needs of their customers. With its robust security measures, extensive range of cryptocurrencies, and ease of integration, it's an invaluable asset for any business operating in the crypto sphere.
Ready to take your business to the next level? Integrate ChangeNOW's API today and unlock a world of possibilities for your customers. Revolutionize your crypto transaction experience with ChangeNOW's secure and efficient exchange API. Sign Up now and embark on a journey towards a secure and prosperous crypto future.