A Case Study on Cake Wallet's Seamless Integration of ChangeNOW API
In today's fast-paced digital world, cryptocurrency has gained traction as an innovative and secure form of transaction. However, the process of exchanging cryptocurrencies can be complex, time-consuming, and risky. This is where ChangeNOW and Cake Wallet come in, revolutionizing the way users exchange cryptocurrencies. This article delves into Cake Wallet's seamless integration of ChangeNOW's API, highlighting the benefits and opportunities it brought to their business.
Introduction to Cake Wallet
Cake Wallet is a popular mobile cryptocurrency wallet that focuses on ease of use. Since its inception in January 2018, it has attracted over 250,000 users. Cake Wallet enables users to securely store, send, receive, and exchange various cryptocurrencies such as Bitcoin, Monero, Litecoin, and Haven. Additionally, it allows users to buy and sell crypto with fiat, trade crypto directly within the wallet, and purchase gift cards in the marketplace using cryptocurrencies.
The wallet's privacy features are simple and unmatched, making it a go-to choice for users who prioritize security. Cake Wallet's commitment to simplicity and user-friendliness is evident in its design and functionality.
Introduction to ChangeNOW
ChangeNOW is a leading non-custodial cryptocurrency exchange platform that provides users with a simple, fast, and secure way to exchange cryptocurrencies. With over 850 cryptocurrencies available for exchange, ChangeNOW offers a wide range of options for users to choose from. The platform does not require users to create an account or undergo a verification process, ensuring a hassle-free experience.
ChangeNOW emphasizes user security, using a decentralized exchange architecture and SSL technology to encrypt transactions and protect users' personal information.
ChangeNOW's API: A Game Changer for Businesses
ChangeNOW's application programming interface (API) is a powerful tool that enables developers to incorporate the platform's cryptocurrency exchange functionality into websites and applications. The API provides a smooth and seamless experience, ensuring that users can exchange cryptocurrencies quickly and securely without leaving the interface of their preferred application or platform.
Integrating ChangeNOW's API into a business's platform or application opens up a world of possibilities, offering several benefits that make it a superior choice in the market.
1. Simple and intuitive interface
The API is designed to provide a simple and intuitive interface, making it easy for users to exchange cryptocurrencies quickly and securely. This ease of use has made ChangeNOW a popular choice for businesses looking to integrate a cryptocurrency exchange platform into their products.
2. Wide range of cryptocurrencies
ChangeNOW offers more than 850 cryptocurrencies, including popular options like Bitcoin, Monero, Litecoin, and Haven. This versatility ensures that users can exchange their preferred currencies without the hassle of using multiple platforms.
3. Fast transaction times
ChangeNOW's API boasts fast transaction times, ensuring that users get the best possible rates when they exchange cryptocurrencies. This speed not only enhances user experience but also sets the platform apart from its competitors.
4. Personal account manager
ChangeNOW offers a dedicated personal account manager to assist partners with any issues or questions they may have. This level of personalized support ensures that partners have the resources they need to provide the best possible exchange experience to their users.
5. Flexible fee structure
The API allows partners to set their own fees, granting them control over the amount charged to their users. This feature enables partners to provide a competitive exchange service while also earning revenue from a percentage of each transaction performed by their customers. This added control and financial benefit ensures that partners can optimize their business model and offer their customers the best possible exchange experience.
6. Variable and fixed exchanges
The API allows two exchange types: variable and fixed. Variable exchanges are perfect for a user trading for their own purposes. Fixed exchanges allow Cake Wallet to further enhance the payment experience. With fixed rate exchanges in Cake Wallet, users can easily pay invoices in any of the supported cryptocurrencies while remaining in the wallet of the user's choice. With both variable and fixed exchanges available through the ChangeNOW API, Cake Wallet users are treated to excellent coverage for both of these use-cases.
Case Study: Seamless Crypto Exchange Within Cake Wallet
The integration of ChangeNOW's API into Cake Wallet allows users to exchange cryptocurrencies directly within the wallet. This eliminates the need to navigate through different trading platforms, saving users time and effort. Furthermore, the API ensures instant transactions, providing users with the best possible rates when they exchange currencies.
This seamless integration also means that users can be confident in the security of their transactions. ChangeNOW's API ensures that all exchanges are processed quickly and securely, with significantly mitigated risk of user error..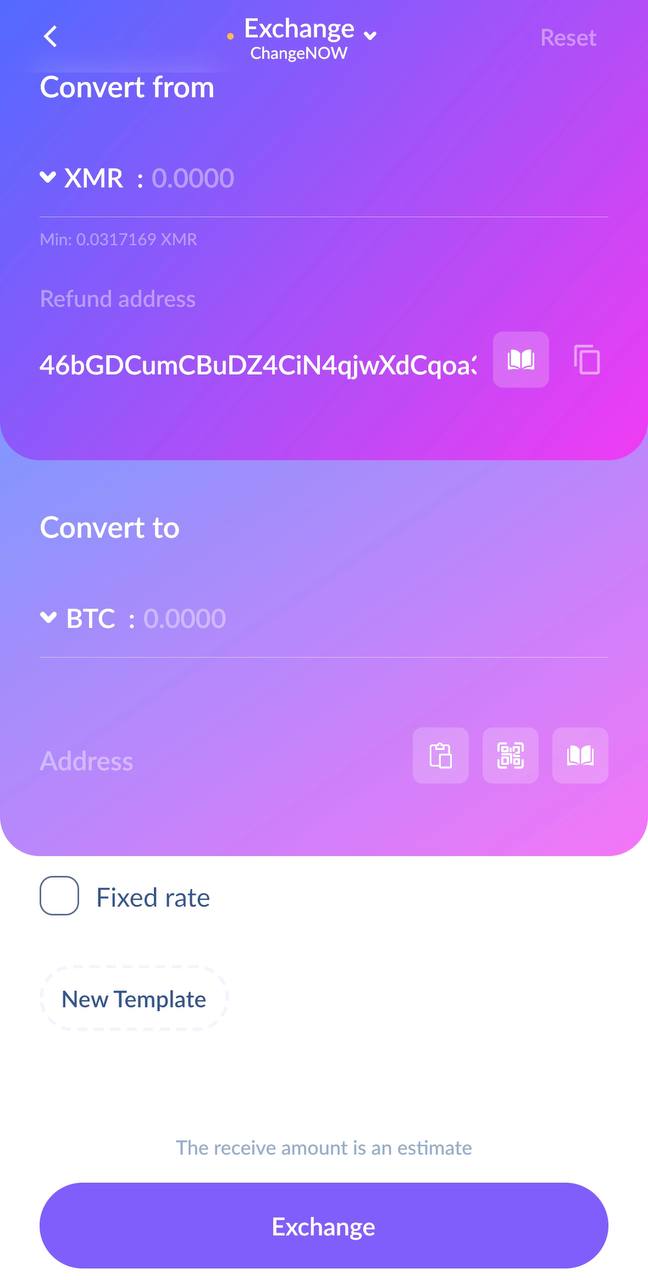 Benefits of Cake Wallet's Integration of ChangeNOW API
By integrating ChangeNOW's API into their platform, Cake Wallet unlocked a myriad of benefits for their users and their business. Here are some key advantages and successes they experienced:
Expanded Service Offering: Cake Wallet broadened its service offering by seamlessly incorporating cryptocurrency exchange functionality into the wallet. This integration empowered Cake Wallet users to exchange their cryptocurrencies conveniently, all within the familiar and secure environment of the wallet.

Enhanced User Experience: With the integration of ChangeNOW's API, Cake Wallet significantly improved the user experience by eliminating the need for external exchange platforms. Users could now effortlessly convert their cryptocurrencies directly within the Cake Wallet interface, saving time and reducing friction.

Increased User Engagement: The integration of ChangeNOW's API brought increased user engagement to Cake Wallet. Users were more likely to explore and utilize the exchange functionality within the wallet, resulting in higher user retention and increased activity levels.

Additional Revenue Streams: By integrating the ChangeNOW API, Cake Wallet unlocked additional revenue streams through transaction fees and referral programs. The seamless exchange functionality attracted more users to Cake Wallet, contributing to the wallet's financial growth.
Integrate ChangeNOW's API Today
In conclusion, the integration of ChangeNOW's API into Cake Wallet is a testament to the power of collaboration between two innovative and user-focused platforms. The seamless exchange functionality provided by the API has enhanced Cake Wallet's user experience, making it easier and more convenient than ever for users to manage their cryptocurrency investments.
Don't miss out on the benefits that ChangeNOW's API can bring to your business. Integrate ChangeNOW's API into your platform today and revolutionize the way your users exchange cryptocurrencies. For guidance on integrating the API into your platform, refer to this step-by-step guide.