ChangeNOW November Media Digest
In order to stay up to date with all the latest crypto-related news, ChangeNOW follows many prominent financial media outlets.
Our platform, as one of the leading crypto exchange services on the market, is frequently mentioned in numerous media articles, reviews, rankings, etc. Our team members are also often invited to write an op-ed or get interviewed by a respected media channel. Every month we gather all the media publications that mention ChangeNOW and share the results with you.
ChangeNOW saw many exciting crypto events and updates in November. They include the release of the cashback feature, the return of $1M worth of MATIC to Eterbase, exclusive interviews and op-eds by our authors, and more. Let's quickly review all the publications mentioning ChangeNOW from last month.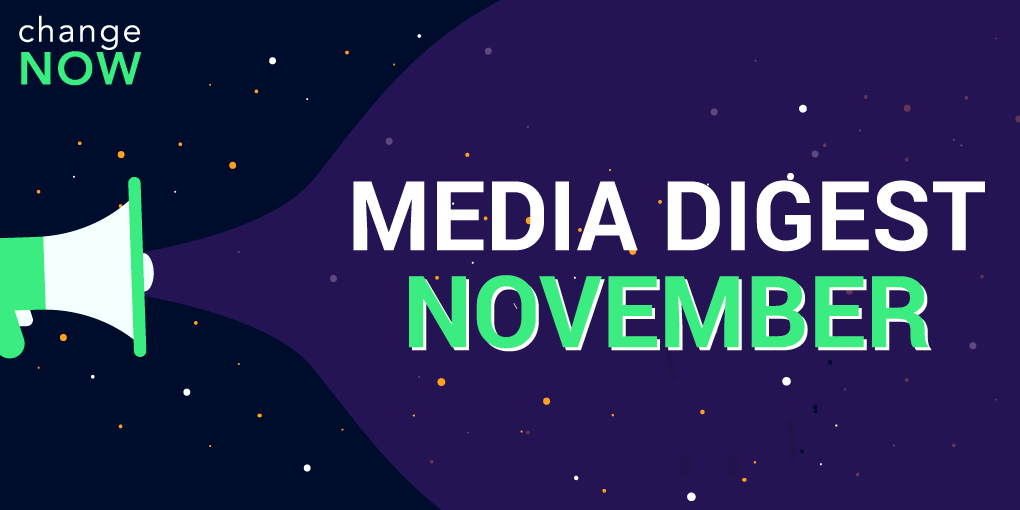 Launch of the Cashback Feature
ChangeNOW has released the long-awaited cashback feature. All registered users will now be able to receive kickbacks in NOW tokens from all their transactions with ChangeNOW. All the cashback-related info is available in the user's profile on our website.
Our Head of PR, Mike Ermolaev, shared his take on the feature: "With this new feature we wanted to show that we value our customers' loyalty and wish to reward them for staying with us. The feature will be available for signed up users only. However, the general crypto exchanges will still remain registration-free."
The news saw the light in numerous media publications:
Blockchain.news | ChangeNOW Launches Its New Cashback Feature
Cryptoarmy.io | Cashback Available Now on ChangeNOW Crypto Exchange Service
Cryptodaily.co.uk | Cashback For Registered Users Now Available On ChangeNOW
Coinchapter.com | Cashback Feature Is Launched on ChangeNOW
Invezz.com | ChangeNOW with new cashback feature to profit from crypto exchanges
Coinjournal.net | ChangeNOW announces new cashback feature for loyal customers
Cryptimi.com | ChangeNOW Unveils a New Cashback Feature
Coinscapture.com | ChangeNOW To Offer Cashback To Its Registered Users
Visionary-finance.com | Cashback Feature Is Now Available On ChangeNOW
Dailycoin.com | ChangeNOW Introduces a Cashback Feature
Cryptoarabia.org | تشينج ناو ChangeNOW تُقدم ميزة الاسترداد النقدي بقيمة 0.1% ناو لكل معاملة (in Arabic)
We should also mention that there's a detailed review of the cashback feature on Cryptonews.com. We thank Cryptonews for publishing this article.
ChangeNOW Returns $1M Worth of MATIC Back to Eterbase
Last year a Slovakian crypto exchange platform Eterbase lost around $5.4M due to a system hack. ChangeNOW later found out that 600k MATIC that were stopped by our smart AML system was a part of the Eterbase's stolen funds. Even though it took some time, ChangeNOW stepped in and managed to restore justice by sending back the Polygon coins (which is now worth around $1M) back to Eterbase where it belongs.
Mike Ermolaev, Head of PR at ChangeNOW, had this to say about the news:
"We at ChangeNOW have been pleased to assist in returning the stolen Polygon coins to Eterbase. Cryptocurrency heists are a big problem for the crypto community and we always try to help those who suffered from hacking. We seek a world where everyone can use crypto in a safe way; a world with no crime on the blockchain. This is one of the basic values we stick to."
The story was widely spread around the world:
Investing.com | ChangeNOW Returns $1 Million Stolen During 2020 Eterbase Exchange Hack
FXStreet.com | Eterbase recovers first $1M after hack that left it bankrupt
Cryptodaily.co.uk | Over $1M Worth Of Stolen Crypto Returned To Eterbase. Other Refunds To Follow?
Cryptonews.com | Investments in Bitcoin Increased, in Ethereum - Dropped + More News
Coinchapter.com | $1M worth stolen MATIC has been returned to Eterbase by ChangeNow
Dailycoin.com | Eterbase Gets Solid Part of its Stolen Crypto Back. Will It Stay Afloat?
Publish0x.com | Eterbase Recovers $1M Worth of Its Crypto Stolen in 2020 When It Cost $10K
Coinjournal.net | ChangeNOW returns $1M worth of MATIC stolen from Eterbase in 2020
Invezz.com | ChangeNOW returns $1M worth of MATIC coins after Eterbase hack
Invezz.com/es | ChangeNOW devuelve 1 millón de dólares en monedas MATIC tras el hackeo de Eterbase (in Spanish)
Invezz.com/it | ChangeNOW restituisce $1 milione di monete MATIC dopo l'hack di Eterbase (in Italian)_ _
Invezz.com/de | ChangeNOW gibt MATIC Coins im Wert von 1 Mio. $ nach Eterbase-Hack zurück (in German)
Invezz.com/fr | ChangeNOW retourne 1 million $ de pièces MATIC après le piratage d'Eterbase (in French)
Invezz.com/nl | ChangeNOW geeft $1 miljoen aan MATIC munten terug van de Eterbase hack (in Dutch)_ _
Zive.aktuality.sk | Slovenská kryptoburza Eterbase získala malý zlomok ukradnutých kryptomien (in Slovak)
Svetapple.sk | Za vykradnutím slovenskej kryptoburzy Eterbase majú stáť hackeri zo Severnej Kórey (in Slovak)
Finweb.hnonline.sk | Slovenskú burzu mali vykradnúť Kim Čong-unovi hackeri. Časť lupu sa teraz podarilo zachrániť (in Slovak)
Netcost-security.fr | Eterbase récupère le premier million de dollars après un piratage qui l'a laissé en faillite | Cryptomonnaie (in French)
Kriptohaberler.org | Eterbase, kendisini iflas ettiren hack'ten sonra ilk 1 milyon dolarını kurtardı (in Turkish)
Our Head of PR Mike Ermolaev has also written an article about different cases of ChangeNOW helping to return money where it belongs. The op-ed is available on Blockchain.news.
Exclusives of the Month
Last month some of our team members shared their exciting corporate insights in their interviews and guest articles for various crypto media outlets. Let's see what they talked about.
Dow Theory: How A Hundred Year Old Analysis System Works For Modern Crypto market
The CBDO at ChangeNOW Pauline Shangett shared her thoughts about Dow theory for Benzinga.com. She explains why this particular method of analyzing the financial market still works nowadays and how.
"Although crypto markets involve a great deal of volatility, Dow Theory can serve as a useful analytical tool if you add other elements to your charts like MACD or moving average. To have a better understanding of the market sentiment, you can group similar assets like BTC and ETH, and watch their price movements," – commented Pauline.
To find out how to apply the 100-year old theory for today's crypto market, check out the whole op-ed here.
ChangeNOW: Crypto Exchange Platforms Should Focus on Transparency, Security, and Ease of Use
Last month our Head of PR Mike Ermolaev was interviewed by a respected media channel Dailycoin, where he shared his opinion on the most effective strategies of crypto exchange platforms. During the interview Mike told Dailycoin about the latest products of ChangeNOW's ecosystem, his take on DeFi, Meme tokens, and more.
"We see a growing number of people stepping into the crypto world to buy and exchange cryptocurrencies as they lose trust in traditional financial institutions and want to diversify risks. We think this is a significant step towards financial literacy, and crypto only benefits from it," – said Mike about the current crypto situation.
The whole interview is available here.
Q&A with Pauline Shangett, CBDO of ChangeNOW
At the end of November, our CBDO Pauline Shangett teamed up with Invezz.com and did an amazing Q&A. In the interview Pauline talked about some of the latest ChangeNOW updates and releases, the current crypto trends, B2B sector, and more.
"At this point, I'd like to say that whether you're a newcomer or an old hand at trading crypto, we at ChangeNOW welcome you with open arms. We bring the best of crypto products and services all under one roof, constantly seeking to improve our ecosystem and innovate for you to get the best possible crypto experience," – was Pauline's answer to the final question.
Check out the Q&A here.
Record high uptober is over: Say hello to buoyant Moonvember
Mike Ermolaev, our Head of PR, wrote an article analyzing and predicting the crypto market fluctuations. We were very grateful to see this op-ed published in such a prominent media outlet as Cointelegraph.com. They published Mike's article in Spanish and Portuguese. We are glad that our Head of PR' opinions are spreading around the world.
To read the original article in English go to Mike's profile on FXSreet.com.
Here's just a tease of one of Mike's takes on the crypto market situation:
"Whenever price spikes, a correction is likely to follow, just like it did in October. Profit-taking always happens after a significant price increase when market participants lock in gains. However, these periods of correction have become shorter and less dramatic. So, the overall picture is obviously bullish."
Again, we would like to remind you that our Head of PR constantly shares his exclusive views on the latest crypto-related news and writes weekly crypto wraps. Make sure to follow his profiles on FXStreet.com, Publish0x.com, and Blockchain.news.
ChangeNOW Reviews
We appreciate all the criticism and praise coming our way and strive to constantly improve according to our customers' demands. For that, we analyze and gather all the reviews written about ChangeNOW. It helps us become better every day. It is always rewarding to receive positive feedback about us and our services, such as:
"With all said, it can be noted that ChangeNOW suggests one of the best services at the market of crypto exchange.
It offers smooth and secure swaps, good and fair rates, and a wide range of exchange pairs. According to the review platforms, most people trust ChangeNOW." – Blog.coincodecap.com
"To sum it all, ChangeNOW has undertaken an expansive campaign to meet the needs of investors knocking on their virtual doors. Being a giant helps ChangeNOW deliver a wide range of services and win praise as the best cryptocurrency exchange. Access to extensive trading services with a variety of products and features is its hallmark." – Coindoo.com
Here's the list with the November media reviews of ChangeNOW and our products:
Cryptonews.com | ChangeNOW Wallet: Security and Convenience at Your Fingertips
Coinscapture.com | ChangeNOW Review
Cryptonews.com | Exchange Cryptos and Receive Cashback with the New Feature on ChangeNOW!
Blog.coincodecap.com | ChangeNOW review – A reliable way to exchange crypto
Coindoo.com | ChangeNOW Review | Fast, Limitless Crypto Exchange
Reading so many positive reviews and seeing our op-eds published in many prominent crypto media channels makes us feel like our hard work really pays off. We're glad to know that our services are used, discussed and appreciated all around the world. It is what makes us want to improve and expand our services even more.
P.S. By the way, talking about crypto media outlets, did you know that ChangeNOW offers a special discount promo code for Cryptonews.com readers? If you haven't checked it out already, go and get it here!
Cheers,
ChangeNOW team