ChangeNOW Returns 600,000 MATIC to Eterbase
ChangeNOW has returned $1 million worth of MATIC coins stolen as a result of the 2020 Eterbase hack, adding to its recent successful asset recovery cases.
Here's What Happened
About a year ago, on September 8, 2020, European cryptocurrency exchange Eterbase revealed it was hacked on the night of September 7, 2020. A couple moments later, we at ChangeNOW received a request to blocklist certain addresses.
On the same day, we stopped an exchange of 600,000 MATIC to BTC from a reported address. Thus, our AML system prevented the funds from being converted and moved further. ChangeNOW froze the funds, awaiting a claim by the legitimate owner for the stolen assets.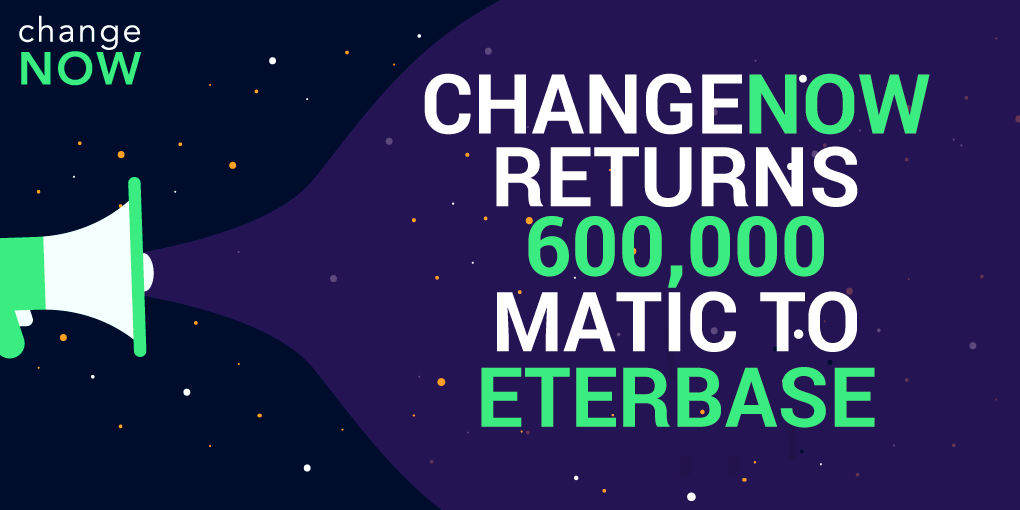 According to ChangeNOW's Terms of Service (6.12), there's a one-year period after the transaction was blocked for a legitimate owner to request a refund. In this particular case, there were no requests from Eterbase's side, so when the terms started to run out, we initiated the conversation with Eterbase.
In cooperation with the Slovak Police Department, the funds' recipient was validated, and the 600,000 MATIC stolen was returned, with its value having grown about 90 times over the past year.
The Polygon's value has surged dramatically. A year ago, when the malicious transaction was stopped, 1 MATIC coin cost only about $0.02, and 600,000 MATIC were worth around $10,950. As of today, the MATIC price stands at about $1.73, which means that the same 600,000 MATIC coins are now worth a little more than $1 million.
ChangeNOW Stands For Justice
This is not the first time our platform assists in returning the missing or stolen funds to their rightful owners. We have already stopped a few suspicious transactions which amounted to 500,000 XRP stolen due to the GateHub hack in 2019. Then, only about a month ago, ChangeNOW returned $15M worth of COMP lost due to the platform's distribution malfunction back to Compound Finance. To learn more about our intention to protect the crypto community, visit the Industry section of our Corporate Responsibility page.
The "good karma" principle is central to everything we do at ChangeNOW. In our view, core crypto principles are based on trust, transparency, and constant improvement. These values take us to new heights of success and effectiveness.
Yours,
ChangeNOW Team