Infinity Wallet: A Comprehensive Overview
In the dynamic world of crypto, having a reliable and feature-rich wallet is essential for managing digital assets securely. That's where Infinity Wallet comes in. With their vision to be a world-leading digital asset enabler, Infinity Wallet aims to provide a one-stop solution for all your crypto needs. In this comprehensive overview, we'll explore the key features, values, and vision of Infinity Wallet, as well as their exciting partnership with ChangeNOW.
Infinity Wallet: Your Gateway to the Future
Infinity Wallet is a user-friendly, multi-currency, and convenient cryptocurrency wallet that caters to all your digital asset needs. Available on both desktop and mobile platforms, Infinity Wallet offers a seamless and intuitive experience for managing and exchanging crypto.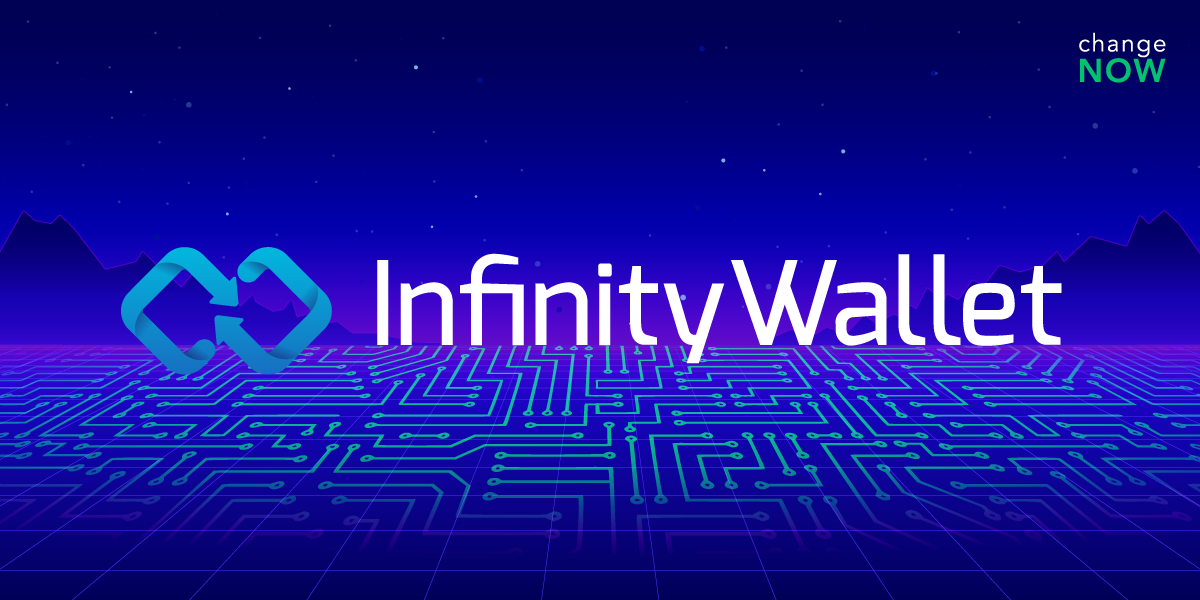 At Infinity Wallet, their mission is to liberate global wealth and empower individuals worldwide to create a better future using blockchain technology. By putting the user first and providing safe, professional, and quality platforms and services, they strive to revolutionize the world of finance and beyond.
Key Features and Advantages
Security: Your private keys and data are strongly encrypted on your device, ensuring maximum security and peace of mind. Infinity Wallet prioritizes the safety of your assets, allowing you to manage your funds with confidence.

Privacy: Enjoy exclusive access to your wallet and keep your personal data private and secure. Infinity Wallet understands the importance of privacy in the crypto world and provides a platform where you have full control over your information.

User-friendly Interface: Infinity Wallet is made to be intuitive and accessible to users of all experience levels, making it easy to navigate and interact with. The wallet's simple and modular interface ensures that anyone, from newcomers to seasoned crypto enthusiasts, can easily use it.

Multi-Wallet Management: Seamlessly monitor and control multiple wallets within one secure and feature-rich platform. With Infinity Wallet, you can conveniently manage your various digital assets in one place, eliminating the need for multiple wallet applications.

Multi-Currency Support: Effortlessly monitor, control, and exchange all your digital assets within a single platform, streamlining your experience for enhanced convenience and productivity. With extensive support for various cryptocurrencies, Infinity Wallet empowers you to effortlessly manage your diverse portfolio, eliminating the need for multiple wallet solutions and simplifying your asset management process.

Unceasing Innovation: Infinity Wallet aims to stay at the forefront of the industry, constantly developing new innovative features and options to meet the evolving needs of users. By using Infinity Wallet, you can be confident that you're accessing the latest advancements in crypto wallet technology.
ChangeNOW Partnership: Taking Crypto Swaps to the Next Level
ChangeNOW, a leading cryptocurrency exchange, has partnered with Infinity Wallet to integrate their Exchange API into the wallet for seamless and secure crypto swaps. This collaboration offers Infinity Wallet users the ability to effortlessly swap their digital assets directly within the application, providing a convenient and efficient experience. The integration of ChangeNOW's Exchange API enhances the functionality of Infinity Wallet, enabling users to access a wider range of tools and liquidity.
Infinity Wallet: Acknowledged for Outstanding Performance
Infinity Wallet has earned acclaim for its outstanding features and impressive performance. Users have praised the wallet's intuitive interface, robust security measures, and extensive cryptocurrency support, leading to positive reviews and high ratings on platforms like GetApp. The wallet's seamless user experience has garnered admiration from both novice users and seasoned cryptocurrency enthusiasts, solidifying its reputation as a top choice in the industry.
Join the ChangeNOW Partnership
Ready to take your crypto business to new heights? Integrate ChangeNOW's API into your platform and expand your reach in the crypto market. By becoming our partner, you'll gain access to our comprehensive suite of services, including Exchange API, White Label Telegram Bot, Exchange Widget, and more. Join us in shaping the future of digital asset management and become a part of our global network.
Conclusion
Infinity Wallet is not just a wallet; it is a gateway to a world of possibilities. With its secure, user-friendly interface, multi-wallet management, and continuous innovation, Infinity Wallet empowers users to take control of their digital assets. Paired with the integration of ChangeNOW's Exchange API, users can enjoy seamless and secure crypto swaps within the application. Embrace the future of finance and join our partnership to unlock the full potential of your crypto business.
Take the next step and integrate ChangeNOW's API today! Let us be your trusted partner in navigating the exciting world of cryptocurrencies.