What is Litecoin and How Does It Work?
There are many cryptocurrencies hosted on different blockchains. One of the most popular is Litecoin (LTC), and it's based on the Bitcoin blockchain, the same one that powers BTC, the world's most popular crypto asset according to CoinMarketCap.
Litecoin was created in 2011 by a computer scientist named Charlie Lee. Although it's created on the same underlying blockchain and verification protocols as Bitcoin, its advantages over Bitcoin include lower transaction fees and faster transaction confirmations. Litecoin is built for everyday transactions, while Bitcoin functions more as a store of value.
What is Litecoin?
Litecoin was created in 2011 as one of the first "altcoins", a term that refers to cryptocurrencies other than widely-used ones like Bitcoin and Ethereum.
Charlie Lee, a computer scientist, began working on Litecoin to improve on Bitcoin in various ways. To start, Lee developed an alternative hashing algorithm called Scrypt that supports faster transaction speeds. Litecoin can process 54 transactions per second, while Bitcoin processes just 7 per second. It takes 2.5 minutes to create a new block on Litecoin, compared to 10 minutes on Bitcoin.
The faster transaction speed has made Litecoin a favorite for merchants that want to accept payments in cryptocurrencies. It's one of the most traded cryptocurrencies worldwide, with a market capitalization of nearly $4 billion.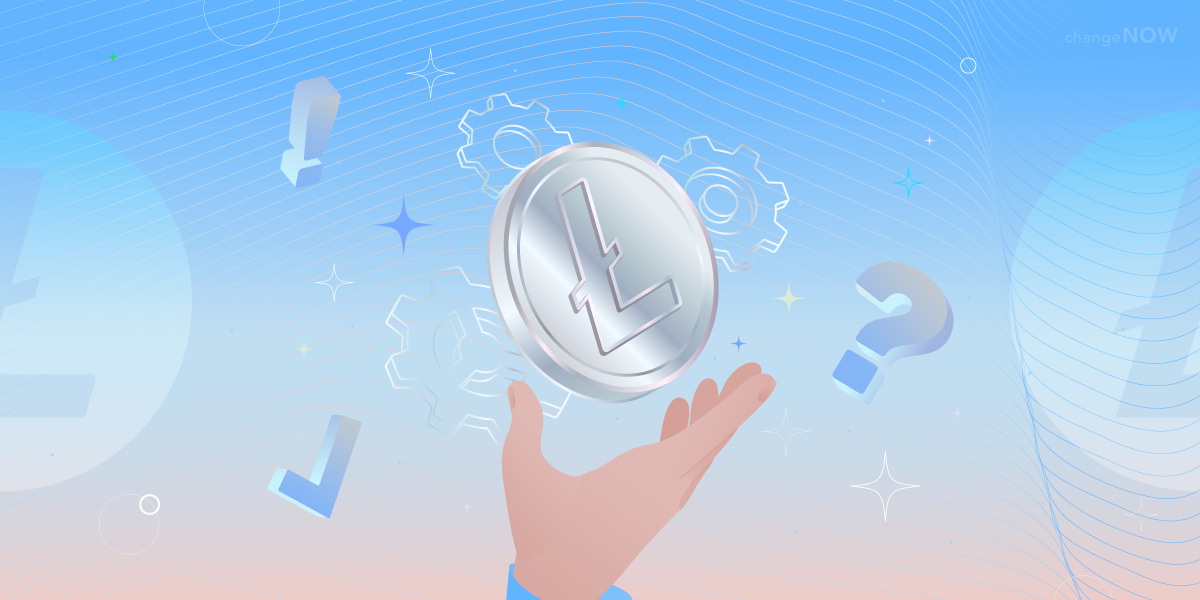 How does Litecoin Work?
Litecoin is very similar to Bitcoin. Both are open-source projects that use Proof-of-Work to verify transactions and are based on the same blockchain. But, Litecoin has faster transaction speed than Bitcoin. Bitcoin's supply is capped at 21 million coins, while Litecoin has a maximum supply of 84 million.
You can mine Litecoin if you have suitable hardware, preferably ASIC mining machines. Its mining reward is 12.5 Litecoins per block, and the average block mining time is 2.5 minutes.
To mine Litecoin, your hardware needs to solve complex mathematical problems known as hashes to obtain the right to record new transactions on the blockchain. You'll receive 12.5 LTC tokens if you're the first miner to solve a hash associated with a transaction.
Mining Litecoin requires massive computing power. That's why most mining is done by dedicated mining farms or crypto mining pools working with sophisticated hardware.
What is Litecoin Used For
Litecoin is a highly-liquid cryptocurrency, with hundreds of millions of dollars worth of tokens traded daily. Thus, many merchants accept payments in Litecoin because it's easier to convert to fiat or other cryptocurrencies and vice versa.
You can also use crypto payment apps like BitPay to pay for services with LTC — the app will convert your tokens to the fiat equivalent. Likewise, you can pay someone with LTC by transferring tokens to their address.
Litecoin Halving
To control the supply of Litecoin tokens, the rewards allocated to each mining block cuts in half every four years. When Litecoin first launched, miners received 50 tokens per block. Over a decade later, that number has fallen to 12.5 due to two successive halvings.
Halvings occur to ensure miners don't max out the supply of new LTC tokens in a short period. The next LTC halving will take place in 2023.
Litecoin Halving Dates
The next Litecoin halving will occur on 30 June 2023. Successive halvings will take place every four years until the supply of LTC tokens hit the maximum of 84 million.
Litecoin vs. Bitcoin
The supply of Bitcoin and Litecoin are both capped, the former at 21 million and the latter at 84 million. Litecoin transactions are processed in a quarter of the time as Bitcoin transactions. Because of the difference in transaction speed, Litecoin halves rewards to miners every time 840,000 blocks get mined, while Bitcoin does that for every 210,000 blocks.
The mining algorithm that Litecoin uses, Scrypt, is newer than what Bitcoin uses, SHA-256. Scrypt doesn't require as much computing power for mining as Bitcoin's SHA-256 algorithm.
| | | |
| --- | --- | --- |
| | Litecoin | Bitcoin |
| Maximum supply | 84 million | 21 million |
| Release date | October 7, 2011 | January 9, 2009 |
| Average transaction processing time | 2.5 minutes | 10 minutes |
| Halving interval | 840,000 blocks | 210,000 blocks |
| Hashing algorithm | Scrypt | SHA-256 |
| Blockchain protocol | Proof-of-work | Proof-of-work |
More on the difference between Litecoin and Bitcoin.
Is Litecoin a Good Investment?
Litecoin is one of the most traded cryptocurrencies. But, it's not as popular as counterparts like Bitcoin and Ethereum, and a token's popularity correlates with its price. If more people buy Litecoin as a store of value, the price is bound to increase and the opposite happens if fewer people buy it.
Litecoin is available on almost all major exchanges. However, Litecoin has historically been preferable for everyday transactions instead of a store of value. Merchants prefer it because it's less volatile than other tokens. Also, government regulations for cryptocurrencies haven't yet been decided, and regulatory actions from powerful countries like the United States can sway a token's price.
If you want to invest in cryptocurrency as a store of value, you'll be better off with other digital tokens like Bitcoin and Ethereum.
How to Buy Litecoin
The easiest way to purchase Litecoin tokens is through a trusted centralized or decentralized exchange. Exchanges make it easy for people around the globe to buy and sell coins to each other. You can find a suitable exchange (e.g., ChangeNOW) to buy LTC tokens with fiat or other tokens you own.
Steps to buy Litecoin
1. Pick a suitable exchange
There are many exchanges, and it's up to you to choose one. But, not all of them offer Litecoins, so it's essential to find one that does. Another important thing to look out for is which fiat currencies the exchange supports. For instance, if you're based in the US, look for an exchange that supports dollar deposits to make things easier.
Centralized exchanges perform "know-your-customer (KYC)" verification and different ones have different identification requirements. Decide what type of information you're comfortable giving out and choose an exchange that suits you.
Your location also matters. Some exchanges aren't available in certain countries like the U.S. due to regulations, so pick one that fulfills regulatory requirements in your jurisdiction to avoid problems.
2. Buy Litecoin
Once you pick a suitable exchange, you should be able to deposit fiat or other crypto tokens and exchange it for Litecoin. You can fund your account with a debit/credit card, bank transfer, or by transferring tokens from other wallets to a unique address.
Depending on the exchange you choose, buying Litecoin after depositing funds could be as simple as a click, or you'll have to look for the LTC ticker and indicate the amount you want to purchase.
Different exchanges have different transaction fees but expect anything between 0.1% and 5%. After completing your purchase, you may own full Litecoins or partial tokens. For instance, if Litecoin is trading at $80 and you invest $40, then you'll own 0.5 LTC.
3. Store your Litecoin
Most exchanges have built-in digital wallets where you can store your tokens including Litecoin. However, some people prefer to store their coins in hardware wallets not connected to the internet for better security.
Options for storing your Litecoin tokens include:
Centralized crypto exchanges: Centralized exchanges can provide a user with a digital wallet to store their tokens and access them at any time if they have the correct credentials.
Desktop/Mobile wallets: There are many wallet platforms accessible through a browser extension or mobile and desktop apps that let you store your Litecoin, e.g., NOW Wallet – a non-custodial solution with all the convenience of ChangeNOW, Exodus, or others.
Hardware wallets: You can use hardware devices to hold the private keys to your crypto assets and use your assets without connecting to the internet. Examples of hardware wallets include Ledger and Trezor.
Paper wallets: This method entails printing your private keys and recovery phrases on a piece of paper and storing it somewhere safe. You won't be able to access your assets if you lose your keys and recovery phrase, so guard it jealously.
Conclusion
There's an endless list of cryptocurrencies built on different blockchains. Some function better as a store of value, while some are preferable for everyday use. Litecoin is one of the most traded cryptocurrencies, and many merchants accept it for payments. You can acquire Litecoins by buying or mining them, though the latter is much harder.
Buying Litecoin is just a few steps away on the ChangeNOW exchange.