Litecoin vs Bitcoin. What's the difference? Pros and Cons Explained
In the first two years of its existence, Litecoin went from an unknown coin to being titled "digital silver". What's the difference between Litecoin and Bitcoin? Find out in this article
What Is Litecoin
Litecoin is a cryptocurrency based on the Bitcoin protocol. It is a peer-to-peer payment system through which users can transfer funds from one to another. The coin appeared in 2011 but was not a very popular cryptocurrency. However, in January 2013, Litecoin showed phenomenal growth by 20 times. As a result, the coin reached $1 bln. market capitalization and people started calling Litecoin an alternative to Bitcoin.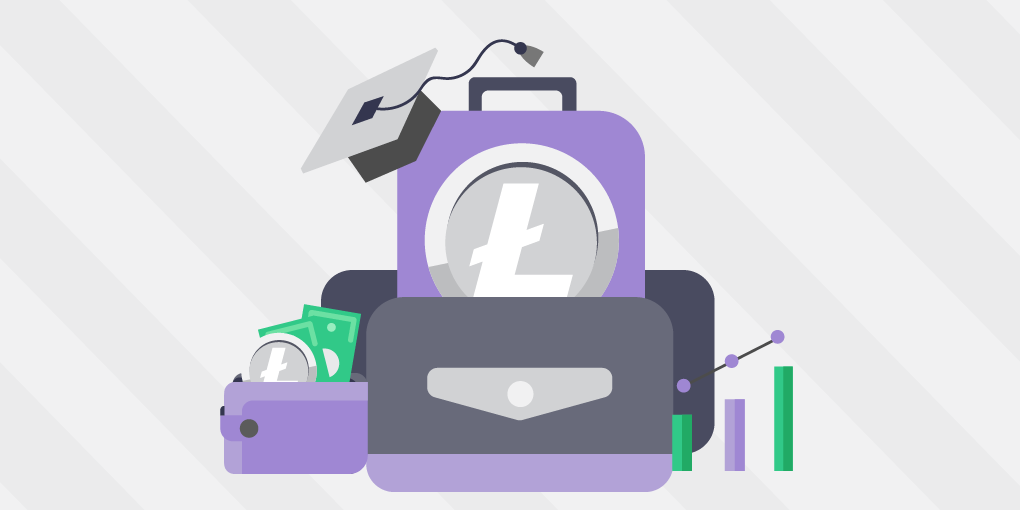 Litecoin vs Bitcoin. Difference Explained
Litecoin's mission corresponds with the tasks that Bitcoin was originally intended to solve. LTC serves as a means of payment, but more convenient, faster, and cheaper than fiat currencies. There are three main differences between BTC and LTC:
Different hashing algorithms. Bitcoin runs on SHA-256, while Litecoin uses Scrypt, developed by FreeBSD security officer Colin Percival. Initially, it was created for the Tarsnap online service, but it was also integrated into cryptocurrencies.
Faster block generation. Bitcoin blockchain generates a new block every 10 minutes, while in the Litecoin network this process takes only 2.5 minutes.
Different maximum supply. Litecoin mining will stop when the total number of mined coins will reach 84 million. The maximum number of Bitcoins is 4 times less - 21 million.
What Makes Litecoin Better Than Bitcoin
Charlie Lee, the creator of Litecoin, claims that LTC was not created to compete with BTC but to improve the original idea. There is no doubt Litecoin is faster and lighter than the original currency.
Transactions are faster due to the reduced block generation time
The faster the network processes payments, the shorter the transaction queues. Consequently, transfers can be carried out quickly without increased fees.
Improved capacity thanks to the SegWit algorithm
To solve the problem of network scaling, Litecoin uses the SegWit software algorithm. SegWit allows you to increase the efficiency of the blockchain without increasing the block size. LTC was the very first coin that implemented this technology. Later Bitcoin also integrated SegWit protocol as a soft fork.
Cross-chain transactions with atomic swaps
Another relevant technology that has been introduced into Litecoin transactions is atomic swaps. Atomic swap is a technology that allows transactions between different blockchains. At the end of September 2017, the creator of the cryptocurrency, Charlie Lee, announced a successful implementation of three cross-chain transactions with Decred (DCR), Vertcoin (VTC), and Bitcoin (BTC).
Integration of the Lightning Network
Lightning Network is a sidechain technology or second layer for the blockchain network. The main goal of the Lightning Network is a faster operation of blockchain, in particular, the implementation of instant micropayments with lower fees than with regular transactions. Simply speaking, the Lightning Network allows users to make transactions directly with each other without sending information to the public blockchain. Thus, it helps to achieve faster and cheaper transactions, as well as reduce the amount of blockchain data.
Litecoin vs Bitcoin in Mining
Just like the Bitcoin blockchain, the Litecoin network uses the Proof of Work algorithm. At the moment, the reward for finding a block in the Litecoin network is 12.5 LTC. The number of coins received as a reward decreases every 840,000 blocks. Blocks are created every 2.5 minutes, which is four times faster than on the Bitcoin network. As a result, the coin issue is also four times faster.
Disadvantages of Litecoin
No smart contracts. Litecoin cryptocurrency is used as a decentralized digital currency, and its blockchain does not allow creating smart contracts, as can be done with other cryptocurrencies (for example, Ethereum or NEO).
Mining is not profitable for ordinary users. Litecoin mining has become unprofitable for ordinary users who previously mined coins using video cards or CPUs. Now, due to the massive usage of ASIC, LTC mining can only be done with an expensive farm.
Not as popular as BTC. Even though Litecoin cryptocurrency uses the same technology as Bitcoin, it is not as popular as BTC. Bitcoin has become synonymous with the words "blockchain" and "cryptocurrency", and the Litecoin cryptocurrency is just one of the top 10 coins.
Litecoin is an old-generation cryptocurrency. Modern blockchain projects can offer more advanced solutions in terms of scalability, interoperability, and so on.
Litecoin Use Cases
Today Litecoin has one of the most developed communities in the crypto industry. Its founder Charlie Lee is a true media person who contributes to the further popularization of the platform. Thus, LTC often attracts various companies from different spheres.
Litecoin is doing well as a means of payment. At the moment, this cryptocurrency can be used to buy tickets, Amazon gift cards, groceries in different stores, etc. One of the ambitious attempts to make LTC a widespread means of payment was to create a crypto payment processing service – the LitePay project. However, the startup faced various difficulties and the team had to shut it down.
Also, Litcoin was among the first cryptocurrencies on the blockchain phone HTC Exodus. The smartphone works as a hardware wallet, stores private keys directly on the phone, and uses a secure blockchain environment to facilitate transactions.
Among the latest news about Litecoin is their partnership with a game developer Atari. LTC holders will be able to buy an internal Atari token that will be used for purchases of digital assets in the Atari ecosystem, as well as make payments at Atari casinos.
Also, LTC has partnered with MeconCash to install over 13,000 Litecoin ATMs throughout South Korea. The coin will be integrated into the M.Pay platform, allowing LTC holders to withdraw funds to fiat or send LTC to South Korea from abroad. The Litecoin team expects that the partnership will help LTC to gain popularity in South Korea.
Bottom Line
Although the crypto market offers many other technologically advanced projects, Litecoin remains one of the most popular cryptocurrencies and stays in the Top-10 of the CoinMarketCap rating.
The Litecoin team continues to work on different fronts, trying to increase the number of LTC holders. The project constantly attracts new investors and implements technological innovations.