Weekly Recap: Countries Lean into Crypto Amid Legal Wins
Following the EU's PoW debate, Ukraine and Australia make pro-crypto regulations in what has been a legal week for crypto.
Ukraine Legalizes Crypto in New Reforms
President Volodymyr Zelenskyy recently signed a bill finalizing the legal structure of digital assets in Ukraine, as crypto's importance to the country rises.
Back on February 18, Ukraine's Parliament passed a bill to legalize crypto in the country. On Wednesday, Ukrainian President Zelenskyy signed the bill, which would establish a framework for the regulation of digital assets. By doing so, the government can oversee and control crypto-related activity within the country. This also means companies offering crypto services in Ukraine will operate under the new rules.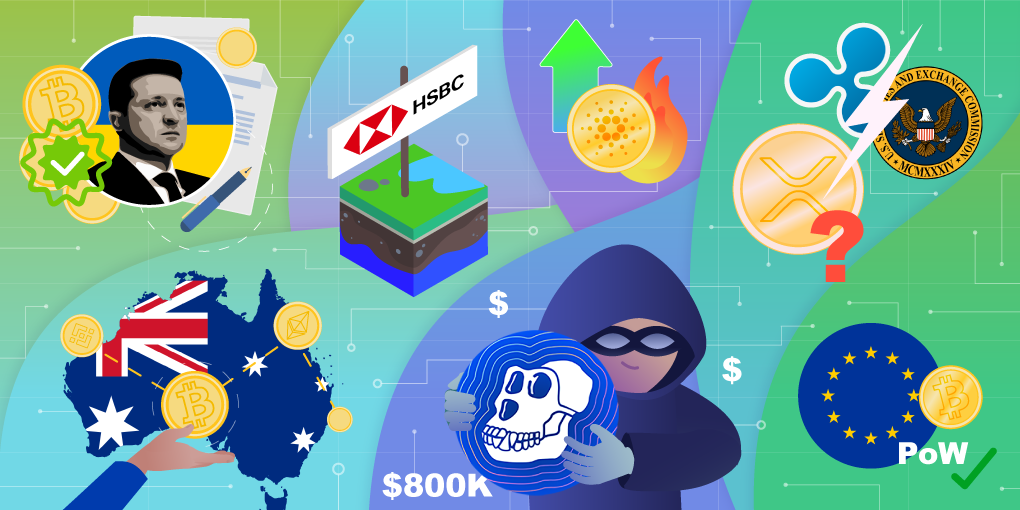 According to a statement from the Ministry of Digital Transformation, the law creates an official guideline for a developing digital asset market in Ukraine. For example, all companies in the nation offering any form of crypto products have to be registered and must own a license to operate in Ukraine. Furthermore, the government will allow centralized banks to open new accounts for digital asset firms.
The new law comes amidst Russia's war with Ukraine. Ukraine sympathizers have stepped up in numbers to make donations in crypto, totaling more than $100 million based on reports. There are suggestions the donations might have quickened Ukraine's pro-crypto decision.
Australia Attempts to Reform Cryptocurrency Regulations
According to local reports, the Australian government has proposed reforming the cryptocurrency industry, which would be the most significant change of the country's payment infrastructure since its shift to online banking.
Last year, Australia was declared one of the top per-capita crypto adopters. Although the government claimed that it cannot guarantee the safety of cryptocurrency, it did assure that the crypto industry participants will work with a regulatory framework that guarantees safety and security.
The administration intends to commence consulting with the crypto sector in order to execute the majority of the reforms by the end of 2022.
User Exploits ApeCoin Airdrop
An intruder gained 293 Ethereum (ETH) tokens by flash loaning ApeCoin's recent airdrop. To clarify, a flash loan is a type of unsecured loan given to investors via some DeFi networks and protocols.
Certik disclosed that a raider exploited the hysteria surrounding ApeCoin's airdrop by claiming an unusually large number of ApeCoins. The unknown user took advantage of ApeCoin's allowlist which stipulated new APE owners must own BAYC NFTs, but did not specify for how long.
To carry out a plan which was technically "by-the-book", the user purchased OpenSea NFT 1060 as a deposit to flash loan 5.2 BAYC tokens from the NFTX Vault. The BAYC tokens were used to redeem 60,564 ApeCoins as an airdrop reward after being converted to BAYC NFTs. Thereafter, the user sold them for 293 ETH, totaling $820,000.
Cardano Could be Experimenting with Token Burn Mechanism
Cardano's ADA has performed substantially in the last 7 days. Its price surge could be driven by WatcherGuru's report which suggested that the network is likely experimenting with a token burn mechanism. Burning can be described as the permanent removal of a number of tokens from circulation.
The rumor may have originated from a tweet by Clark Alesna, CEO of SAIB Inc, in which he accepted a "challenge" from Charles Hoskinson to begin the creation of a burn smart contract for ADA.
However, some people think the tweet was a jest, while others, including media organizations, took it literally.
Recent Developments on Ripple vs. SEC
Following the seesaw case between the US SEC and fintech powerhouse Ripple, the latest development concerns the meaning of a "security''.
Of late, a document significantly helping Ripple's case surfaced. In 2018, the particular document was addressed to Williams Hinman (ex-SEC director) by Perkins Coie regarding legal advice on cryptocurrencies classification. Hinman also highlighted in the document that XRP is not a security, which aligns with former SEC chairman Jay Clayton's definition.
However, the SEC has maintained that the cryptocurrency fits within its authority and Hinman's speech is his personal opinion.
Major Bank HSBC Invests in the Sandbox Metaverse
HSBC is the latest financial firm to make an investment in The Sandbox. Last week, the metaverse platform announced HSBC will purchase a plot of LAND in its virtual universe. The move has been touted to engage sports and gaming aficionados. Additionally, it is part of HSBC's digital expansion. Lately, the bank claims its customers have shifted to online banking, prompting the bank to announce the closure of 64 branches across the UK. With the increased interest in online banking, investing in the metaverse appears to be a wise decision for the financial organization.
Furthermore, The Sandbox has already teamed with well-known companies like Warner Music Group, Gucci Vault, and Adidas, as well as personalities like Snoop Dogg, Steve Aoki, and Richie Hawtin.
European Parliament Stands Against PoW Ban
Previously, the European Union (EU) suggested the Markets in Crypto Assets (MiCA) framework as a legal framework for managing virtual currencies. As a result, consumers of Proof-of-Work (PoW) cryptocurrencies such as Bitcoin and Ethereum were skeptical.
Last Monday, however, the European Parliament's Committee on Economic and Monetary Affairs voted against the prohibition on PoW systems. Further adjustments will be made to the draft to lessen its difficult stance on crypto, before a resubmission.
You can buy, sell or swap any of your preferred tokens on ChangeNOW without any registration.
Welcome to the NOW experience! The ChangeNOW team presents you with the new community-inspired crypto wallet – NOW Wallet. For safe and efficient asset tracking, try our crypto portfolio tracking app – NOW Tracker.