Weekly Recap: Celsius Shines While Voyager Struggles to Float
Celsius and Qtum were able to hold their gains despite the market's high volatility. Compound and VGX, on the other hand, gave in to market pressure.
After a week of recovery, the cryptocurrency market reverted to its previous struggling state. Its quick change in stance was soundly reflected in Solana's and Compound's prices, especially as both had traded in sufficient greens two to three weeks prior. In line with SOL's loss and several others, the total crypto market cap again could not maintain the $1 trillion mark, dipping by about $68 billion.
Likewise, Bitcoin failed to close above $23k after reaching $24,200 the past week. The top crypto subsequently reversed on Wednesday and fell below the $21K region, before limply bouncing back. BTC trades around $22,900 at present.
Similarly, Ethereum experienced a brief drop in the past week. This was after the second largest crypto had surged by some 48% in 6 days, in preparation for the Merge. However, like Bitcoin (and by extension, many of the top coins), ETH recovered all of its losses in the week and trades above $1,620 at writing.
As expected, a few coins like Celsius and Qtum are still benefiting from the recovery's aftereffect, as they also bagged double digits.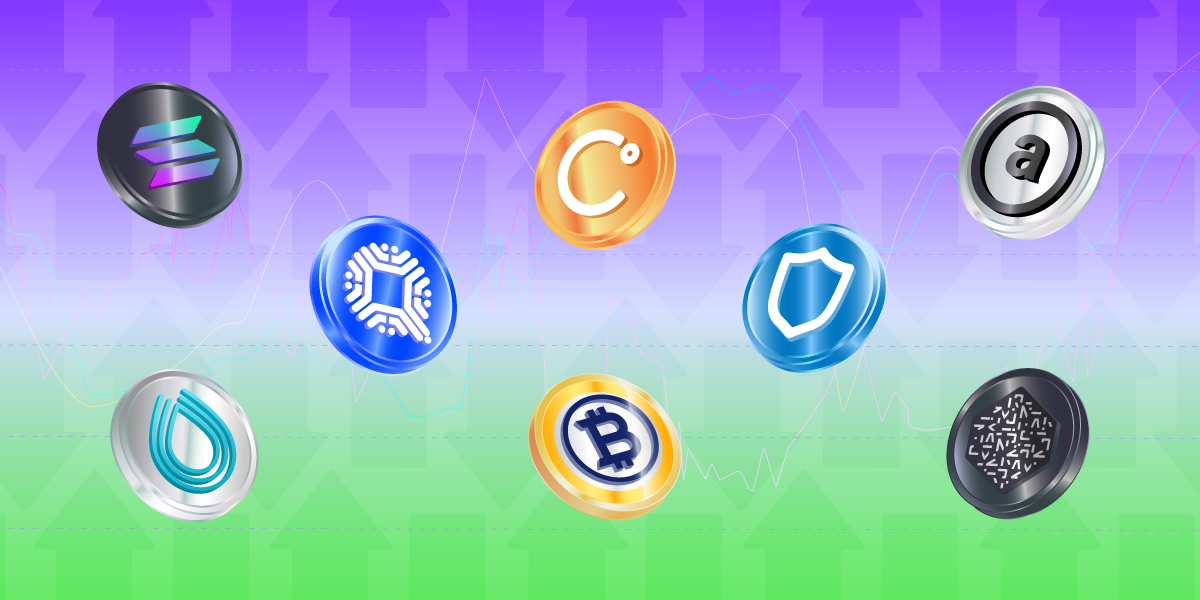 Top Gainers: Celsius and Qtum Survive Post-Recovery Week
Celsius
Celsius led the top gainers this week with a 17.73% gain in the last seven days. This coin racked its gain despite the slew of lawsuits filed against the crypto lending firm.
While Celsius (CEL) had a rough start this week, it had a good pump last Thursday. Subsequently, it surged to $1 before consolidating over the weekend. Although CEL has performed well in recent weeks, it is still down 65% from June's high. At the time of writing, CEL trades at around $0.9149.
Qtum
As users anticipate the Qtum hard fork, the value of its token has risen in response. Of late, QTUM has displayed a high number of green daily candles. Only last week, the blockchain protocol's token cleared a daily resistance level of $3.220, climbing to $3.657. Interestingly, QTUM has accrued 33.4% since the start of this month and shows no signs of slowing down.
In fact, Qtum's price has gone up by more than 15% in the past 7 days.
Trust Wallet Token
Unlike many other altcoins, Trust Wallet Token (TWT) has held above its February low. This week, the crypto wallet token spiked to $0.9644, surpassing a 79-day high of $0.9587. Also, TWT, like Celsius, finished the prior week in the double digits. The token has surged from $0.8394 to $0.9596, representing a gain of more than 13%. The increase could be attributed to the recent series of integrations with platforms such as Polygon, Cardano, and Ronin.
Bitcoin Gold
Bitcoin Gold (BTG) has been performing at a low for some time, reflecting the market's bearish moves. Last week the Bitcoin fork rebounded possibly as a result of the new Stealth EX listing. BTG's recent price movement mirrored that of QTUM as it also surpassed a weekly high. After appearing to lose steam and retracing some at the weekend, BTG has made some comeback in the recent days, racking up 25% gains in the last 24 hours alone.
Despite the Bitcoin fork's encouraging feat, it still has a long road ahead. BTG is 81% down from 2021's high of $142 and 95% below its ATH of $539.
Numeraire
Numeraire has maintained a slow steady climb for the past two weeks, trading sideways for the most part. On Thursday, NMR surpassed its previous daily resistance and reached a high of $22.35. NMR then retraced its steps at the weekend. At writing, NMR trades at $16.92, up more than 17% from its weekly open.
Hive
The web3-focused blockchain has had a few bullish weekly candles, with as much as a 66% increase from last month till now. HIVE spent the majority of the week ranging between $0.4386 and $0.4859. Yesterday, HIVE gained some bullish momentum, reaching a high of $0.5932. The token then retraced to about $0.52, reflecting a weekly return of over 4.2%.
Top Losers: SOL and COMP Yield to Market Pressure
Arweave
Arweave (AR) has been performing well since mid-June, but this week was an outlier. Despite a positive Monday close, bearish pressure prevailed. Last week, the token fell by about 23.63%, wiping out previous gains and trading at about $11.
While AR accrued some steep green candles in the past 48 hours, it is still 9% below last week's close at $12.83.
Compound
After two weeks of green, the DeFi protocol had it rough in the last seven days. Compound's token closed above its previous resistance zone last Monday, even reaching a daily high of $63.91. Following that, COMP began its downward trend, falling by 22.29% to $47.78.
Solana
Solana has been creating a daily bullish structure since mid-June. However, the value of the blockchain token, SOL, fell last week. SOL fell from $47.36 to $34.67, indicating a loss of approximately 27%. Despite this decline, SOL has maintained its bullish structure.
At press time, SOL has made some recovery, trading just under the $40 mark.
Voyager Token
The Voyager Token has been in free fall since its bankruptcy announcement. The token ranged for the majority of last week before succumbing to bearish pressure near the weekend. VGX lost roughly 14.2% of its value last week and now trades at $0.39.
Serum
Serum (SRM) had a good start to the week, rising from $1.033 to $1.173. However, by mid-week, it had begun a dip that would see it plummet by more than 27% to lows of $0.84.
Harmony
Harmony's week has been riddled with controversies and negative sentiments, and the same has been for its ONE token. Still in the aftermath of its hack, the token declined by 17% this week, falling to $0.0187 from $0.0250.
However, as the Harmony team mulls possible forks and new reimbursement plans, ONE could be making some rebounds. At writing, ONE is worth $0.0204.