Tangem and ChangeNOW Partner to Provide Better Crypto User Experience
Hardware wallets are extremely secure, but users often have trouble using them because of their limited accessibility and flexibility. The fast-paced nature of the crypto space is often obstructed by the difficulty of moving funds in and out of these wallets.
Therefore, as more individuals and businesses embrace cryptocurrencies, the need for secure and user-friendly solutions keeps rising rapidly. To meet this demand, ChangeNOW and Tangem are joining forces to provide crypto enthusiasts with an unparalleled, convenient, and safe user experience.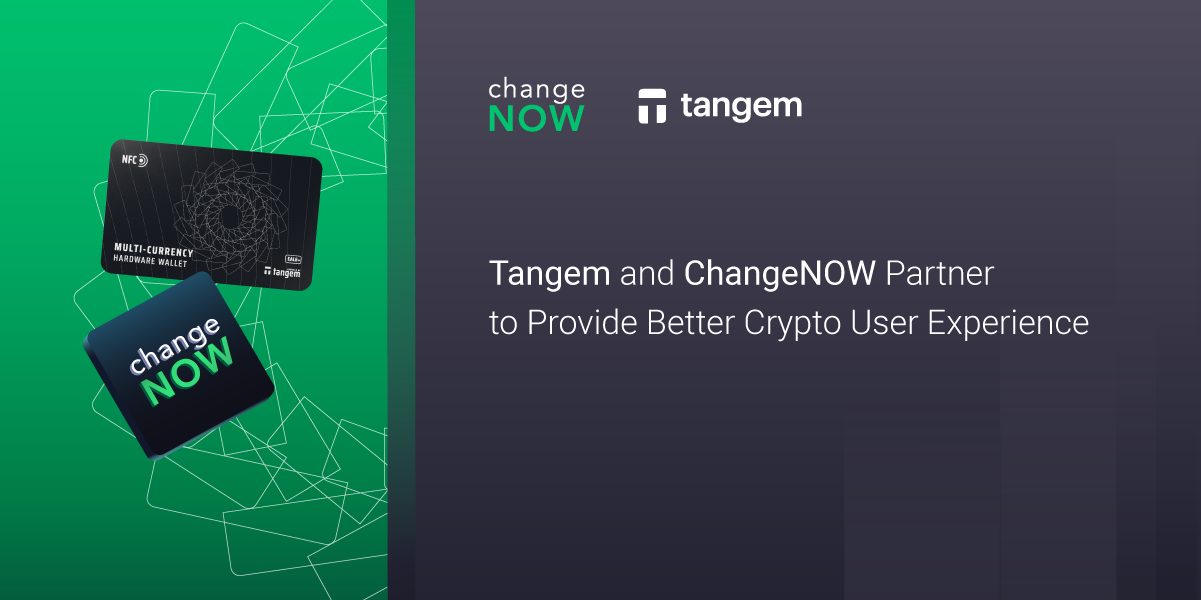 ChangeNOW: The Best Crypto Exchange Platform
ChangeNOW has firmly established itself as one of the leading crypto exchange platforms. Known for its user-friendly interface, lightning-fast transactions, and an ever-growing list of supported cryptocurrencies, ChangeNOW has become the go-to choice for crypto enthusiasts worldwide. Offering an easy and secure exchange experience, ChangeNOW has earned a reputation for being dependable and trustworthy in the crypto space.
Tangem: The Golden Standard for Hardware Wallets
Tangem's brilliant wallet is an innovative, proven solution bridging the gap between breathtaking simplicity and formidable security.
This tough credit card-shaped device—powered by an EAL6+ certified Samsung chip with NFC antenna—allows users to access and manage their crypto on a smartphone anywhere, anytime, without compromising safety. Just tap the wallet on your NFC-enabled phone to buy, sell, swap, convert, or perform other actions with your assets. In addition to being fully water and dust-proof, the Tangem wallet has no wires, batteries, or physical connectors and is small enough to fit in your pocket.
About Tangem and ChangeNOW's Partnership
Tangem has chosen ChangeNOW's CEX as one of their partners and exchange providers for their exchange aggregator — Tangem Express. This integration will allow Tangem Wallet users to run cross-chain swaps, convert cryptocurrencies, and access on-ramp/off-ramp services from various providers — all within the Tangem Wallet app.
Both companies' shared vision drove the decision to integrate ChangeNOW's services into Tangem Wallet: to provide cryptocurrency users with a smooth, secure, user-friendly experience.
By leveraging ChangeNOW's exchange services, Tangem Wallet users will benefit from the best market rates for cross-chain swaps, ensuring optimal value when converting digital assets.
Complementary Technologies: Tangem Wallet and ChangeNOW
Tangem's hardware wallets and ChangeNOW's exchange services are a match made in heaven. Tangem Wallet, the first seedless self-custodial hardware wallet in the shape of a bank card, offers users a secure and convenient way to store and manage their digital assets. The wallet's simplicity, ease of use, and security features make it an ideal choice for beginners and experts. With Tangem, you can securely store your private keys offline, eliminating the risk of online hacks and theft, and access 37 blockchain networks and over 6000 coins and tokens in one place.
ChangeNOW also provides an intuitive and secure platform for exchanging cryptocurrencies. With more than 900 supported coins and tokens, users can easily swap crypto assets, all while enjoying competitive rates and low fees. Integrating ChangeNOW's CEX into Tangem Wallet will enable users to access these exchange services directly from their hardware wallet, eliminating the need for multiple platforms and simplifying the exchange process.
The Benefits for Crypto Enthusiasts and Businesses
The Tangem and ChangeNOW partnership brings many benefits to the crypto community. Here are some advantages that users can expect:
1. Better Asset Security
As security remains a primary concern in the crypto space, Tangem Wallet's smartcard-based technology provides a foolproof security layer by generating and storing private keys inside the card's chip without the possibility of extracting them. This significantly reduces the risk of online hacks and theft, giving users peace of mind knowing their digital assets are safe. Additionally, ChangeNOW's commitment to security ensures that all transactions are conducted with utmost care and protection.
2. User-Friendly Experience
Tangem Wallet has a simple and intuitive interface in a robust mobile app, allowing users to manage their digital assets efficiently. Integrating ChangeNOW's exchange services will further smoothen the user experience with quick conversions and swaps.
3. Fast Exchange Process
The integration will eliminate the need for multiple platforms or tedious manual processes. Users will be able to convert their assets with just a few clicks, enjoying the best market rates and low fees offered by ChangeNOW.
4. Access to a Wider Range of Cryptocurrencies
ChangeNOW supports over 900 assets, giving users more options to diversify their portfolios. Tangem Express will provide users direct access to ChangeNOW's extensive selection of coins and tokens.
5. Competitive Rates and Low Fees
When exchanging crypto, getting the best rates is crucial. Tangem Wallet users will be able to take advantage of ChangeNOW's favorable rates, making their crypto transactions even more profitable.
Join the ChangeNOW Affiliate Program
If you are a crypto enthusiast or a business looking to monetize your content and promote ChangeNOW's services, consider joining the ChangeNOW Affiliate Program. As a partner, you'll gain access to a wide range of benefits, including revenue sharing, personal manager support, exclusive campaigns, and transparent analytics tools. Our affiliate program is designed to be free and easy to integrate, allowing you to start earning crypto NOW. To become a ChangeNOW partner, sign up for the affiliate program and embark on a journey of crypto success.
Conclusion
Tangem and ChangeNOW are set to bring together the best of both worlds — a secure and user-friendly cold storage solution and a competitive crypto exchange. This collaboration paves the way for enhanced security, ease of use, and a seamless exchange process for individuals and companies alike.
With Tangem Wallet and ChangeNOW, users can confidently navigate the crypto market, knowing that their digital assets are safe and can access the best crypto exchange services. Embrace the power of the best crypto wallet with Tangem and ChangeNOW!