Pepe 2.0 Token Overview
New and exciting crypto projects emerge regularly, captivating the attention of investors and enthusiasts alike. Pepe 2.0 ($PEPE2) is one such project that has recently made waves in the crypto community. Building upon the success of its predecessor, Pepe coin ($PEPE), Pepe 2.0 offers a fresh take on the meme coin phenomenon. In this article, we will explore the key features and potential of Pepe 2.0, as well as how to buy PEPE2 on the popular crypto exchange platform, ChangeNOW.
Understanding Pepe 2.0
Pepe 2.0 is a cryptocurrency that belongs to the growing trend of meme coins, which are digital assets inspired by internet memes. Launched on the Ethereum blockchain, Pepe 2.0 aims to address some of the missteps of its predecessor and provide an opportunity for traders and investors who missed out on the initial success of Pepe coin.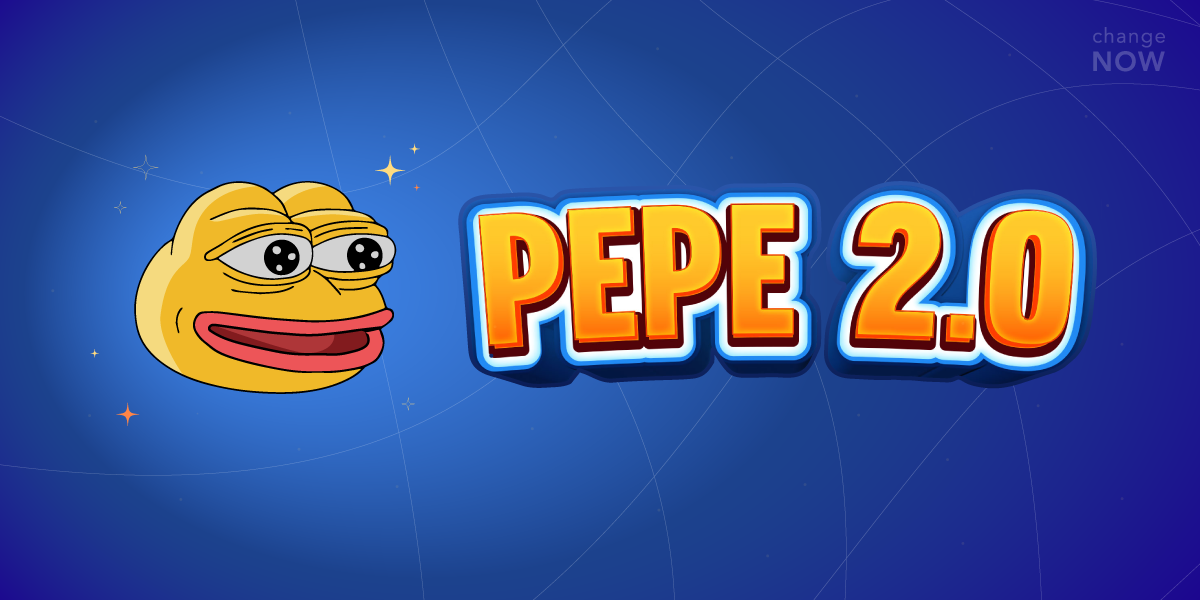 Unlike an upgrade, Pepe 2.0 represents a revolution in the world of meme coins. It brings together cutting-edge advancements and awe-inspiring innovations to create an entirely new dimension of excitement for users. With its unique approach and vibrant community, Pepe 2.0 has gained significant attention in the crypto market.
The Story Behind Pepe 2.0
Pepe 2.0 emerged in response to the success of Pepe coin and the demand from investors who missed out on its bull run. The original Pepe coin witnessed a meteoric rise in May 2023, with its market capitalization reaching a staggering $1.6 billion. This success prompted the creation of Pepe 2.0, aiming to replicate and even surpass the achievements of its predecessor.
The developers of Pepe 2.0 recognized the importance of transparency and community involvement. To demonstrate their commitment to these principles, they renounced ownership of the smart contract address, ensuring that the community retains control over the project. This move not only promotes transparency but also empowers the community to actively participate in the growth and development of Pepe 2.0.
Tokenomics of Pepe 2.0
Tokenomics plays a vital role in the success and sustainability of any cryptocurrency project. Pepe 2.0 operates on a unique set of tokenomics designed to reward holders while maintaining a healthy ecosystem. Here are some key details about the tokenomics of Pepe 2.0:
Total supply: 420,690,000,000,000
Taxes: 1%
Security: Ownership Renounced
The 1% tax on Pepe 2.0 transactions is dedicated to various initiatives, including community development, liquidity pool support, and marketing efforts. This tax mechanism ensures the continuous growth and sustainability of the project while rewarding token holders.
The Potential of Pepe 2.0
Pepe 2.0 has shown tremendous potential since its introduction, with its price soaring to new heights. Within a short period, the price of Pepe 2.0 experienced a remarkable surge, reaching a record high of $0.000000171. This incredible increase presents an opportunity for investors to potentially multiply their investment many times over.
One trader exemplified the potential of Pepe 2.0 by turning a $900 investment into a staggering $176,000 in just 24 hours. This success story showcases the immense growth potential of meme coins like Pepe 2.0 and the opportunities they offer to savvy investors.
How to Buy PEPE2 on ChangeNOW
If you're excited about the potential of Pepe 2.0 and want to join the vibrant community, ChangeNOW is the ideal platform to buy and exchange PEPE2. ChangeNOW is a trusted and user-friendly crypto exchange platform that offers seamless transactions and a wide range of supported cryptocurrencies.
Here's a step-by-step guide on how to buy PEPE2 on ChangeNOW:
Visit the ChangeNOW website.
On the homepage find PEPE2.
Select the pair you want to use, for example USD/PEPE2.
Enter the amount of PEPE2 you want to get.
Provide your PEPE2 wallet address.
Review the details of the transaction and click "Confirm" to proceed.
Follow the on-screen instructions to complete and complete the transaction.
By following these simple steps, you can easily buy PEPE2 and become part of the exciting Pepe 2.0 community.
Exciting news for all Pepe 2.0 enthusiasts! We've got something special lined up just for you. Head over to our Twitter account and participate in our thrilling contest. Your mission: Find the 5 elusive PEPE 2.0 tokens hidden within the image below. A fantastic prize awaits the sharpest eyes in the crypto community!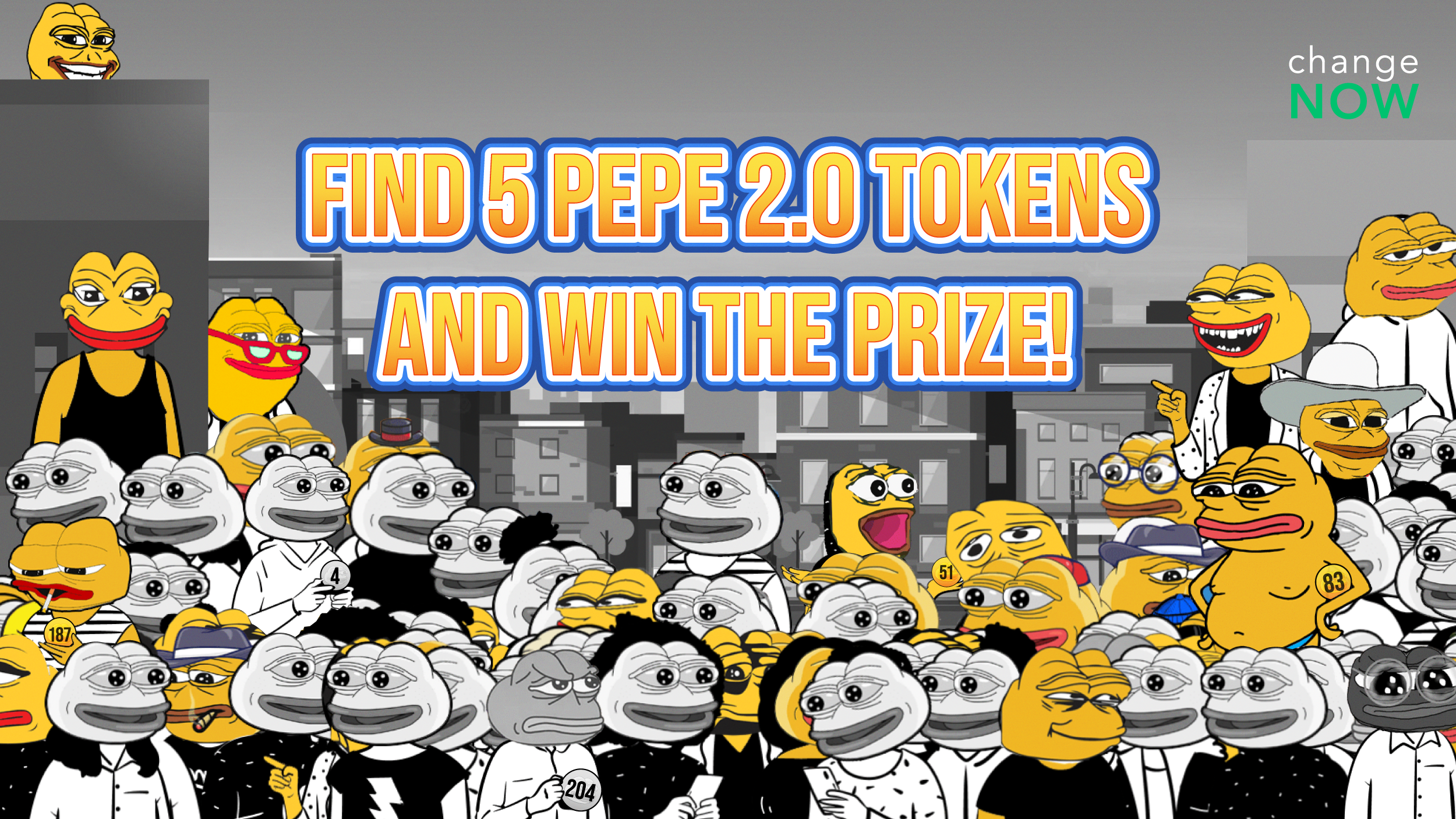 The Future of Pepe 2.0
As Pepe 2.0 continues to gain traction in the crypto market, its future looks promising. The vibrant community surrounding Pepe 2.0, coupled with its unique features and potential for growth, sets the stage for an exciting journey ahead. The developers are dedicated to fostering innovation and adventure, ensuring that Pepe 2.0 remains at the forefront of the meme coin revolution.
In conclusion, Pepe 2.0 represents a new era in meme coin investing. With its revolutionary approach, vibrant community, and potential for substantial returns, Pepe 2.0 has captured the attention of crypto enthusiasts worldwide. If you're ready to embark on an adventure in the world of meme coins, buying PEPE2 on ChangeNOW is the gateway to this exciting opportunity.
Disclaimer: Cryptocurrency investments carry inherent risks, and it is important to conduct thorough research and seek professional advice before making any investment decisions. The information provided in this article is for informational purposes only and should not be considered investment advice.