ChangeNOW and Guardarian Introduce Shared KYC Procedure for Verified Profiles
ChangeNOW, the leading cryptocurrency exchange platform, has joined forces with Guardarian to bring an exciting new feature to its users. The collaboration introduces a shared KYC (Know Your Customer) procedure for verified profiles, making it easier and more convenient for customers to buy and sell cryptocurrencies securely.
What is KYC?
KYC, or Know Your Customer, is a standard procedure in the financial industry that involves verifying the identity of customers. It is an essential step in ensuring compliance with regulatory requirements and preventing fraud, money laundering, and other illicit activities. KYC typically involves providing personal identification documents and additional information to establish a customer's identity.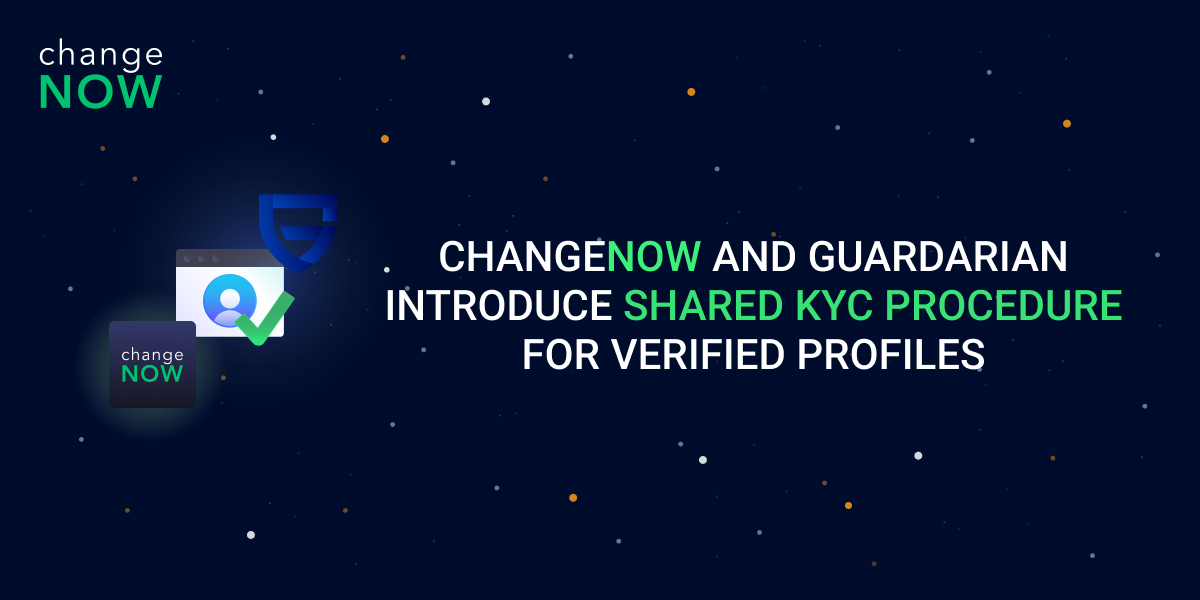 Simplifying the KYC Process
Traditionally, when users engage with different platforms or services, they are required to complete the KYC process separately for each one. This can be time-consuming and repetitive, especially for frequent cryptocurrency traders. However, with the new integration between ChangeNOW and Guardarian, users can skip the KYC process when buying or selling crypto via Guardarian if they meet certain conditions.
Conditions and Benefits:
To qualify for the shared KYC procedure, users must have a verified profile on ChangeNOW and have successfully completed the KYC procedure. This exciting feature is currently available for users from the European Union (EU) and the United Kingdom (UK).
With the introduction of SumSub's innovative solution, known as shareToken, the secure sharing of KYC data between platforms becomes possible. Once users complete the KYC process on one platform, they can seamlessly switch between integrated platforms without needing to repeat the KYC procedure. This integration streamlines the customer onboarding process, reduces manual effort, and ensures compliance with regulatory requirements.
Important Considerations
While the shared KYC procedure allows users to skip the Guardarian KYC process, it's essential to note that Guardarian still subjects users to internal risk checks. These checks are in place to enhance security and mitigate potential risks associated with cryptocurrency transactions. In certain cases, additional verifications by SumSub, such as card verifications and live face matches, may be triggered. Users are encouraged to review Guardarian's AML/CTF (Anti-Money Laundering/Counter-Terrorist Financing) policy for more detailed information.
Get Started and Enjoy Seamless Transactions
If you're a crypto enthusiast from the EU or the UK, now is the perfect time to take advantage of ChangeNOW and Guardarian's shared KYC procedure for verified profiles. By leveraging the power of shareToken, you can skip redundant KYC processes and enjoy hassle-free transactions across multiple platforms.
Don't miss out on this exciting opportunity to simplify your cryptocurrency trading journey. Join ChangeNOW and Guardarian today and experience the benefits of a seamless and secure shared KYC process.