Bitcoin and ETH Set New ATHs as Market Bulls
Bitcoin and Ethereum crossed $68,000 and $4833 respectively early this morning, taking total crypto market capitalization above $3 trillion.
Bitcoin's Price Increase
This is the second time in less than a month that Bitcoin has achieved a new high, shattering the peak from the year's bull run and signifying a rebound from its meltdown in June. Bitcoin's new ATH occurred during Asian hours, as other altcoins enjoyed a brief rally.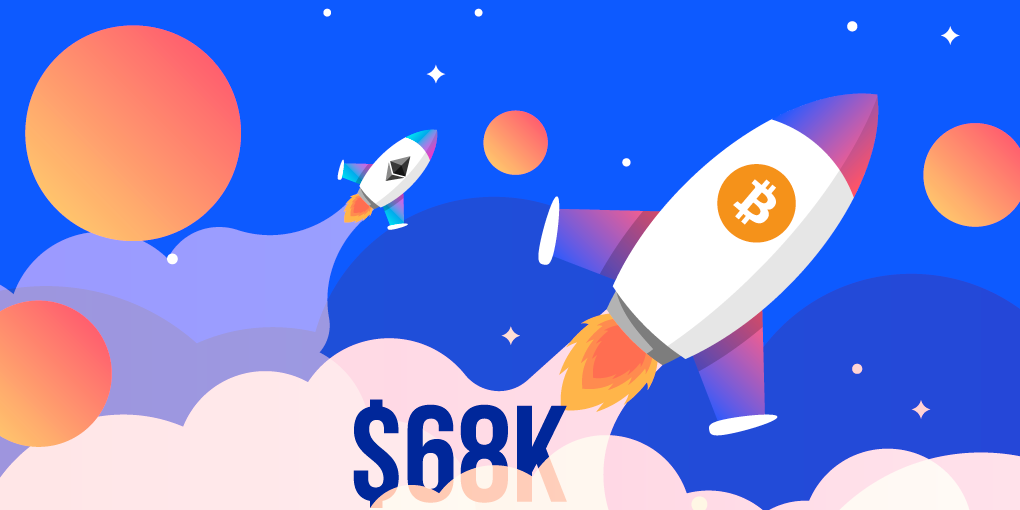 CEO of Bitcoin Fund Monochrome, Jeff Yew, said that recent developments including El Salvador's mass adoption of Bitcoin, significant corporations adding Bitcoin to their treasuries, ongoing institutional acceptance, and the legalization of BTC futures exchange-traded funds, all led to the recent price movement.
According to ChangeNOW's Mike Ermolaev, Bitcoin could be set for even more highs this month, following a very encouraging October, with BTC expected to cross the psychological $70000 mark. There are also indications that the crypto bull will extend into early 2022.
Ethereum's Price Surge
Part of Ethereum's London hard fork update made it possible to burn a huge chunk of transaction fees instead of transferring them to miners. Last week, more than $2.4 billion worth of ETH was burned, and Ether's price surged significantly. Burning permanently removes Ethereum tokens in circulation, and in this case, exactly 702,886 ETH were permanently locked away.
Ethereum's price surge is a new positive for enthusiasts especially after high transaction fees have shifted market focus to alternative blockchains like Solana and Polkadot. Since the start of the year, Ethereum's trading volume on aggregated exchanges across the world, according to statistics from blockchain analytics company Kaiko.
Markets March on
Since the beginning of October, the general market has been on a steady bullish drive, adding roughly $1 trillion to its entire value in only a month. Within the last 24 hours, total market capitalization has effectively crossed over US$3 trillion.
According to Jeff Yew, the three trillion milestone is an accomplishment that precedes even more crypto adoption. Bitcoin currently trades at $67, 733, while ETH trades at $4,808, at the time of writing.
You can buy or trade any of your preferred tokens for Bitcoin or Ethereum on ChangeNOW without any hidden fees.
Welcome to the NOW experience! The ChangeNOW team presents you with the new community-inspired crypto wallet – NOW Wallet.