Amp Token. Everything You Need To Know About It
Whether you're a newbie or a savvy crypto investor, the Amp token may be an appealing investment opportunity.
Its value more than quadrupled in its first year after its introduction to the market in September 2020.
What Is Amp?
Ethereum-based Amp is the in-house token of the Flexa payment network, a cryptocurrency payment system that makes it more convenient for merchants to accept crypto payments.
An ERC-20 compatible token, Amp serves as collateral for payments made through the Flexa network, meaning that if a payment fails or is delayed, Amp can be used to cover the costs. In other words, the vendor is paid anyway and there is increased security for both buyers and sellers.
This allows Amp to handle a broad range of transaction types, including digital payments, loan distributions, fiat currency exchange, real estate sales, and so on. Amp tokens have a fixed supply to reduce volatility risks.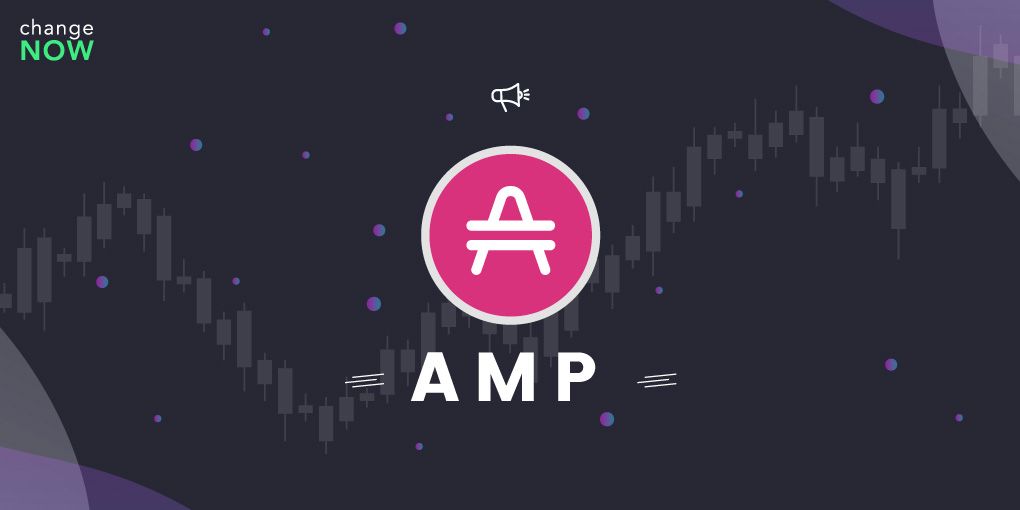 Security Audits
ConsenSys Diligence and Trail of Bits have audited the Amp smart contracts and related source materials.
In June 2020, ConsenSys Diligence audited the Amp smart contracts. The report found zero critical issues and made fifteen recommendations for developer experience and other optimizations, all of which have been implemented.
In July and August of 2020, Trail of Bits conducted an audit of the Amp smart contracts and related collateral management contracts. Also, it did not find any critical issues and provided only one low-severity recommendation, which has since been addressed.
Why Is Amp On The Rise?
Amp is booming for a number of reasons. Amp token price is gaining momentum as investors continue to favor the cryptocurrency, which has posted almost 30% gain so far in November.
Amp has cemented its bull run since it was listed on Coinbase in June. Making sense, as it is becoming more and more popular with investors.
Amp is also increasingly adopted by DeFI apps and markets, contributing to liquidity and stability. These include CoinGecko, Sushiswap, Yield Credit, Uniswap, Moonswap, and many others. Transacting with Amp tokens is also very easy for anyone using a digital wallet like MetaMask or TrustWallet. And surely it is supported by ChangeNOW.
Amp price surged after being listed on Binance, the largest cryptocurrency exchange by volume. Experts believe it has the potential to reach even greater heights soon: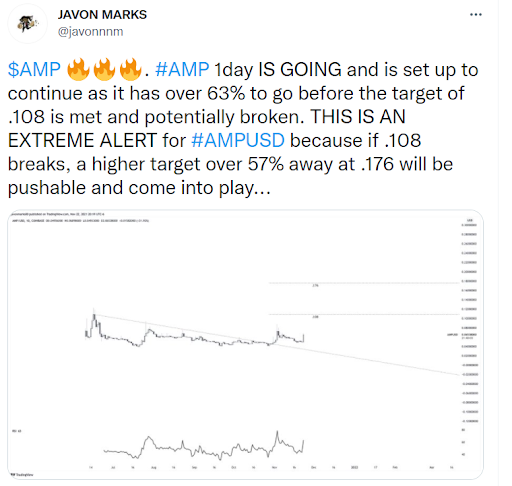 Source: https://twitter.com/javonnnm/status/1462969266152607746
At last check, Amp price was up by 34.49% in the past 24 hours at $0.0679 with a $2.9 billion market cap. This makes Amp the world's 63rd largest crypto project.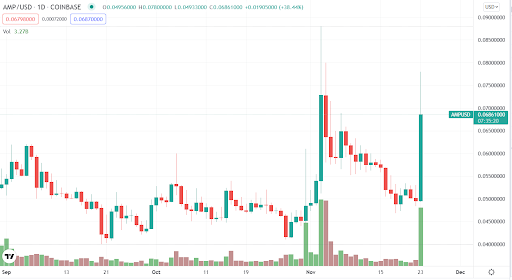 Amp Token Price Chart. Source: TradingView
Amp Token Price
According to DigitalCoinPrice, Amp token price was going to reach $0.0890787510 by the end of 2021, which did not happen. At the beginning of 2022 the value of AMP was around $0.05322 and then started to fall. Yet, the predictions say that by the end of 2022, the coin is seen to come in at $0.1120691481. The price of Amp could rise to 30 cents by 2028, a 355% increase from current levels: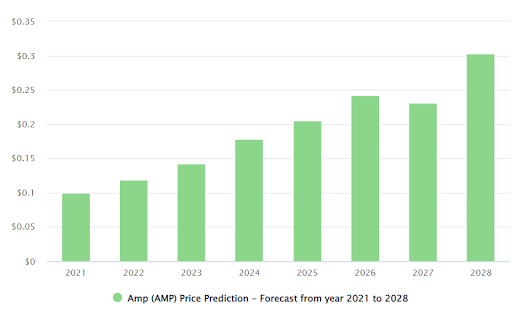 Taking a Final Look
Investing in cryptocurrency requires a long-term approach. The buzz surrounding Amp is enough to make it worthwhile to try. A major advantage of Amp may be that it's entering the market at the dawn of smart contracts, laying the groundwork for a successful future of cryptocurrencies.
You can buy, trade any of your preferred tokens for Amp (AMP) on ChangeNOW without any registration.