The Discord Revolution: YoloNolo's Integration of ChangeNOW's API
Cryptocurrency has revolutionized the way we conduct financial transactions, and Discord has emerged as a popular platform for crypto enthusiasts to connect and engage with each other. As the crypto space continues to evolve, it becomes crucial to have seamless access to crypto exchanges within Discord. This is where ChangeNOW, with its powerful Exchange API, comes into play. In this article, we will explore how the YoloNolo Discord Bot integrated ChangeNOW's API to empower Discord servers and users to become their own revolutionary trading rooms.
Introducing YoloNolo Discord Bot
YoloNolo Discord Bot is a versatile and innovative tool that aims to enhance the trading experience for Discord users. With its integration of ChangeNOW's Exchange API, YoloNolo Bot brings live trading of perpetual futures to every Discord server. It goes beyond traditional text-based trading bots by empowering communities to establish and operate their own in-server or chat-based trading platforms.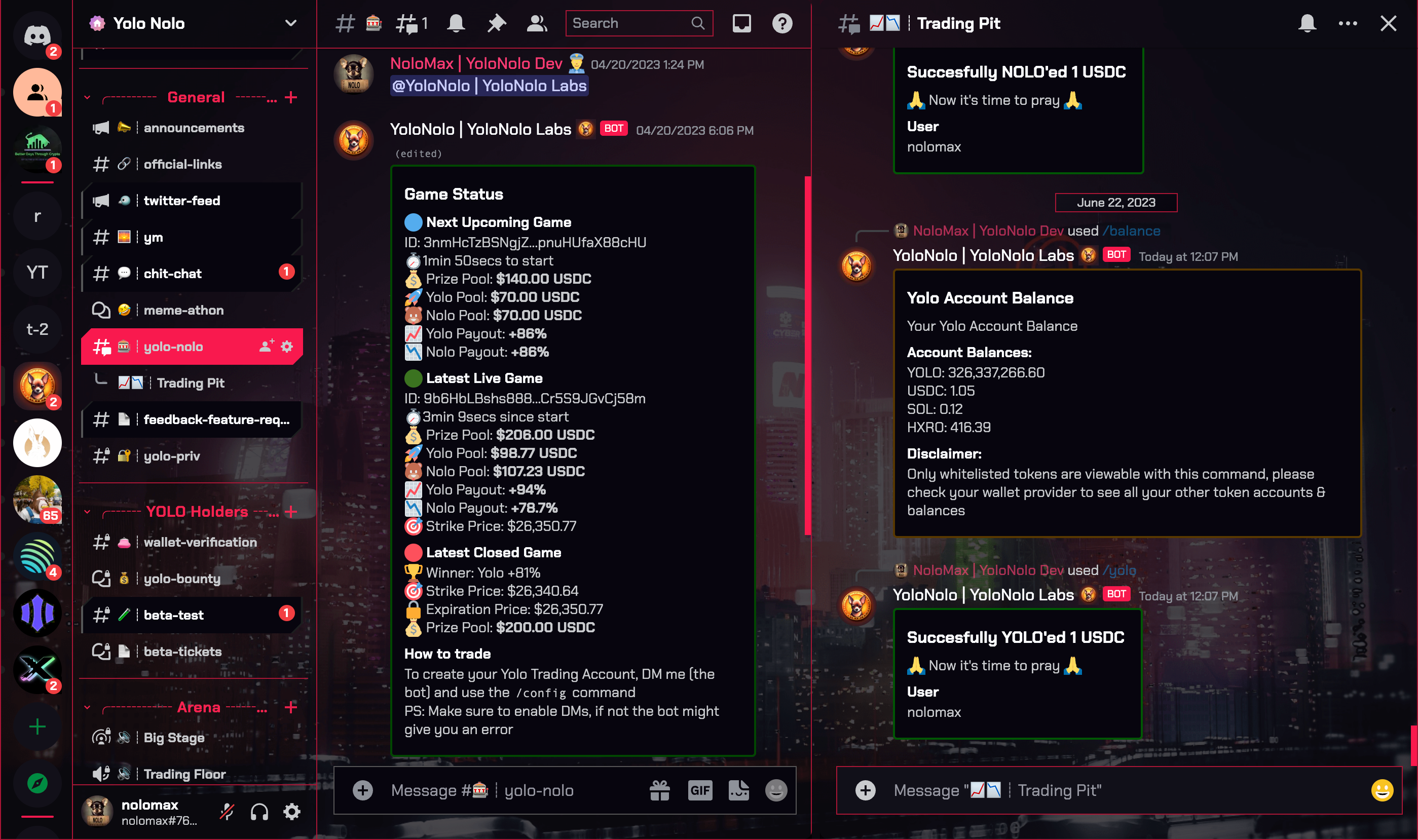 The Power of ChangeNOW's Exchange API
ChangeNOW is a leading cryptocurrency exchange platform that offers fast and secure swaps of over 850 cryptocurrencies. With its Exchange API, ChangeNOW provides easy access to crypto swaps within various platforms, including Discord. By integrating ChangeNOW's API into YoloNolo Bot, Discord servers can now enable their users to buy, sell, and exchange cryptocurrencies seamlessly without leaving the platform.
Benefits of Integration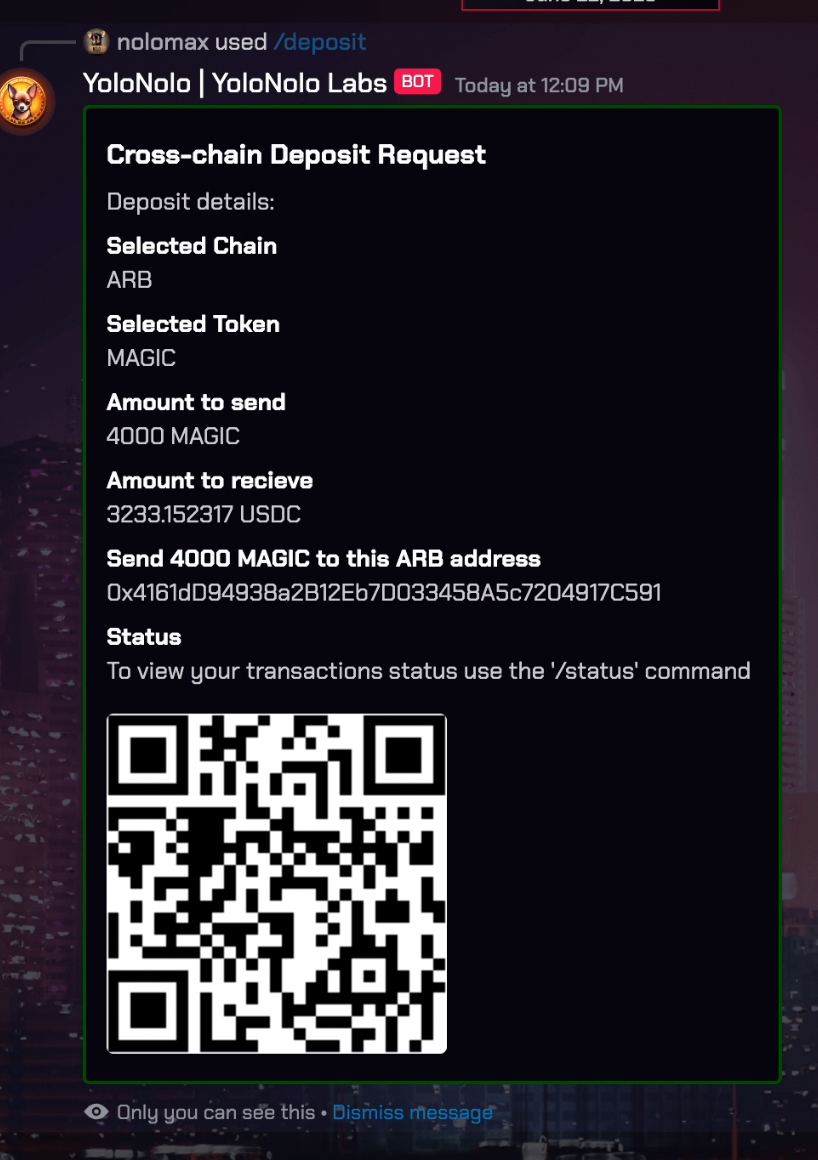 1. Enhanced User Retention
By integrating the YoloNolo Discord Bot with ChangeNOW's Exchange API, servers can significantly enhance user retention. Users no longer need to switch between platforms to perform crypto transactions, ensuring a seamless and convenient crypto experience within Discord.
2. Monetizing Social Capital
Discord servers that adopt YoloNolo Bot with ChangeNOW's API integration can monetize their social capital. Servers will receive a 4.4 basis points (BPS) fee from the notional trading volume generated on their server. This incentivizes server owners to create vibrant trading communities and provides an opportunity for businesses to generate revenue through their Discord presence.
3. Seamless Trading Experience
With YoloNolo Bot and ChangeNOW's Exchange API, Discord servers can offer their users a seamless trading experience directly within their server. The integration leverages Hxro Network's Dexterity protocol and the ability to integrate On-chain Derivatives Orderbooks, ensuring a smooth and efficient trading process.
4. Transaction Fee Structure
YoloNolo Bot, powered by ChangeNOW's Exchange API, charges a transaction fee of 25bps. However, in the spirit of community growth, the Nolo community shares in the growth of Nolo Perps. Each transaction fee will be split as follows:
10% of the transaction fee will be distributed to NOLO holders.
10% will be allocated to development and maintenance of the YoloNolo ecosystem.
The remaining 80% will be used for server fees, staking rewards, and liquidity provision.
Expanding the Nolo Perps Server Ecosystem
To foster growth and expansion, YoloNolo Bot introduces a B2B referral system that enables users to earn 2.2 BPS fees from the total notional volume of each server they onboard using their referral code. This incentivizes users to promote and refer YoloNolo Bot to multiple servers, creating a network effect and driving adoption.
C2C Referral System
YoloNolo Bot takes the referral system a step further by facilitating a C2C referral system within individual servers. Members can earn fees from every additional member they invite to their desired server, establishing a network of incentivized users committed to growing their community servers by inviting friends and others.
Introducing $NOLO Token
In line with YoloNolo's goal of being an omni-chain project, it is excited to announce the launch of $NOLO token on the Ethereum Mainnet. While Solana boasts exceptional on-chain trading technology, Ethereum stands out due to its larger token markets and diverse liquidity. The Nolo Perp Trading Bot will continue to operate and settle on Solana, leveraging its ultra-fast throughput, messaging, and extremely low-cost structure.
The supply of NOLO tokens will be significantly less than YOLO, with a total supply of 4,444,444.44 NOLO. YOLO holders will have the opportunity to convert their tokens to NOLO at a conversion ratio of 2,000,000 YOLO to 1 NOLO (MM). This migration will ensure a sustainable ecosystem for the Nolo community.
Conclusion
The integration of ChangeNOW's Exchange API into YoloNolo Discord Bot opens up a world of possibilities for Discord servers and users. With the power of seamless crypto trading within Discord, servers can enhance user retention, monetize their social capital, and provide a convenient trading experience. By leveraging the B2B and C2C referral systems, YoloNolo Bot encourages network growth and incentivizes users to promote the bot to multiple servers. Don't miss out on the opportunity to integrate ChangeNOW's API into your Discord server and unlock the full potential of crypto trading within your community.
Integrate ChangeNOW's API now and revolutionize your Discord server's crypto experience!
Disclaimer: Please note that the information provided in this article is subject to change. Stay updated by referring to the official YoloNolo Discord for the latest updates and announcements.