What Happened with Crypto in 2021? Full Review
The holiday season has arrived! It's the perfect time to review everything that has been happening in crypto during 2021.
The holiday season has arrived! It's the perfect time to review everything that has been happening in crypto during 2021. This year has been very eventful. We have witnessed new all-time highs, institutional adoption, prominent support, and greater connection with traditional financial markets. But, unfortunately, the year has also been marked with huge scams, which caused many people to lose their investments.
Let's look at some of the most significant events of 2021.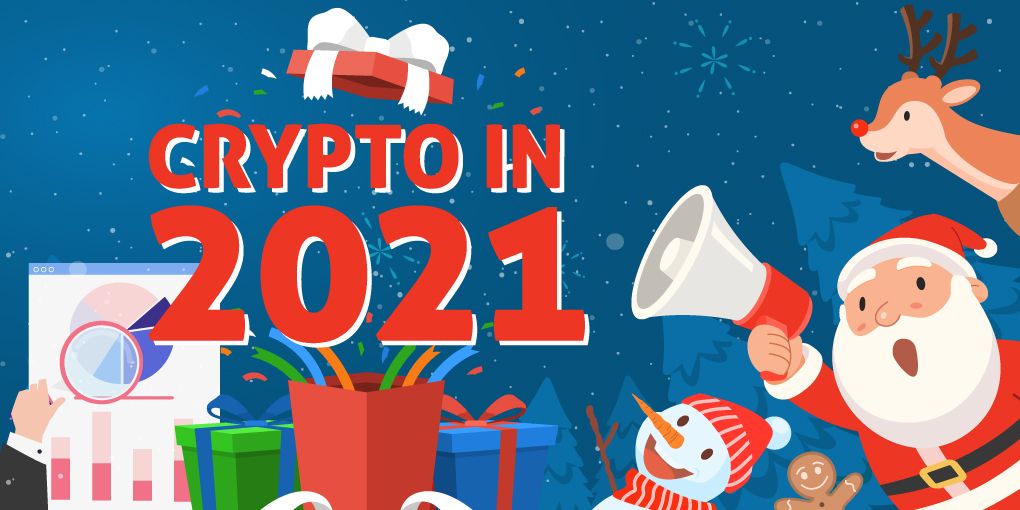 The Good
Bitcoin broke its all-time high in November 2021 when the price soared to almost $69.000. One of the reasons for the rally was undoubtedly prominent backing by celebrities such as Elon Musk or ex Twitter CEO Jack Dorsey. It all began with the two entrepreneurs adding #Bitcoin to their Twitter feeds.
Tesla announced that it had purchased $1.5 billion worth of Bitcoin and is also accepting the coin as a payment method for their vehicles. Square did something similar by investing $170 million in the oldest cryptocurrency. MicroStrategy insisted on buying Bitcoin throughout the year and increased its crypto portfolio to **$6 billion **worth of BTC.
Reddit made headlines after cryptocurrency investors coordinated their efforts in an attempt to pump Dogecoin prices to $1. That didn't quite work out, but DOGE still rose to over $0.70 a coin.
The month of September will be remembered as the time when Bitcoin got officially accepted as legal tender for the first time in its history. El Salvador was the first nation to adopt it as a national currency. Bitcoin is also being mined in this Central American country using volcanic energy. Last but not least, there are plans to build a standalone Bitcoin City.
Since the beginning of the year, NFTs (non-fungible tokens) have been making their rounds. We had the most expensive sale of a piece of digital artwork when Beeple sold his creation titled "Everydays" for almost $70 million. NFT-based gaming became even more popular in 2021. An excellent example of that trend is Axie Infinity. This blockchain game has recorded millions of active users since its release.
This year marked the beginning of central bank issued digital currencies. Countries like China with its Digital Yuan or Sweden with the E-Krona are amongst the pioneers in this market. There is also the Digital Euro that was launched in July. In addition, payment processors such as PayPal or Skrill started supporting cryptocurrencies.
In April, the first crypto-related business got listed on the stock exchange when trading began for the Coinbase IPO on Nasdaq. Unfortunately, despite a good initial run, the stock's value in December 2021 fell 20% below its listing price. Finally, October brought us the long-awaited first Bitcoin ETF (exchange-traded fund). The ProShares Bitcoin Strategy ETF was listed on the New York Stock Exchange and recorded great interest by institutional investors.
The Bad
One of the biggest crypto shockers of 2021 happened when China banned and expelled Bitcoin miners from its territories. The ban caused a 50% reduction in the overall hashrate and a drop in the asset's value. Government actions forced miners to set up shop abroad, and many reallocated their operations to the USA.
One of the world's biggest exchanges, Binance, was banned from operating in the UK. This was just one in a series of regulatory crackdowns on this platform throughout Europe. As a result, Binance is now forced to conduct KYC verification on existing and new customers.
After Bitcoin broke the 60k barrier in April 2021, it lost more than 50% of its value in the upcoming months. At one point in July, the price fell below $30.000. After Tesla initially showed support and appreciation for Bitcoin, the asset was dropped as a supported payment method because it uses too much fossil fuels in the mining business.
Many scam artists ran away with millions of dollars in 2021. The Squid Game token project ended with a rug pull that resulted in a loss of over $2.5 million. Various DeFi platforms were exploited and hacked with damages amounting to several hundred million dollars. It is estimated that $7-10 billion were lost in all crypto-related scams throughout 2021.
Prominent Projects of 2021
Bitcoin wasn't the only digital asset whose value soared in 2021. Several other projects recorded significant gains and adoption throughout the year.
Cardano (ADA)
Cardano has had a very prosperous year. Their price bounced around the $0.20 mark at the beginning of January before taking off. New updates were announced to the asset's smart contract functionalities, which signaled the beginning of a big rally throughout August. Cardano's yearly gain for 2021 is over 580%.
Shiba Inu (SHIB)
Shiba is a meme coin that has really rocketed this year. It had a non-existent trading activity at the beginning of the year. However, SHIB has recorded a 24-hour trading volume of almost $40 billion in October 2021. Partially thanks to its decentralized exchange with staking capabilities, but also because of the support of Elon Musk, Shiba Inu gained over 1.400% this year.
Polygon (MATIC)
Polygon is the internet of blockchains and one of the biggest gainers on the cryptocurrency market in 2021. This second layer Ethereum solution has gained an incredible 11.000% during the last 12 months. The token traded for $0.18 on 1 January 2021, after which its development team announced that they would rebrand from Matic to Polygon in February. This was also the beginning of a proliferating performance in which the asset reached an ATH of $2.70 on 23 December 2021.
Floki Inu (FLOKI)
Floki is a new dog-themed coin that was launched in August 2021. It was created by the supporters of Shiba Inu and got its name from Elon Musk's dog. Ironically or not, his dog is a Shiba Inu breed. On 13 September 2021, Elon announced the arrival of his new friend via Twitter. In the four months since the coin's listing on exchanges in 2021, its value has increased by an incredible 600.000%.
Dtravel (TRVL)
The month of November introduced us to a brand-new decentralized community for travellers and homeowners called Dtravel. This DAO is a decentralized platform for home-sharing with significantly lower fees than similar businesses. The community's response to the project has been positive, resulting in an ROI of almost 400% since the native TRVL token was listed on exchanges.
Helium (HNT)
Helium allows for wireless communication between connected devices and the Helium hotspots. This IoT project has been around since 2019, but it really took off this year. Over 270.000 hardware units have already been installed worldwide. This popularity was reflected in the price because the value of the HNT token increased by over 1.400% this year.
Dash (DASH)
Dash is another highly successful altcoin project that has had a memorable 2021. This open-source payments-focused coin released DashDirect during the summer. DashDirect is a shopping app that allows DASH holders to spend their coins at over 155.000 stores in America. Therefore, it's not surprising that the asset's yearly gains are +400%.
Ravencoin (RVN)
Ravencoin is a fork of Bitcoin released at the beginning of 2018. In January and February 2021, RVN had the time of its life when it reached an ATH of $0.28 on 20 February. This was the period when WallStreetBets and its users short squeezed GameStop stocks, causing the suspension of trading activity of some publicly listed assets. As a result, the community turned to Ravencoin thanks to its tokenized securities features.
The Biggest Crypto Failures of 2021
Despite a very positive year overall for cryptocurrencies, some projects have miserably failed us and let their communities down. Let's mention two of the biggest mistakes of 2021.
The MILF Token
MILF started out as an interesting concept. Sexy, collectible, and rare milf NFTs were supposed to be airdropped to holders of the MILF token. The project gained plenty of traction over social media. Unfortunately, the developers abandoned it, sold their bags, and left behind a dead coin with 0 trading volume.
The Save The Kids Scam
In June 2021, the Save The Kids altcoin project was launched, presenting itself as a charity organization. The team said they would donate proceeds from their token sale to children's charities. The creators of the coin partnered with the renowned eSports team FaZe Clan in an attempt to increase the asset's value as much as possible. Unfortunately for everyone, it turned out to be a planned pump & dump scheme. When the value of the KIDS token soared, the creators sold everything they had, leaving the community holding a valueless scam.
Final Words
2021 has been a productive year for the cryptocurrency industry. We have witnessed increased institutional adoption and acceptance. Bitcoin has, for the first time, been recognized as a national currency, and despite the Chinese BTC mining ban, it has led to a greater decentralization of mining operations.
The SEC accepted the first-ever Bitcoin ETF. For a few months, people could actually purchase Tesla vehicles for crypto. Sadly, we have also had nasty surprises and notorious scams. It's especially bitter that the health and well-being of children was misused to steal money and mislead investors.
Many altcoins blossomed during this year. Projects such as Dtravel, Floki, Shiba Inu, and many others recorded gains of several hundred and even thousands of percent. With increased adoption and additional government support, 2022 looks like a year when crypto could break its previous records and reach new highs.
Have a Happy, Healthy, and Joyful New Year!
ChangeNOW team