Developers SQUID Token Liquidate Investor Profits
SQUID, a meme token based on dystopian South Korean Netflix series, took a nosedive on Monday losing 99.99% of its value after it was seemingly rug-pulled.
The play-to-earn digital asset went live on the 27th of October with a starting price of just $0.012. Being modeled after the most-watched show in Netflix history, SQUID coin unsurprisingly held quite the appeal, and in the first week of its release, the price of the SQUID token surged by 90000%.
Several traders came on board acquiring tokens to play the games the platform offered while simultaneously attempting to make profits. Before dropping down to nearly zero yesterday morning, its value had risen to $2856.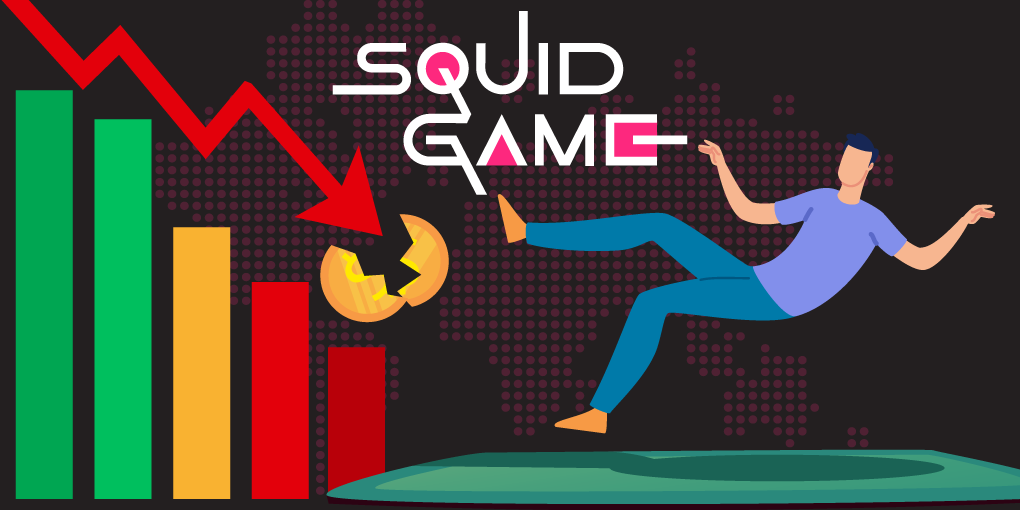 What Happened?
The parties who anonymously created this token carried off what is called a rug pull. A rug pull occurs when the developers of a crypto coin abandon the project after drawing in buyers, only to make off with the profits from the sales.
Using a backdoor in the code, the developers of SQUID liquidated all of the investors' money which totaled 2.5 million USD and ran away with it. According to wallet activity on Binance exchange, the holdings were sent to "SQUID Token Rug 2". The creators privatized the transaction details using TornadoCash.
Red Flags Were Always There
When the token was initially launched, and investors were trying it out, it was somewhat suspicious that they were unable to swap or sell their tokens and make profits. The developing team passed it off as "innovative anti-dumping technology".
Later on, they stated that SQUID coin's official release as the native token of an online tournament, not unlike the Netflix show, would take place in November. Players would be able to register for the tournament and would have to pay an entry fee but winners would earn more of the token.
There were other signs, notable enough that CoinMarketCap had to put out a notice warning for potential investors looking to purchase SQUID.
"We have received multiple reports that users are not able to sell this token in Pancakeswap," CoinMarketCap's notice read. "Please do your due diligence and exercise caution while trading! This project, while clearly inspired by the Netflix show of the same name, is unlikely to be affiliated with the official IP."
All of the token's social media accounts have been deactivated. According to a report, however, the developers shared via telegram that they wanted to shut down the project due to repeated attacks from hackers.
This is not the first incident of this type in 2021. A similar scam took place a while ago with a digital asset called the MANDO token. Although inspired by the TV series Mandalorian, the token was not connected to Disney, and could not be sold.
Several believe this latest rug-pull should be a reminder to carry out adequate research before investing in any assets.
You can buy or trade any of your preferred tokens on ChangeNOW without any risks.
Welcome to the NOW experience! The ChangeNOW team presents you with the new community-inspired crypto wallet – NOW Wallet.