Weekly Recap: LUNA, UST Lead Market Crash as Maker Holds On
In a week where the bears ravaged every coin on their path, APE and MKR still managed some gains. However, the same could not be said for LUNA and its historic collapse.
It was a dreary week for the crypto market. With Bitcoin experiencing massive sell-offs, it broke through a weakened $35k support to descend to $26k. Ethereum also suffered a 25% drop, its lowest since July 2021. Just like it was for most cryptos, Ethereum faced the brunt of the interest rate hikes and other macroeconomic factors. The situation worsened when Luna Foundation Guard (LFG) sold off its crypto reserve, liquidating about $1.3 billion worth of Bitcoin.
LUNA, which headlined many crypto news in recent days, witnessed an unprecedented drop — crashing by over 99% within the week. Its sister coin, UST, also went down. The stablecoin got completely unhinged from the dollar and went down to $0.27. However, for stablecoins like BUSD, it was a case of being steadfast amid a turbulent market.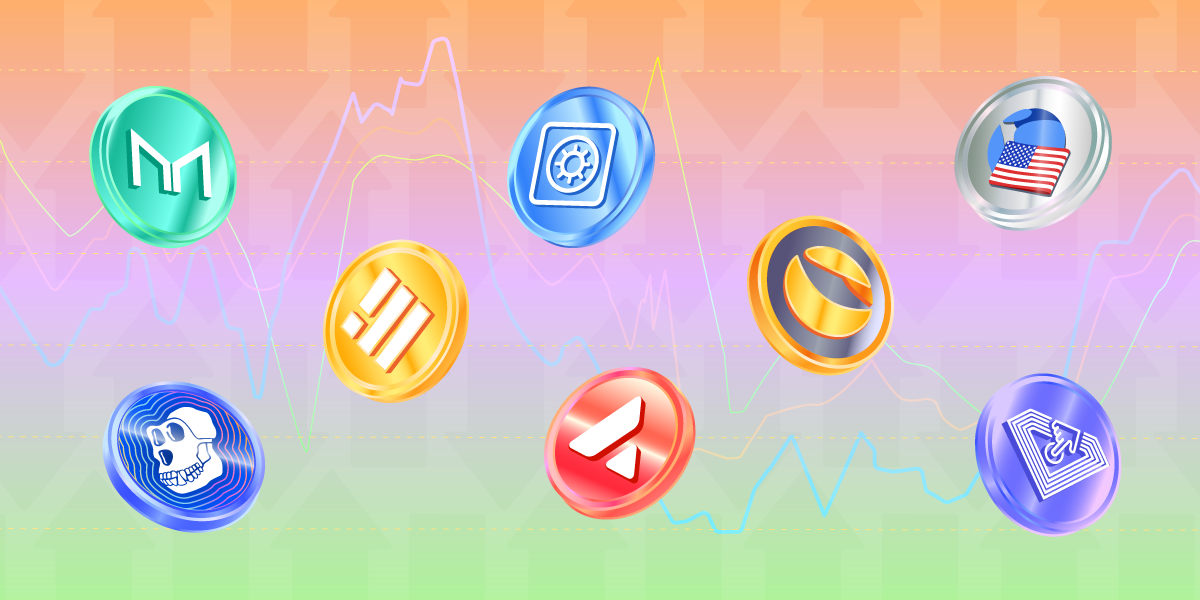 Top Gainers: APE, MKR and BUSD Strive to Stay Afloat
Maker (MKR)
With Terra being in the news for all the wrong reasons, rival Maker seized the spotlight. The coin surged by 30% within the week, growing from $1,372 to $1,770. As at writing, the governance token was trading at $1,445. In a similar but reversed trend of events, MKR soared with its stablecoin, DAI just like UST took LUNA down with it. Within the week, DAI became the fourth largest stablecoin by market cap.
Coinloan (CLT)
Being ranked low coupled with the current state of the market didn't deter CLT from printing considerable gains this week. Although the coin traded sideways at the $16 range for the most part of the week, it spiked to $22.48 by the end of the week. As at writing, CLT has a market price of $22.58.
ApeCoin (APE)
Two weeks ago, APE saw the Top Losers list for the first time in about three weeks. However, it has found a way to sneak back into Top Gainers this past week. Its performance was not as lustrous as in previous weeks, but it was sufficient enough to place it ahead of other coins in the market.
The NFT token which crashed by 80% in two weeks was able to test a rebound from $5.82 to about $9.3 this past week.
Binance USD (BUSD)
Stablecoins are designed to be "stable" irrespective of the market condition. But the current bear market sent stablecoins falling off their dollar peg — including Tether (USDT), which dropped to an all-time low of $0.95.
For BUSD, however, it was a different narrative. The stablecoin held firmly to its dollar peg, and even rose to $1.0189.
Axel (AXEL)
Axel is another coin at the bottom rung that saw the spotlight this week. It had a 20% gain, moving from $0.15 to $0.18.
Sapphire (SAPP)
While other coins experienced gray clouds, SAPP was among the few to see a blue sky. The coin increased by 28.3% from $0.60 to $0.77.
Top Losers: LUNA, UST Hit Rock Bottom
TerraUSD (UST)
It was a bad week for Terra and its coins, UST and LUNA. Several events happened at UST's backend that led to the downward spiral of the stablecoin. Consequently, the coin was depegged from the dollar, which caused it to drop from $1 to $0.17, as at writing.
Terra (LUNA)
LUNA, the sister token of UST, became collateral damage to the latter's woes. UST was designed in such a way that LUNA sales would help UST be at par with the dollar. But as soon as UST was depegged from the dollar and investors tried to cash out, the mechanism put massive downward pressure on LUNA.
LUNA's massive price drop caused its circulating supply to increase to compensate for the drop. This led to a vicious cycle: as its supply grew from 340 million to 6.5 trillion, its market price crashed by over 99%, plummeting from $82.5 on May 6 to $0.00006748 as at writing. Binance also delisted several LUNA and UST trading pairs for spot and futures markets.
Fantom (FTM)
FTM continued its losing ways this past week. The Deus Finance hack coupled with the bear market caused FTM to plunge further. The coin moved downhill hitting $0.25 from $0.74 before climbing a bit to $0.38.
Avalanche (AVAX)
With the crypto market experiencing a downturn, AVAX price similarly crumbled, succumbing to the avalanche of pressure sweeping the entire market. This past week, the coin lost about 46% of its value as it broke through its $51.60 support to touch $28, making it one of the week's biggest losers.
Waves (WAVES)
WAVES was incapable of swimming against the tides this past week. The current market decline swept off over 54% of the coin's value. The coin went down from $13.6 to $6.2. As at writing, it's trading at $7.86.
The Graph (GRT)
GRT charted a downward course for itself. The ERC-20 token of an indexing protocol nosedived to $0.12 from $0.29, before crawling up to $0.16 by the end of the week. An almost ironic name considering the fate of this week's market, The Graph sums up the unpredictable happenings we've witnessed in the last 7 days.