Weekly Recap: Institutions Commit to Crypto While Market Dips
Tesla, Microstrategy, Block, and Shopify are just a few names to have entered the crypto space in the past week. But their involvement hasn't stopped a general dip.
Dogecoin Briefly Soared Following Musk's Twitter Board Rumors
Following Musk's purchase of a large stake in Twitter Inc. last week, the value of Dogecoin increased by over 10%. This was little to no surprise given the Tesla founder has been the biggest proponent of the meme token. The coin however dipped once the rumors were dispelled.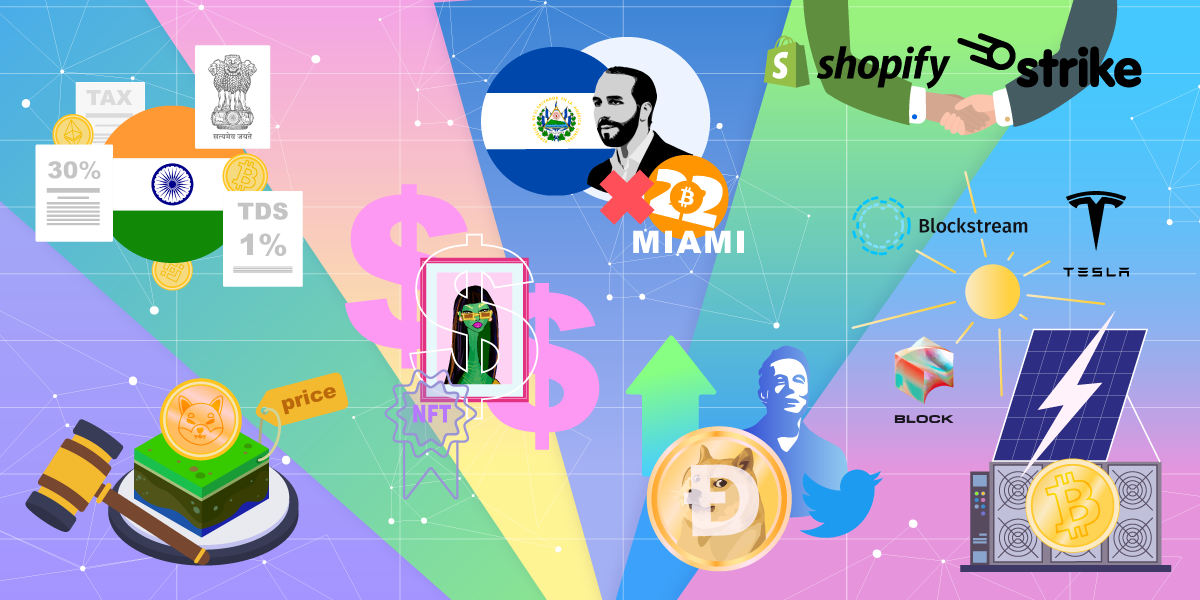 Elon's 9.2% ownership in the company makes him the platform's largest shareholder. According to the contract, this means he could influence key decisions regarding Twitter's future. However, on Monday, Twitter's CEO Parag Agrawal revealed the multibillionaire would not be joining Twitter's board of directors, quelling rumors. Agrawal did note that despite Musk's gentle refusal to be on the board, the board would be forever open to his input.
So far, Elon Musk is yet to make any public request. But the Tesla founder once suggested Dogecoin as payment for Twitter Blue subscriptions. In recent times, Musk has generated good headlines about DOGE, with Tesla accepting DOGE as payment for its superchargers. DOGE has had a positive run of more than 25% in the last 30 days. It trades at $0.1408 at writing, down by 9% over the past day.
Bukele was Absent at the Bitcoiners Conference
Huge Bitcoin advocate President Nayib Bukele canceled his engagement in the just concluded Bitcoin 2022 conference. At the same event last year, El Salvador's President had announced plans to make Bitcoin legal tender. This year, however, the President ditched his intention to attend the event at the last minute.
While there were mooted suggestions the President might not be as bullish on Bitcoin as before, Bukele assured instead that direr circumstances kept him away from the conference. Currently, El Salvador is in a state of emergency following a havoc that saw 87 people killed. The President blamed the incident on the Mara Salvatrucha gang. He went on to say that his country has its undivided attention.
On a high note, the recent conference concluded with an optimistic projection of a probable 100x move of BTC in 2023. Similarly, Jason Urban of Galaxy Digital stated that both Bitcoin and Ethereum might increase by 100% by Q2 2023.
Tesla, Block, and Blockstream Team Up to Mine Bitcoin Using Solar Energy
Tesla is planning to provide mining equipment for Block and Blockstream. The facility will include Tesla's 3.8 megawatt solar PV array and a 12 megawatt-hour Megapack. The consortium's aim is to mine Bitcoin in Texas using solar power. The proposed solar-powered facility is expected to be completed this year.
Blockstream CEO Adam Back stated that the mining operation will serve as a test for "100% renewable energy Bitcoin mining." He added that it is a step toward establishing that Bitcoin mining can support zero-emission power systems and future economic growth.
Blockstream and Block (formerly Square), first announced plans to build the facility last June. This came after Tesla stopped accepting Bitcoin payments, citing environmental issues with BTC's production.
Shiba Inu Announces Land Pricing in the SHIB Metaverse
Following the March debut of the new Shiba Inu metaverse, the Shiba team further revealed the prices for its land auction on Thursday, April 7. The meme token's metaverse will offer up to 100,595 parcels of virtual land for sale using ETH in different stages.
According to the team's tweet, the first stage grants only LEASH or Shiboshi holders access to 36,431 parcels of land. These regions are further separated into four tiers: Diamond Teeth, Platinum Paw, Gold Tail, and Silver Fur. The digital lands were priced between 0.2 and 1 ETH in the land auction that began last weekend.
Next is the Holder Event, which will last seven days and will follow the same terms and conditions. In the future, landowners in "SHIB: The Metaverse" could earn passive income and other benefits.
Strike Lands Major Deals with Shopify, NCR, and Blackhawk
Yet on April 7, Strike, a Lightning Network-enabled platform, announced a merger with e-commerce giant Shopify. By utilizing the Lightning Network, the integration will provide an alternative to existing payment processors like Visa and MasterCard. The move could also enable thousands of eligible Shopify global merchants to accept BTC payments denominated in US dollars.
With the recent launch of Taro by Lightning Labs, the Lightning Network has been rapidly gaining traction. Taro is a new taproot-powered solution for generating assets on the Bitcoin blockchain that is built on the Lightning Network. The digital payments platform has also teamed up with Blackhawk, a world-leading point-of-sale (POS) supplier, and payments firm. This move restores Bitcoin to its foundations as a very important alternative in the payments sector.
Consequently, several large American retailers will be able to accept lightning payments in Bitcoin this year. McDonald's, Walmart, Macy's, WholeFoods, Home Depot, and many more are among them.
13-Year-Old Girl Becomes NFT Multimillionaire
On the back of positive institutional interest, a teenage girl proved last week just why NFTs are fast gaining traction.
After selling NFTs for a year, a 13-year-old artist who designs portrait sketches of women recently became a multi-millionaire. Thus far, Nyla Hayes' collection has earned her 1,600 ETH in both primary and secondary sales. This equates to more than $5 million in today's dollars.
A single image costs about $1,000 on average, and her "Long Neckie Lady" sold for about $6,600 in March. Nyla Hayes, who has been sketching since she was four years old, has recently begun designing women of diverse backgrounds. This includes celebrities such as Michelle Obama, Ruth Bader Ginsburg, and Lucille Ball.
Moreso, her work depicts women with long necks, all of which are based on her favorite dinosaur, the Brontosaurus. Last month, the NFT artist struck a deal with CAA, a Los Angeles-based American talent and sports agency.
Of late, there has been a surge in the number of young people interested in the NFT industry. Benyamin Ahmed, a 12-year-old boy from London, became a self-made millionaire by designing online avatars in the form of NFTs. Also in January, Gustaf Al Ghozali, an Indonesian student, joined the list of NFT millionaires after selling his NFT selfies.
MicroStrategy Purchases $190M Worth of BTC
On April 5, business intelligence firm MicroStrategy announced yet another purchase of some 4,167 Bitcoins. The update came amid BTC's struggles to overcome a $46,000 resistance level.
As a result, the software firm currently holds 129,218 BTC worth around $5 billion, and purchased at an average price of $36,000. Prior to the recent disclosure, MacroStrategy had acquired a $205 million collateral loan from Silvergate, a premier bank for innovative fintech firms. The loan was made to obtain BTC as well as for general corporate objectives.
However, despite Microstrategy's BTC acquisition and a Terraform purchase over the weekend, BTC trails behind the $42,000 mark at present.
India Announces New Crypto Taxes, Driving the Market Into Confusion
To close the week, the Indian Ministry of Finance declared a 1% tax-deductible at source (TDS) on all asset transfers. According to the release, the ministry will also implement a 30% flat tax on crypto income and digital asset investments. Crypto exchange executives and tax analysts are warning that these taxes will drain liquidity from the market.
On Thursday, the National Payments Corporation of India published that it was unaware of any crypto exchange using the United Payments Interface. As a result of the announcement, Coinbase briefly suspended its crypto payment services offered via UPI in India. A local news outlet reported that Coinbase has vowed to work with the regulators to resolve the matter.