Weekly Recap: Shiba Launches Metaverse as Web3 Marches On
The Shiba Inu team launches its metaverse and Opera browser integrates Solana in what has been a good week for Web3 traction.
Ethereum Gas Fee Spikes to $20 per Transaction
The growing gas charge of Ethereum has been a key source of concern for many blockchain-based projects. Ethereum users were again worried about even higher costs when the average gas fee increased to $20 per transaction from less than $6 in mid-March. The average gas fee, which began to rise at the end of last month, has increased by more than 200 percent since its low 23 days ago.
Additionally, a surge in Ethereum transaction costs may result in a reduction in trade volumes for Ethereum-based projects. As a result, minters on Ethereum may consider extremely cheaper alternatives such as zkSync, Polygon Hermez, and Boda Network, among others.
On a positive note, last week saw an all-time high in Google searches for "Ethereum Merge." The climbing trend implies some excitement and anticipation for Ethereum's future update, which could see gas fees reduce significantly.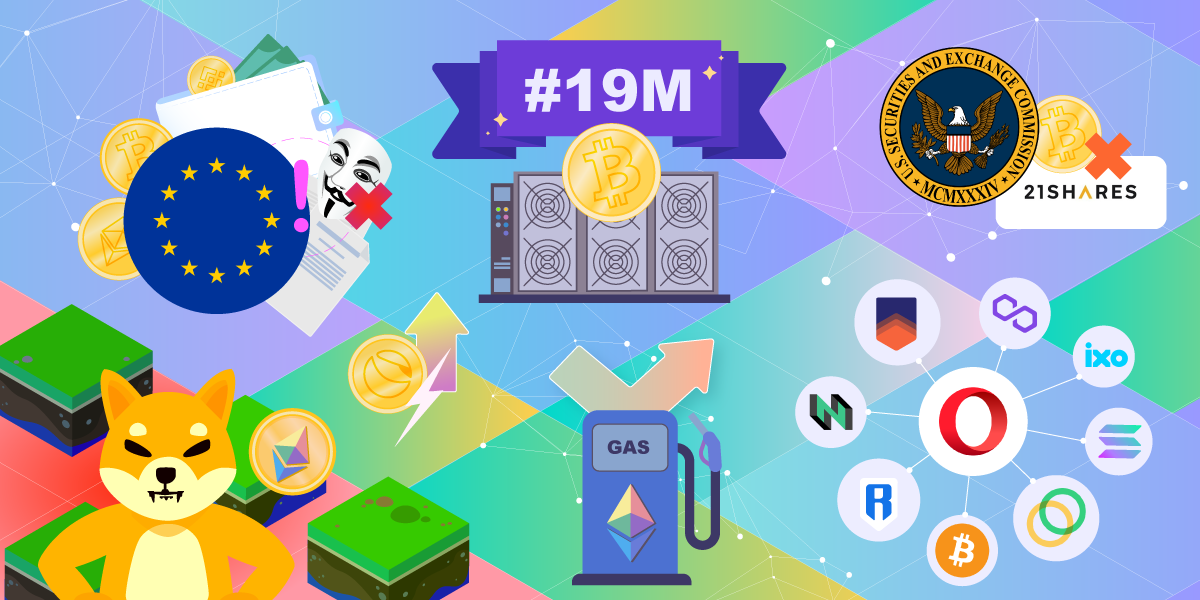 Crypto Space Reacts after EU Votes to Ban Anonymous Transactions
On Thursday, European Union lawmakers approved draft rules granting the government access to crypto transaction details. With this, legislators intend to ban every anonymous crypto transaction and propose measures that could result in the shutdown of unregulated exchanges. The vote went on despite opposition from significant industry participants such as Coinbase.
Brian Armstrong, the CEO of Coinbase, expressed his displeasure with the move, insisting on the absurdity of reporting and validating a 1,000 euro transaction.
The legislation is yet to become sovereign though. This is because the parliament and national ministers must approve the proposals if they are to become legal.
U.S. SEC Rejects Ark 21Shares Bitcoin ETF
On March 31, the U.S. Securities and Exchange Commission formally denied the application for the ARK 21Shares Bitcoin exchange-traded fund (ETF).
In June 2021, the Bitcoin ETF application was submitted by 21Shares, an exchange-traded product provider, in collaboration with Cathie Wood's Ark Invest. The duo revealed their ambition was to list the BTC ETF on the Cboe BZX Exchange.
According to the SEC, its rejection of ARK 21Shares was due to the exchange's failure to meet the commission's standards of listing a financial instrument. Furthermore, it added that in order to deal Bitcoin assets, exchanges must have a comprehensive real-time monitoring arrangement with a big regulated market.
In the United States, the Securities and Exchange Commission (SEC) has yet to approve a spot Bitcoin ETF application for listing shares. Up to this point, only Bitcoin futures from ProShares, Global X, Valkyrie, and VanEck have been accepted.
Shiba Inu Launches its Metaverse
Shiba Inu has evolved from being a typical dog-themed meme token with no utility to offering solid use cases. Last Wednesday, the Shiba Team announced the debut of their metaverse "SHIB: The Metaverse." Shibarium, a layer 2 or companion system for SHIB, will be used to create the metaverse.
According to the release, SHIB's virtual project will have 100,595 land plots which will be issued in stages. To decrease risk on their token, the team indicated that ETH will be utilised as the land pricing token rather than SHIB. Moreover, the developers also disclosed that land buyers will be able to earn passive income and harvest in-game materials.
Additionally, the developers also stated that other coins in the SHIB ecosystem, such as LEASH and BONE, will play a part as further phases are rolled out, and that LEASH holders will be able to purchase lands in subsequent stages.
Opera Partners with Major Blockchain Ecosystems
Also last Wednesday, Opera announced the integration of eight major blockchain ecosystems into its Web3 browser. Solana, Polygon, StarkEx, Bitcoin, IXO, Ronin, Nervos, and Celo make up the first ecosystems Opera's novel browser will be compatible with. Also, this advancement will enable active Opera users to benefit from blockchain services and decentralised apps.
Polygon and StarkEx, two major Ethereum layer-2 protocols, will likewise be available with the launch. Axie owners will be able to care for their digital pets in the same way by using Ronin.
Since the release of its Web3 browser in 2018, Opera has tried to develop partnerships with the leading blockchains and Web3 domain name providers in order to seamlessly migrate millions of users to Web3.
Opera believes its initiatives will keep it ahead of the competition and provide the company a strong footing in the Web3 sector.
The 19 Millionth Bitcoin has been Mined
Data from Bitbo revealed the 19 millionth Bitcoin has been mined which implies that there will be fewer than two million Bitcoins yet to be mined. Moreso, if Bitcoin reaches its 21 million supply limit, there will be no more new Bitcoin created unless the protocol is changed.
The current block reward is set at 6.25 Bitcoins per block. With the next halving due on May 3rd, 2024, miners will receive 3.125 Bitcoins per block, with the next one predicted to occur in 2028.
As the circulating quantity of Bitcoin approaches 100 percent, the digital asset will become more scarce. Although it took around a dozen years to mine 19 million Bitcoins, the remaining 2 million Bitcoins could take more than a century to mine, as mining difficulty increases.
LUNA Strikes All-Time High after Purchase of $135M BTC
Following Terra's acquisition of $135 million BTC earlier last week, LUNA reached an all-time high of $117.91 yesterday. According to a source, Terraform Labs' founder Do Kwon purchased Bitcoin to support the ecosystem's stablecoins.
Also, the transaction took place in four parts on Monday, with the CEO also admitting that the company had purchased more than $1 billion in Bitcoin since January. He previously stated that he believes in the bullish future of Bitcoin in the long run.
In addition, the investment is part of Terra's ambition of purchasing $10 billion in Bitcoin, which will allow it to switch its stablecoin, $UST, from algorithm-backed to Bitcoin-backed.