Weekly Recap: BTC Wins Anti-PoW War in Positive Week for Crypto
Bitcoin and other altcoins get a temporary relief from a possible PoW ban, to cap a positive week for the crypto market despite dips.
Drafted EU Bill Poses Existential Threat to Certain Virtual Assets
Crypto experts recently voiced concerns about a new law that is currently in the works. Referred to as MiCA, the drafted legislation could potentially outlaw digital assets that are mined via the proof-of-work consensus mechanism.
Bitcoin and Ethereum are both assets that use the PoW mechanism, however, Ethereum already has plans in place for a switch to proof-of-stake.
The proposed law will require cryptocurrencies in the EU to meet "minimum environmental sustainability standards." In a statement, Ian Taylor, chief executive of Crypto UK, noted that all participants from block producers to investors in the crypto ecosystem will be affected.
On Monday, the European Economic and Monetary Affairs Committee voted on the draft. To the glee of many crypto enthusiasts, the MiCA bill lost favor after getting minority votes. As it stands, there is little to the threat of a Bitcoin ban, as adjustments to the bill loom.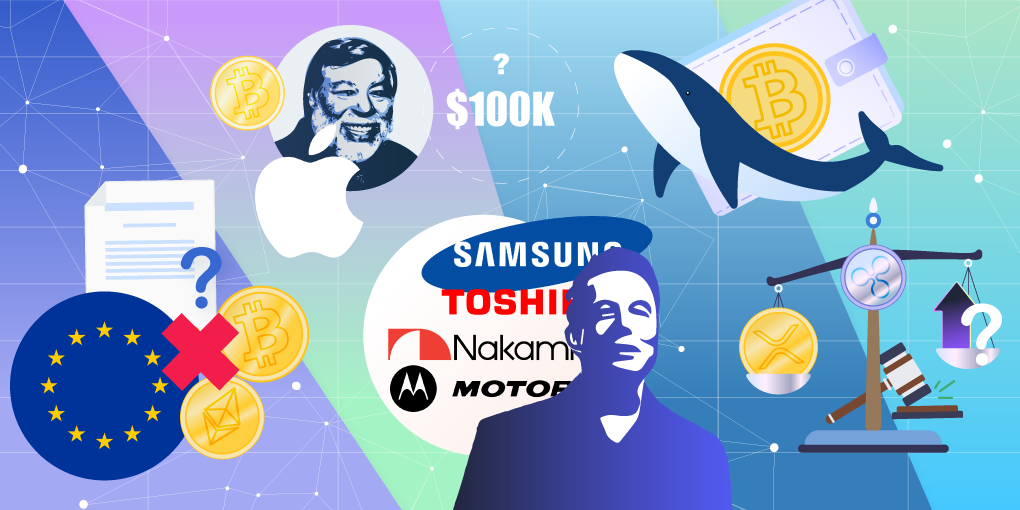 XRP Expresses Bullish Inclinations Following Favorable Court Ruling
Following the court ruling in Ripple's favor regarding its case with the SEC, the XRP token has exhibited bullish behavior. The token experienced an upsurge leading it to a one-month high of $0.85, at the moment the token's price rests at $0.76.
According to the platform's CEO Brad Garlington, for Ripple the ruling was a "huge win." Ruling Judge Analisa Torres denied the SEC's motion against Ripple's fair notice defense. Without any pertinent case laws, the securities and exchange commission had failed to convince the court of the validity of its point.
Following this, the SEC's methods are being put into question. The ruling casts doubt on whether the regulators had informed Ripple beforehand that XRP sales would be breaking securities laws. Garlington is positive the entire case will be dismissed.
Vitalik Buterin Once More Expresses Solidarity With Ukraine
Ethereum co-founder and Russian-born developer Vitalik Buterin continued to publicly advocate for Ukraine following Russia's invasion of the East European nation.
Early into the conflict, Buterin had declared that while Ethereum might be neutral, he was not. This came on the heels of debates regarding what stance crypto platforms were to maintain in the situation. In a tweet on Wednesday morning, he reaffirmed his support for Ukraine.
"Ukrainians are far from the only ones suffering from war," he said and went on to state that this should not deter people from showing compassion towards Ukrainians.
Apple Co-Founder Believes Bitcoin Will Rise To $100k
Apple co-founder Steve Wozniak recently shared his thoughts on the future of the world's largest digital currency. Speaking on podcast Steve-O's Wild Ride, the tech entrepreneur said that Bitcoin will likely be worth $100,000 someday.
Wozniak stated that while he didn't exactly have the math to explain his belief, it could be because of all the interest. "The interest in the crypto is so high," Wozniak enthused. This is not his first time making such positive statements or showing support for bitcoin.
In 2021, Wozniak referred to cryptocurrency as "the most amazing mathematical miracle" in existence. Despite not having any BTC holdings, Steve believes it is the only digital currency that is "pure-gold".
Bitcoin Wallet Goes Activated After 11 Years of Dormancy
According to well-known blockchain tracker Whale Alert, a crypto wallet from Bitcoin's early days has gone active for the first time since 2010.
The news has given rise to a series of speculations about the wallet which contains 489 Bitcoins. A more likely theory is that the owner lost and has finally recovered their private keys. However, crypto users have begun debates about the conviction required to hodl for such a long time.
The coins in the wallet have grown to 400,000 times their original value, rendering the owner extremely wealthy. Other theories include how the owner could have completed a jail term and finally gained access to their cryptocurrency.
Elon Musk Shares Cryptic Tweet About Satoshi Nakamoto
To end a positive week, Tesla CEO Elon Musk kicked off a flood of speculation concerning Bitcoin's elusive creator. The post contained an old meme referencing a theory on how the name Satoshi Nakamoto was formed.
The meme alludes to the possibility that the pseudonym Satoshi Nakamoto is derived from the names of 4 of Asia's largest corporations – Samsung, Toshiba, Nakamichi, and Motorola. In the past, participants in the crypto space have suggested that Musk could be the genius behind Bitcoin. In recent months, inventor and researcher Craig Wright was embroiled in lawsuits regarding his claim to founding Bitcoin.
Musk has yet to provide any context for the post, leading several to believe it is no more than an ironic joke.
You can buy, sell or swap any of your preferred tokens on ChangeNOW without any registration.
Welcome to the NOW experience! The ChangeNOW team presents you with the new community-inspired crypto wallet – NOW Wallet. For safe and efficient asset tracking, try our crypto portfolio tracking app – NOW Tracker.