Weekly Recap: Altcoins Lead with Minor Gains
The previous week's recovery trend carried on over the past few days with tokens like CEL and TKO recording encouraging gains.
A lot of altcoins have seen positive movement over the past few days. This is especially true for tokens with ties to the metaverse given recent developments surrounding the sector. The total crypto market cap gained nearly $20B this week but failed to retain the increase and as such is closing at $851B.
King crypto BTC entered the week with a selling price well under the $17 support level. Trading rather slowly, the token sank further, briefly dipping into the red. However, the cryptocurrency's price picked up over the next few days and Bitcoin peaked at $17,378. The token has retreated to close the week at $16,942 holding steady amidst the stressful conditions brought on by the FTX collapse.
It was something of a rough week for Ethereum as the crypto second-in-command fought repeatedly to cease trading in the red. The token spiked multiple times climbing past $1.3k at some point. ETH seems to have caved to market pressure as though plunged on Wednesday and is worth $1,228 at the moment.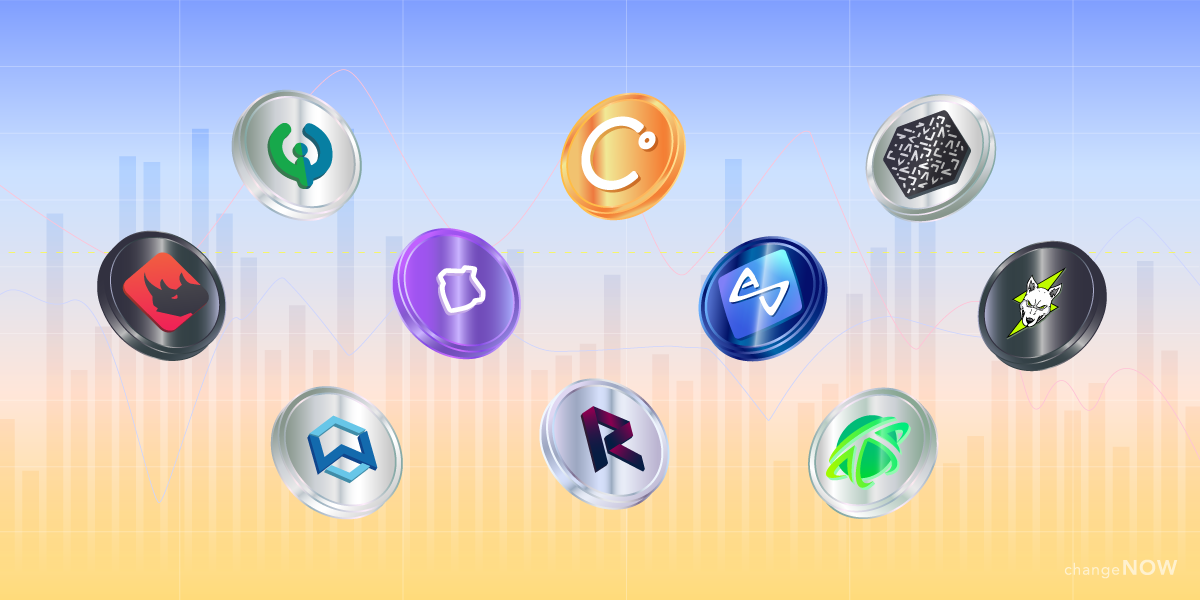 Top Gainers: CEL, AXS Soar on Interesting Developments
KryptonDAO (KRD)
KRD, the native token for DAO-governed community alliance platform Krypton DAO led the gainers this week with a triple-digit increase. KRD entered the week trading sideways at $0.38 and continued the movement until Saturday when it began to trade bullishly with no evident driver. The token rose by 134.33% to sit at a current worth of $0.8948.
Toko Token (TKO)
DeFi utility project Toko Token recorded a 34.71% rally over the past 7 days. For the majority of the week the token consolidated at around $0.30, however, it shot up on Tuesday after rumors emerged that Binance was considering an acquisition. TKO leaped to a 3-month high of $0.5719 but has since descended to trade at $0.3801 at press time.
Celsius (CEL)
Embattled crypto lender Celsius saw its native token CEL surge 26.47% within the last couple of days. The token entered the week hovering around $0.52 and fighting to keep from dipping into the red. However, following updates regarding its Chapter 11 reorganization plan, the token kicked off a bullish run that saw it hit a weekly high of $0.7031. At writing CEL has settled at $0.6567, having slipped over 2% in the last 24 hours.
Numeraire (NMR)
NMR, the Ethereum-based token fueling crypto hedge fund Numerai joined this week's top gainers after accruing gains worth over 24%. Numeraire began climbing on Monday after trading steadily around $11.5 in the days before. The AI-themed cryptocurrency gained enough to hit a 3-month record of $20.48. However, NMR failed to hold on to its gains, the token has fallen nearly 20% over the past day to sit at $14.44 presently.
Axie Infinity (AXS)
After Axie Infinity unveiled its 'Axie Contributor Initiative' as part of its progressive decentralization strategy, the gaming platform's AXS governance token soared over 25% in one day. AXS had been trading at bottom levels before but the token took off, moving from $6.84 to a weekly high of $9.54. At writing the token is worth 8.33 USD.
Frax Share (FXS)
FXS underwent a price pump that saw its value grow nearly 20% within the past 7 days. The token entered an uptrend at the start of the week that saw it rise from $5.21 to peak at $5.74. The token is currently valued at $5.63.
Top Losers: BNX Drops 60%, FRTS Follows With Nearly 40% Losses
BinaryX (BNX)
Amid speculation that the team was selling the platform's treasury tokens, crypto exchange BinaryX has seen its native BNX token drop nearly 60% of its value in the last 7 days. BNX started the trading week with a selling price of $142 and continued a sluggish decline until Saturday when its price took a sudden plummet. BinaryX recorded a 3-month low of $57.17 on Wednesday and has shown no signs of recovery so far, sitting at $57.66 at writing.
Fruits (FRTS)
Fruits lost 39.39% of its value to the bears this week. The token was initially trading at about $0.0072, however, it plunged with no warning on Dec 1, ultimately dropping as low as 0.003045 USD. FRTS saw minimal recovery afterward as the token briefly returned to $0.00635 before crashing once more. FRTS is seated at $0.004421 at the moment.
Volt Inu V2 (VOLT)
The past few days have seen Ethereum token Volt Inu dump roughly 20% of its worth. VOLT has been on a downtrend since the trading week commenced and has witnessed its $0.000001382 starting price fall to a 7-day low of $0.000001071. The token evened out to consolidate around this price range, at writing VOLT is worth $0.000001095 down 0.83% in the last 24 hours.
Telos (TLOS)
The TLOS token's negative movement began early into the week, the token traded very briefly in the green before entering into a decline that cost it 19.87% of its worth. Telos dropped to $0.189 on Thursday and consolidated within the region until Monday when it dipped to the $0.178 range. The token has a present valuation of $0.1619 and may be set to fall further having recorded 6.23% in losses over the past day.
Wanchain (WAN)
Despite earning a spot with last week's biggest movers, WAN has fallen significantly as the volatile market slashed 17.35% off its price in the past 7 days. Blockchain interoperability platform Wanchain saw its local currency chart bearishly throughout the week. The token entered with a selling price of $0.24 but has settled at a weekly low of $0.1816.
Ren (REN)
Ren protocol's native REN has amassed losses worth 17.25% over the past week. The token attempted a resurgence at least twice as it navigated its choppy plunge from a starting value of $0.105 to close the week at $0.08922.