War Tensions Define a Rollercoaster Week for Crypto
From official moves to legalize Bitcoin to the crypto market's slump amidst Russia-Ukraine conflicts, last week was a rollercoaster one for the crypto space.
Today's digest unravels all the key moments that defined the crypto world in the past week.
Cryptocurrencies Take a Dive Amid Russia-Ukraine Conflict
Last week, Russian troops invaded Ukraine, raising concerns of a global war. As a result, the value of several cryptocurrencies tanked across exchanges. As expected, Bitcoin led the pack, dropping by 8% and losing over 100 billion dollars in market cap. Ethereum also dropped by 7% in 24 hours, while Ripple and Cardano went down 14%.
These devaluations were attributed to negative market sentiments following the uncertainty of Russia's invasion of Ukraine. Investors pulled out their funds, an action that has questioned Bitcoin's safe-haven status.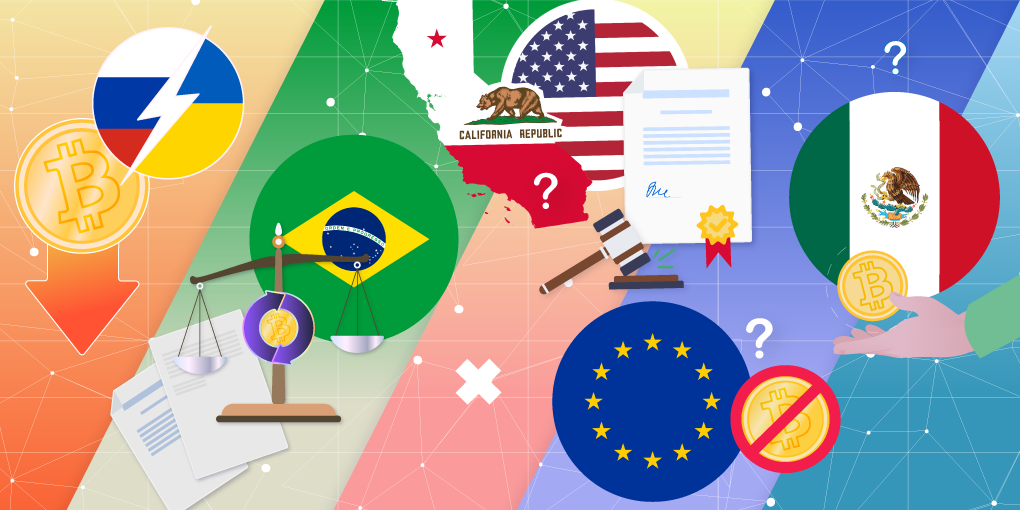 California Moves to Legalize Bitcoin
Since El Salvador made Bitcoin a legal tender, different countries have become less skeptical about cryptocurrency. Just days after Ukraine legalized cryptocurrency, California pushed a new bill to legalize Bitcoin. Announcing this on Twitter, Bitcoin enthusiast Dennis Porter admitted that while the proposal was a long shot, the industry needs to stop seeking only incremental improvements. "Super Bowls aren't won by the run game alone. We need some deep shots," he said.
As good as this may sound, it was met with criticism. While one Twitter user called it a "Trojan Horse disguised as the future," another user labeled it a "move for control, not freedom." If passed into law, California citizens would be able to pay for government services in crypto.
Mexico vs Brazil: Cryptocurrency Scores a Brace in the Americas
Cryptocurrency keeps advancing on all fronts – from El Salvador in Central America to Ukraine in Eastern Europe. Now, Mexico in North America is toeing the same path, as Mexican Senator Indira Kempis pushed a bill to convince the government to recognize Bitcoin as a legal tender.
As Bitcoin is taking baby steps in Mexico, Brazil is taking giant strides to regulate cryptocurrency. On February 22, the Economic Affairs Committee of the Brazilian Senate approved a bill regulating cryptocurrencies.
The bill would allow crypto companies to operate freely without the supervision of the Brazilian Securities and Exchange Commission. However, the SEC would supervise ICOs. The bill would also hold crypto companies liable for violations of the country's financial laws.
Introduced by Senator Flavio Arns, the bill would have to be voted by the Senate Plenary and the Brazilian Chamber of Deputies, before being vetoed by the executive arm of government.
Atom Protocol "Politely" Rug Pulled Within Hours of Launch
The Avalanche-based platform Atom Protocol rug-pulled within hours of its launch. The project launched as a hard fork of Universe, a DaaS protocol. Trading on the protocol began successfully before suddenly stopping. When users queried the halt, Atom Protocol's team replied with: "There is a problem/mistake with contracts, we can't do anything… we have to close the project, sorry." Then they deleted their Twitter and Discord accounts. One user tweeted that it was a "polite" way to rug pull.
Like Balloonsville exposed the lacuna in Magic Eden's verification process, Atom Protocol revealed Assure DeFi's verification flaw. Users stated that Atom Protocol pulled off the scam because Assure DeFi's KYC was not foolproof. In its defense, Assure DeFi tweeted in a thread:
"We believe that many people are still misunderstanding the role of KYC/verification. KYC is a deterrent and not a scam prevention and if anyone says otherwise they are misleading you. The real value of KYC is having a validated real-world identity behind a project. So that in the event that a scam/rugpull occurs, an accountability path exists allowing for criminal pursuit." They also pointed out that if there were no KYC verification, then there would have been no avenue to pursue the recovery of funds. They encouraged affected users to fill out a scam reporting form which would help in investigations and data aggregation.
The ease and frequency of scams in the crypto space, especially in the DeFi ecosystem, is a key reason why many governments and international organizations are skeptical about cryptocurrencies and are making moves to ban them.
The EU Prepared to Ban Bitcoin
The European Parliament, a legislative branch of the EU, is suggested to be making plans to ban Bitcoin and other PoW digital assets. This is because of the environmental unsustainability of the PoW consensus mechanism. Stefan Berger, the spokesman for the parliament, told the media that the bill was "very likely" to be a success.
The final draft of this regulation would render Bitcoin and other cryptocurrencies illegal within the EU by 2025.
Crypto Donations Continue to Pour in for Ukraine
While the EU might have plans to ban some cryptocurrencies in Europe, they have proved pivotal in the current Russian-Ukrainian war. According to reports, Ukraine has raised $27.2 million in crypto donations. This sum includes $17.2 million raised by the Ukrainian government and NGOs, and $10 million donated by leading exchange, Binance.
There are also suggestions that Russia could turn to crypto as well to ameliorate the effect of its recent sanctions.
You can buy, sell or swap any of your preferred tokens on ChangeNOW without any registration.
Welcome to the NOW experience! The ChangeNOW team presents you with the new community-inspired crypto wallet – NOW Wallet. For safe and efficient asset tracking, try our crypto portfolio tracking app – NOW Tracker.