Bitcoin and Altcoins Dip Amidst Russian-Ukrainian Tensions
Several tokens on the crypto market dipped by nearly double digits in the past 24 hours following increasing war fears between Russia and Ukraine.
According to data from TradingView, Bitcoin's price took a downward streak, going down 8% in 24 hours following a price slide of 20% over the weekend. Bitcoin dropped 2% yesterday.
On Monday, the 21st of February 2022, Russian President Vladimir Putin ordered troops to occupy two seperatist Moscow-backed areas on the Eastside of Ukraine. Additionally, he claimed these regions as independent states. As a result, worries of a potential clash between Russia and Ukraine are believed to be a reasonable context behind the crypto market's devaluation.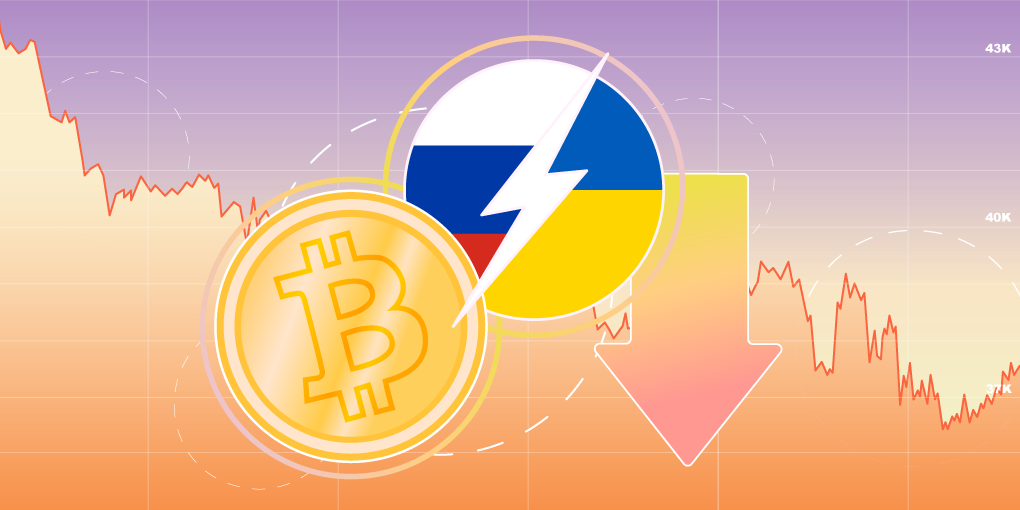 "During these times of extreme market stress," Ben Caselin, AAX head of research and strategy, said on Monday, "all assets are stripped bare and tested for their resiliency, both from a technological perspective but also in terms of community support and stickiness."
Bitcoin lost over 100 billion dollars in market capital within the past day, before recuperating a little at the time of writing. The leading cryptocurrency trades at $37,720, according to Coinmarketcap, down 2.7% in the last 24 hours.
Uncertainty of President Vladimir Putin's intentions has stirred up tension amongst traders and investors, resulting in a negative effect on market sentiment. Risk averse investors not willing to engage the currently unstable nature of the market have pulled out their funds to be on the safe side.
Ethereum, Solana, and Other Altcoins Mirror Bitcoin's Fall
Other tokens, usually in the habit of following Bitcoin price movement, have taken some price tanking as well. Since Bitcoin's 7% drop in the past 24 hours, a good percentage of the cryptocurrency market has followed the direction of the move.
The second ranked crypto in the world Ethereum followed suit; reducing 8% within 24 hours and now trading at the price of $2,616. Other major altcoins have taken an even harder price plunge than Bitcoin in the last 24 hours. Ripple and Cardano took the most hit in the market, both slumping below 14%.
Amongst other altcoins, Solana was one of the last to join the mass price drop. It rallied up 6% staying above the day's starting price before eventually going out. SOL trades at $84.62, down about 5% at writing.
Bitcoin is now approximately 50% down relative to its all-time-high in November last year at $68,906. Several narratives are responsible for the general price tumble such as interest rates increases in the United States and stringent crypto regulations.
You can buy, sell or swap any of your preferred tokens for Bitcoin (BTC) on ChangeNOW without any registration.
Welcome to the NOW experience! The ChangeNOW team presents you with the new community-inspired crypto wallet – NOW Wallet. For safe and efficient asset tracking, try our crypto portfolio tracking app – NOW Tracker.