Unrest in Kazakhstan Hits Crypto Industry Hard
Widespread protests in crypto mining hub Kazakhstan have left 160 people dead and several injured.
Unrest Amid Rising Fuel Prices
Citizens of Kazakhstan took to the streets on Sunday, January 2, to protest the rising costs of electricity in the region. However, the situation quickly degenerated into violence between law enforcement officials and citizens, reportedly leaving over a hundred people dead and several more injured. Kazakhstan's increase in fuel prices is reportedly caused by the thriving Bitcoin mining industry in the region. The country saw a large influx of miners into the state after China's crackdown on digital currency.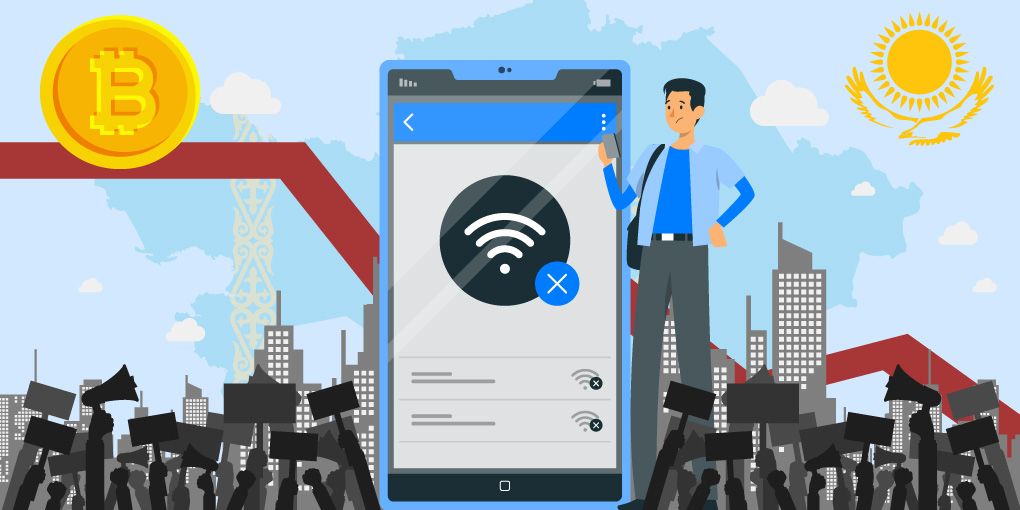 China, a neighboring country to Kazakhstan, outlawed crypto back in September 2021, declaring all cryptocurrency transactions illegal. Before the move, China housed the largest number of crypto miners in the world, holding about 75.5% of the market share.
The US has long replaced China as the world's largest crypto mining hub, holding about 35.4% of the market share. After the crackdown, Kazakhstan saw a massive rush of miners into the region because of their cheap electricity, as mining Bitcoin, or any other cryptocurrency, consumes large amounts of electricity. Kazakhstan's cryptocurrency market share saw an astronomical increase, rising from about 1.4% to 18.1% in less than a year. However, with large amounts of electricity suddenly in high demand, fuel prices saw a steep increase, leading to last week's riots.
Kazakh Government Shuts Down Internet
In an effort to control the situation, the President of Kazakhstan Kassym-Jomart Tokayev ordered that the internet be shut down on Thursday the 6th of January. Bitcoin miners in Kazakhstan had no internet access and were therefore unable to mine the cryptocurrency, leading to a rapid fall in the global Bitcoin hash rate, dropping by 13.4% according to YCharts.
This is not the first hurdle cryptocurrency miners in Kazakhstan have faced. In October 2021, the Kazakh government announced new taxation laws for the cryptocurrency industry which are set to take effect this month. While it is unsurprising that the government intends to take advantage of the enterprising crypto industry, some declare that it would eventually kill crypto mining in Kazakhstan.
Calm is slowly being restored in Kazakhstan, as President Tokayev has enlisted the help of Russia and its troops to help contain the situation. Internet access remains unstable in the region. Bitcoin prices have also taken a hit following the incident, nosediving to about 41,000 USD, the lowest price it has seen in months.
You can buy or trade any of your preferred tokens for Bitcoin (BTC) on ChangeNOW without any registration.
Welcome to the NOW experience! The ChangeNOW team presents you with the new community-inspired crypto wallet – NOW Wallet.
Also Read: