TRON (TRX) Review 2022
TRON is a blockchain environment for creating decentralized applications and smart contracts with a focus on entertainment and gaming.
Launched in 2017 by a young Chinese entrepreneur Justin Sun, the platform's native token TRX has reached the 14th position in terms of market capitalization by 2022. Let's see how TRON is different from Ethereum and what we can expect from it in the future.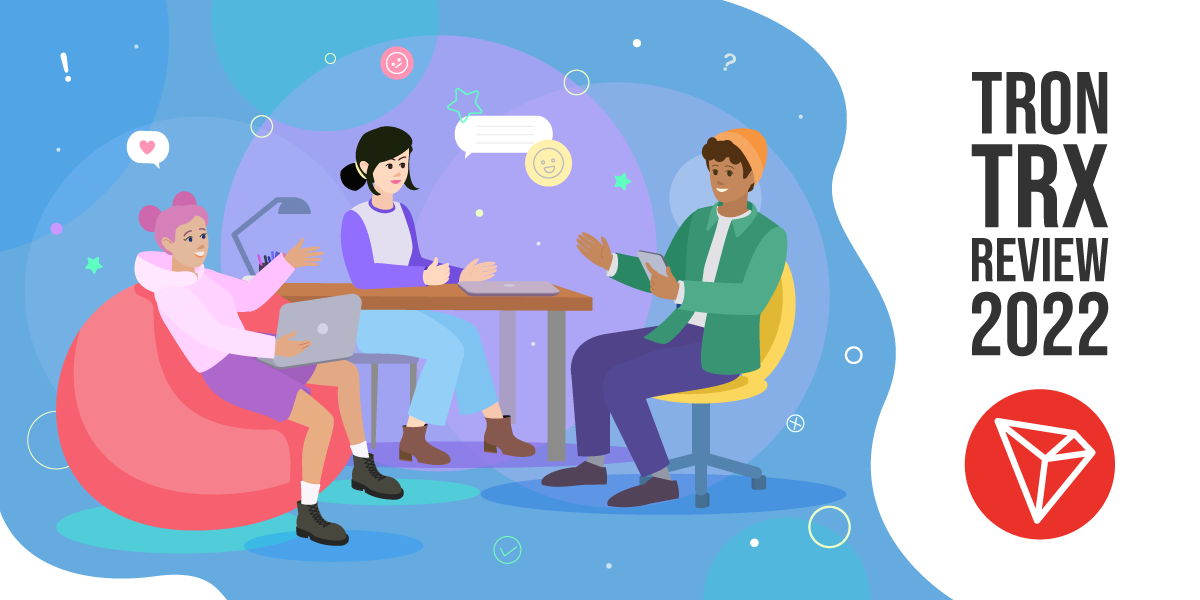 About TRON (TRX)
TRON was launched in 2017 by Justin Sun – a Chinese entrepreneur and a former representative of Ripple Labs in China. The goal of the platform is to create a decentralized internet with a focus on P2P file sharing, gaming, and entertainment content. In essence, TRON is a public blockchain for running dApps, tokens, and smart contracts, which makes it a competitor to Ethereum.
How is TRON different from Ethereum? Firstly, it runs on a Delegated Proof of Stake consensus algorithm, which allows for higher throughput (2,000 transactions per second compared to Ethereum's 15) and scalability (1 block is formed every 3 seconds). TRON allows building with such widely used programming languages as Python and Java, facilitating the platform's adoption.

The TVL of top 5 TRON dApps exceeds $4B. Image source
TRON has made a series of acquisitions that increased its influence. In 2018, the platform purchased BitTorrent – a P2P file sharing protocol that had 100 million users at the time and accounted for 30% of all internet traffic. In 2020, TRON acquired Steemit – a decentralized social media platform. The protocol also partners with Samsung, Sony, and Bitmain.
Justin Sun, the founder of TRON, actively promotes the project. He has been involved in a few controversies in the past years, but recently, he announced he would take a less active participation in the project.
TRON (TRX) Team
TRON was launched by Justin Sun – a protégé of Alibaba founder Jack Ma. He graduated from the University of Pennsylvania and in 2017, got onto the Forbes Asia 30 under 30 list. Sun is also the founder of Peiwo APP (China's Snapchat) and the former Ripple representative in PRC. Recently, Sun has announced he would quit as a CEO, but not leave the project completely.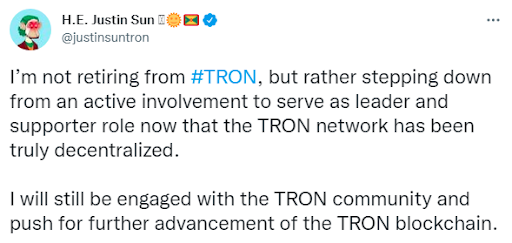 The TRON team is based in China and includes the country's top IT professionals. For instance, the CTO Lucien Chen worked at Alibaba and with other first-tier companies such as Netease and Tencent. TRON is also supported by prominent members of the Chinese business community.
TRON (TRX) Roadmap
The initial TRON roadmap included 6 phases:
Exodus: Creation of a distributed file share system.
Odyssey: Implementation of incentives to encourage content creators and strengthen the network.
Great Voyage: Opening the opportunities to launch ICOs on Tron.
Apollo: Ensuring the possibility for content producers to issue custom TRON tokens.
Star Trek: Building a decentralized gaming and forecasting platform.
Eternity: Monetization based on community growth.
TRON doesn't feature the progress on its official website, but it appears that the platform has completed the first 4 stages and is now working on the last 2. The roadmap is supposed to be fully implemented by 2036.
TRON (TRX) Network
TRON was launched as an ERC-20 token and migrated to its own mainnet in June 2018. Let's take a look at the TRON blockchain.
Architecture. The TRON network is organized in 3 layers:
Core layer powers the essentials such as the DPoS consensus, block production, smart contracts, and account management.
Storage layer is responsible for more complex data storage needs in the TRON blockchain. This is a powerful distributed data storage system.
Application layer is where developers interact with the TRON ecosystem and deploy dApps.
Consensus. TRON runs on the DPoS consensus mechanism: 27 Super Representatives (SRs) produce new blocks, and every 6 hours, they are reelected based on the votes made by TRX holders. For each block, SRs get a 32 TRX reward. This algorithm allows achieving consensus faster than in many other networks.
Governance. TRON Foundation used to be the organization that managed the blockchain, but it was dissolved in July 2021 as a part of TRON's quest to decentralize. Following this goal, the network established TRON DAO in December 2021.
USDD Stablecoin
In May 2022, TRON launched its own algorithmic stablecoin, USDD. Its backing mechanism is similar to that of Terra (LUNA), and given the recent collapse of Terra's UST, the announcement of TRON was met with a degree of skepticism.
However, Justin Sun is committed to promoting USDD. The stablecoin hasn't experienced any serious depeg yet, and the TRON DAO Reserve has acquired BTC and TRX to back the token. Commenting on the UST crash, Sun said it was killed by an overwhelming growth, and the stablecoins need more serious planning and backing.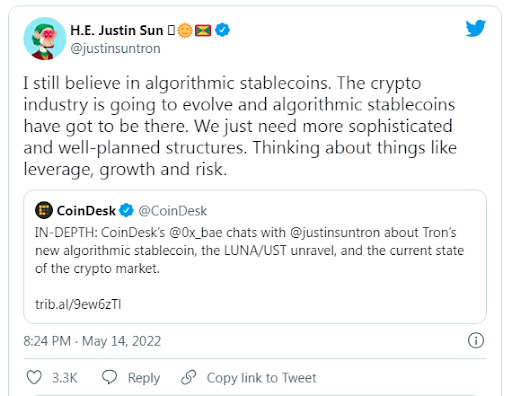 How to Mine TRON (TRX)
TRON leverages the DPoS consensus mechanism, so you can't mine TRX. However, in case you already have some TRON, you can stake it. If your wallet doesn't support TRX staking, you can arrange it through the TronScan representatives page. Vote for a Super Representative who will produce blocks and redistribute rewards to those who voted for them. Around a 5% APR can be made by TRON staking.
TRON (TRX) Value Data
TRON has experienced 3 major price peaks since its launch. The first one was reached amid the 2018 ICO craze, when the coin hit its all-time high of $0.30. Two other peaks were part of the large crypto bull runs in 2021. Later that year and in the spring of 2022, the market was going through a severe turbulence, but TRON demonstrated quite a good price dynamic in such conditions.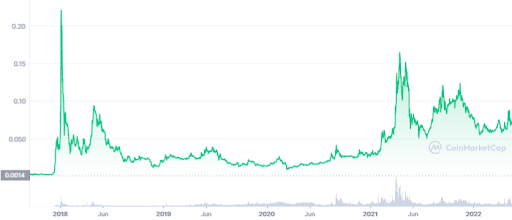 At the time of writing, the TRX coin costs $0.072. Its daily trading volume is slightly below $1 billion, and the market cap is $7.1 billion, putting the asset at the 14th position on the CoinMarketCap list. The current TRON ROI (if purchased at the time of launch in 2017) is 3450%.
TRON (TRX) 2022 Price Prediction
Most price predictions for TRON are moderately bullish. Wallet Investor platform gives the coin an A+ historical index, meaning it has been performing well in terms of volatility and market cap. The service considers TRON a good one-year investment and expects it to hit $0.087 by next May and $0.156 in 5 years.
According to the TradingBeasts predictions service, the TRX average price will be around $0.09 this December and $0.087 in May 2023, which is a 24% growth. The platform predicts that by 2025, TRON will hit $0.165. Another price forecast service Gov Capital also marks TRX as a good investment and gives it $0.135 in a year (about a 90% increase) and $0.46 in 5 years.
How Can I Buy and Trade TRON (TRX)?
TRON is a liquid asset traded on most of the exchanges you know. You can buy and sell it on Binance, Huobi, KuCoin, Bithumb, FTX, and many other centralized exchanges. The TRX coin is also available on instant non-custodial crypto swap services like ChangeNOW where you can buy it with 380+ cryptocurrencies without registration and KYC.
TRON (TRX) Wallets
Buying and storing TRON on centralized exchanges like Binance or Huobi implies certain risk – these platforms keep your private keys and have the means to limit your access to the coins. On the contrary, in non-custodial wallets, you really own your crypto because you are the only person to dispose of the private keys. Here are several best non-custodial wallets to store the TRX coin.
TronLink Wallet
TronLink is a community-developed open-source wallet officially recommended on the TRON website and by the founder Justin Sun. The app is available for Android, iOS, and as a Chrome extension. TronLink focuses on the TRON infrastructure: it supports all TRC-10 and TRC-20 tokens, voting, and dApps. Such tools as TRON SDK and testing environment are available for developers. You can set a few accounts in the TronLink wallet. Use it if you want to engage with the TRON ecosystem.
NOW Wallet
NOW is a mobile wallet for storing hundreds of cryptocurrencies under one roof in a clear, intuitive interface. The app is available for iOS and Android and has a built-in exchange tool powered by ChangeNOW: you can swap 380+ cryptos including TRX without leaving the wallet. Fiat purchases and withdrawals for 60+ currencies are available. In NOW Wallet, you can store NFTs and stake some crypto coins (the number of which is constantly increasing).
Ledger Nano
Ledger is a hardware wallet: your private keys are stored on a device with no internet connection, which gives them more protection. The wallet is available in three configurations:
Ledger Nano S – $59, 1100+ of coins available for storage, 3-4 apps for managing certain coins can be installed at a time.
Ledger Nano X – $119, improved memory capacity allowing to install 100+ apps at once.
Ledger Blue – $309, a large touch screen.
TRON (TRX) Crypto Exchanges
If you store your crypto in a non-custodial wallet, one of the best ways to buy TRON is to use the ChangeNOW instant crypto exchange service. There you can purchase TRX with 380+ other coins from dozens of blockchains, as well as with 60+ fiat currencies using your credit card. The average swap time is 5 minutes, and the exchange can be set up in just a few clicks. No hidden fees apply: all charges are already included in the calculated estimated rate.
TRON (TRX) Summary
TRON is a blockchain that allows developers to launch dApps, tokens, and smart contracts. It is based on the Delegated Proof of Stake consensus mechanism that ensures high scalability and throughput. Launched by ambitious Justin Sun in 2017, the TRON ecosystem is rapidly evolving: recent breakthroughs include the creation of TRON DAO and a successful launch of the USDD stablecoin. The price dynamic of platform's native TRX coin is promising, and the forecast services are also moderately bullish about the cryptocurrency. If you share the optimism about TRON, you are welcome to buy some on ChangeNOW without registration and hidden fees.
Also Read: