Tron (TRX) Staking Explained: How to Earn Passive Income by Staking TRX?
Staking cryptocurrencies has become a popular way to earn passive income from your crypto holdings without learning how to trade.
In addition, digital assets like Tron (TRX) can offer generous interest rates of 10%, 15%, or 20% per year. You can't get those deals from traditional financial institutions anymore.
This way of making money is primarily available with cryptocurrencies that use the Proof of Stake (PoS) consensus algorithm. You can increase your total portfolio by adding interest on top of it. All this can be done without investing in expensive mining hardware, which is required to successfully mine Bitcoin, for example. Staking doesn't waste vast amounts of electricity like Proof of Work coins. Besides, you are helping to secure the network and its blockchain and make it safer for all stakeholders.
Tron (TRX) is a crypto that offers the community plenty of advantages regarding staking. Let's see what Tronix is, how the network works, and why you should consider staking with NOW Wallet.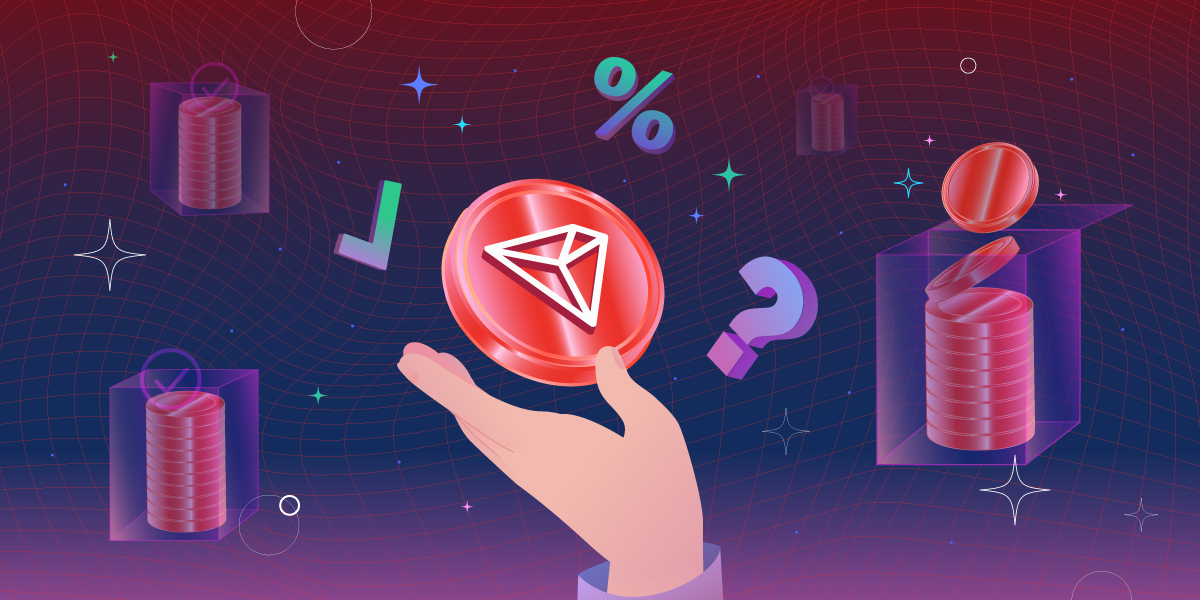 What is Tron?
Tron is a decentralized blockchain platform with a virtual machine designed for content creators and consumers. Storing information on the chain makes buying, selling, and consuming it easier without using expensive intermediaries. Tron uses smart contracts created in Solidity, similarly to Ethereum. This system ensures the interoperability of smart contracts between the two networks.
The project was introduced in 2017. Its creator is one of the most vocal crypto personalities on social media – Justin Sun. The network is well-known for its cheap transaction fees and fast confirmations. Tron can support up to 2.000 transactions per second, which is comparable with PayPal.
Justin Sun created this network to decentralize the internet and develop Web 4.0 – an infrastructure where users will be the owners of their own data instead of giant corporations. Tron is run by a non-profit organization from Singapore called the TRON Foundation. The goal here is to have decentralized storage providers and not monopolistic hosting companies that centralize user data.
The Tron platform allows creators to publish and store their content, share it with whomever they want, and even limit those who are not supposed to see it. Furthermore, the sharing of data is done in a peer-to-peer fashion.
Tron users can protect their privacy by being in complete control of their personal information. Unfortunately, leaks, hacks, or the sale of private data are common occurrences when it comes to centralized service providers. A decentralized solution makes such incidents less likely to occur.
The Tron network can fix problems evident on popular streaming platforms – namely, geographical restrictions. Centralized entities have the power to restrict people from certain locations from consuming content and using their services. But apps developed on Tron can be censorship-resistant and grant everyone equal rights.
The TRX Coin
Tronix or TRX is the native currency of the Tron network. This digital asset was a Top 10 cryptocurrency in terms of market cap for a brief moment, but it now sits comfortably in the Top 20. The coin doesn't have a maximum supply cap, and there are currently over 92 billion TRX in circulation. The total market cap is over $6.4 billion.
Like many other assets, TRX was first an ERC-20 token located on the Ethereum blockchain before its mainnet launched in June 2018.
Tronix is the currency that content creators are compensated with when other network participants access and use whatever they developed. Tron rewards creators and developers in contrast to traditional social media, where the companies make money on the users spending time on their sites.
The platform allows for the creation of TRC-10 and TRC-20 tokens, but all transactions require TRX to be used for the network fees. Tron had a successful ICO in 2017, which allowed the team to raise $70 million. During those times, Tronix was worth only $0.001, but the project has generated an ROI of over 3200% in the meantime.
How To Stake TRX?
In contrast to many other cryptocurrencies that follow the Proof of Stake model, Tron uses a Delegated Proof of Stake (DPoS) consensus algorithm. This approach results in faster block times compared to traditional PoS systems.
Tron has introduced the concept of Super Representatives (SR). This is a group of only 27 nodes selected through a voting process by TRX holders and stakers. Super Representatives are responsible for block creation, verification of all new transactions, and maintaining consensus. Those who didn't make the cut but landed in the top 100 when it comes to votes are added to a group of Super Partners. This bunch doesn't get block rewards, but they are rewarded proportionally to how much they voted.
A minimum of 1 TRX needs to be staked for someone to acquire voting rights. But to be listed as a candidate for a Super Representative role, a user needs to deposit a minimum stake of 9.999 Tronix. Stakeholders are entitled to vote for the delegates they like, and for that, they need 1 TRX per vote. So the more staked Tronix you have, your voting power will increase. Voting for new Super Representatives takes place once every 6 hours.
The first 27 nodes with the most votes become block validators that are rewarded with 16 TRX for each new block they create. Tron's block time is only 3 seconds, meaning that tokens are distributed to voters of SRs every 3 seconds.
If someone wants to become an official Tron node, they must freeze their TRX tokens for 3 days. You will then receive voting rights after converting the newly acquired Tron Power into TRX. The ability to vote is called Tron Power.
The lists of Super Representatives, Super Partners, and all SR candidates are publicly available on Tronscan. The standard reward distribution ratio for block producers is 80%. So that means the SRs keep 20% of all block rewards and distribute 80% to their voters. But as you can see from the list, some super nodes share 90% or even 100% of all TRX, but there are also those who don't distribute any at all. So be careful and choose wisely.
Bandwidth Points and Energy
There are two additional things to remember with Tron staking that affect the efficient operation of the network: bandwidth points and energy.
You can be rewarded with bandwidth points when you stake TRX in a wallet. These allow you to make transactions without paying any network fees. This can be useful for users who run many dApps or initiate regular smart contract interactions.
Each transaction has a specific size denoted in byte arrays. If the size of your transaction is 300-byte arrays, that's how many bandwidth points it will use. All Tron accounts with enabled staking are allocated 5.000 bandwidth points per day.
When freezing and staking Tronix, you can select to obtain energy. That's the only way this resource can be earned; the amount depends on your total stake. Energy is consumed when interacting with dApps and smart contracts, such as playing a blockchain-based video game.
Staking Tronix (TRX) with NOW Wallet
NOW Wallet is a multifunctional mobile app that lets you buy, swap, and store your TRX tokens privately and securely. It supports both iOS and Android devices.
Staking Tronix is one of the elements that sets this wallet apart from the competition. It supports all functions and features of the Tron network. Many of these operations aren't supported in other software wallets.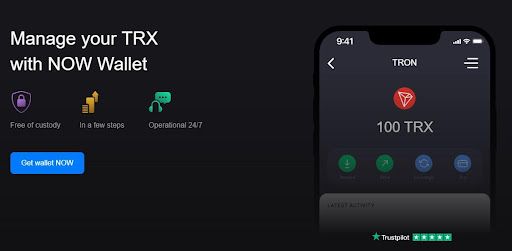 Thanks to NOW Wallet, you have the freedom to choose if you would like to earn bandwidth points or energy while staking your coins. Many other brands don't give you this option as the staking mechanics are set by default. NOW Wallet also allows its users to view and select from the complete list of Super Representatives. This is another feature that is missing in other staking apps where you are only shown a small preselected list of 3-7 SRs.
How To Stake TRX in NOW Wallet?
Please follow these simple steps to stake and earn passive income from your Tronix holdings.
Download NOW Wallet for your phone from the official website, App Store, or Google Play Store.
If you don't own any TRX tokens, purchase some on the instant and non-custodial ChangeNOW swaps platform and deposit the coins to your address on NOW Wallet. Tronix can also be bought directly from within the NOW Wallet.
Find and click on the TRX staking section.
Specify how many coins you want to stake and choose if you would like to earn energy or bandwidth points.
Pick the Super Representative(s) you want to vote for to become the next block producer(s).
Collect your rewards distributed by the delegates you voted for within six hours.
Summary
The creators of the TRON network envision a decentralized internet with enhanced privacy and efficient content creation and distribution. Web 4.0 guarantees its users data ownership rights and the freedom to choose what they want to do with said data. On top of that, the blockchain is ultra-fast and boasts one of the lowest network fees in crypto.
All holders of TRX tokens can further increase their bags by staking Tronix and earning yearly interest on their deposits. The best way to do that is by using the NOW Wallet mobile app, which guarantees full network functionality and simplicity of use.