ChangeNOW Exchange API for Wallets Building on TON
Cryptocurrencies have revolutionized the financial industry, offering users a decentralized and secure way to exchange digital assets. Among the many cryptocurrencies available, TON (also known as Toncoin) has gained popularity for its innovative features and potential for growth. In this article, we will explore the world of TON and the wallets that are built on its Open Network. Additionally, we will delve into the benefits of using the ChangeNOW API for crypto exchanges.
Understanding TON and Its Potential
TON, or Toncoin, is a cryptocurrency that operates on the Open Network, a powerful blockchain platform. The Open Network is designed to provide fast transaction speeds and high throughput, making it an attractive option for users seeking efficient and secure crypto transactions. With its low fees and robust programming environment for smart contract applications, TON has become a promising contender in the crypto market.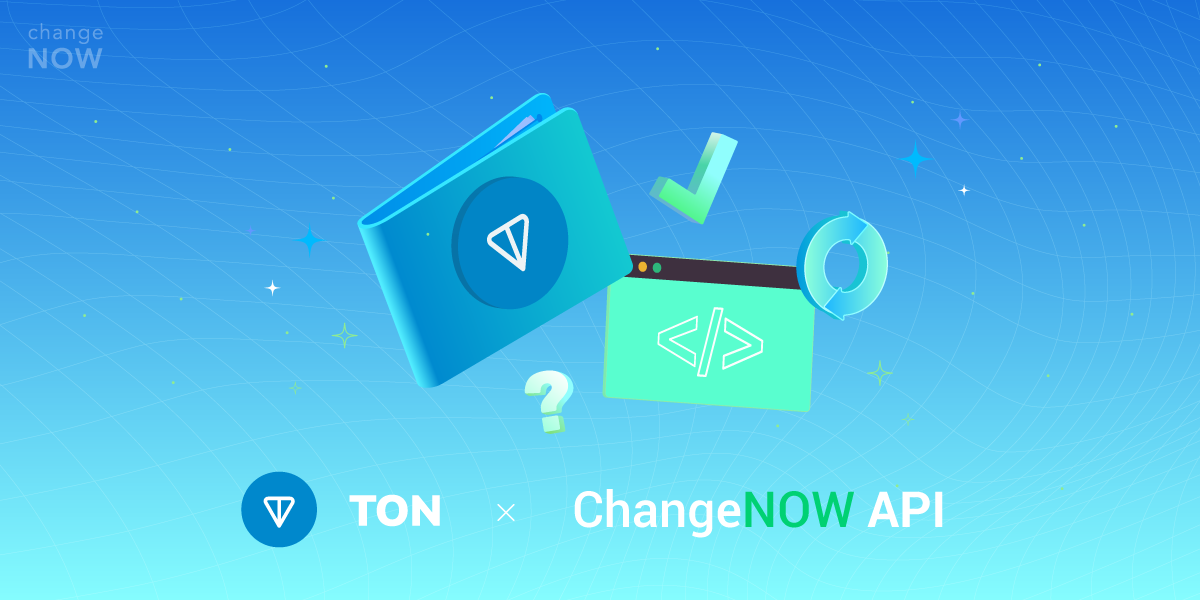 Wallets Built on TON: A Gateway to the Open Network
To take full advantage of TON's capabilities, users need a reliable and secure wallet. Several wallets have been developed specifically for TON, offering a range of features and functionalities. Let's explore some of the most notable wallets built on the Open Network:
1. MyTONWallet
MyTONWallet is a multi-token wallet and gateway to Web3 apps. It stands out as the most feature-rich wallet and browser extension for TON. This wallet supports tokens, NFTs, Ledger integration, TON DNS, TON Sites, TON Proxy, and TON Magic. MyTONWallet is self-custodial and open-source, ensuring that users have full control over their assets. With multiple account support, users can easily switch between independent accounts for different needs.
2. Tonhub Wallet
Tonhub Wallet is a secure mobile wallet that allows users to send and receive Toncoin instantly. With its bulletproof security measures, Tonhub Wallet ensures that only the user can access their assets. The wallet emphasizes safety and reliability, encouraging users to securely save their Seed Phrase for added protection. Tonhub Wallet also provides personalized push notifications to keep users informed about their recent transactions. Privacy is a priority, as Tonhub Wallet does not track any personal identifiable information.
3. Wallet Telegram Bot
Telegram @Wallet is a user-friendly bot that simplifies cryptocurrency transactions. Users can purchase cryptocurrencies using a bank card, exchange their Toncoins, and transfer funds to other wallets. The bot offers the convenience of sending and receiving TON directly within the Telegram app, enabling seamless communication and transactions with other Telegram users.
4. Tonkeeper Wallet
Tonkeeper Wallet is an all-in-one solution for storing, sending, and receiving Toncoin on the Open Network. It takes advantage of the Open Network's world-class speed and low fees to provide users with a seamless experience. Tonkeeper Wallet ensures end-to-end security by storing cryptographic keys on the user's device without requiring any personal information or KYC. Additionally, the built-in exchange feature allows users to buy Toncoin and swap it on decentralized markets directly within the app.
5. TON Wallet Google Chrome Extension
TON Wallet is a Google Chrome extension that integrates the Open Network into the browser. This extension serves as a secure and private way to access the new decentralized internet. Users can create or import their TON Wallet with ease, enabling them to store, receive, and send Toncoins within the TON blockchain. TON Wallet also enables the browser to interact with decentralized applications, allowing for seamless integration with the blockchain.
These wallets offer different features and cater to various user preferences. Whether you prefer a feature-rich wallet like MyTONWallet, a user-friendly mobile wallet like Tonhub Wallet, or a Telegram bot like Wallet Telegram Bot, you can find a wallet that suits your needs within the TON ecosystem.
ChangeNOW API: Enhancing Security and Convenience
ChangeNOW, a leading crypto exchange platform, offers an API that can be integrated into wallets built on TON. By leveraging the ChangeNOW API, these wallets can provide users with a seamless and secure way to exchange cryptocurrencies directly within the wallet. Let's explore some of the key benefits of using the ChangeNOW API:
1. Secure and Encrypted Transactions
ChangeNOW's API uses SSL technology to encrypt transactions, protecting users' personal information and ensuring secure communication between the wallet and the exchange platform. This encryption provides an additional layer of security, preventing unauthorized access to sensitive data.
2. Decentralized Exchange Architecture
ChangeNOW's API is built on a decentralized exchange architecture, eliminating the risk of a single point of failure. This decentralized nature makes it more difficult for hackers to compromise the security of wallets built on TON.
3. Dedicated Personal Account Manager
ChangeNOW provides a dedicated personal account manager to assist wallet developers with any issues or questions they may have. This personalized support ensures that wallet developers have the resources they need to provide the best possible security measures to their users.
4. Transparent and Verified Exchanges
ChangeNOW's API ensures that all exchanges conducted through the integrated wallets are transparent and verified. This means that users can trust that their transactions are legitimate and that they are receiving the correct amount of digital assets in return.
By integrating the ChangeNOW API, wallets built on TON can offer users a secure and convenient way to exchange cryptocurrencies directly within the wallet interface. This integration minimizes the risks associated with using third-party exchanges and enhances the overall security of transactions.
NOW Wallet: Supporting TON ERC-20 Tokens
While exploring wallets built on TON, it is essential to mention NOW Wallet, a versatile crypto wallet developed by NOW Solutions. NOW Wallet supports TON ERC-20 tokens, allowing users to securely store and manage their Toncoins. With its user-friendly interface and robust security features, NOW Wallet provides a seamless experience for TON token holders.
Conclusion
The world of cryptocurrencies continues to evolve, and TON has emerged as a promising player in the market. With its innovative features and potential for growth, TON offers users a decentralized and efficient way to exchange digital assets. Wallets built on the Open Network, such as MyTONWallet, Tonhub Wallet, Wallet Telegram Bot, Tonkeeper Wallet, and TON Wallet Chrome Extension, provide users with secure and user-friendly interfaces to manage their Toncoins.
By integrating the ChangeNOW API, these wallets can further enhance the security and convenience of crypto exchanges within the wallet interface. With NOW Wallet also supporting TON ERC-20 tokens, users have various options to choose from when it comes to storing and managing their Toncoins. Embrace the world of TON and the wallets built on its Open Network to experience the future of decentralized finance.
Disclaimer: This article is for informational purposes only and should not be considered financial or investment advice. Always do your own research before making any investment decisions.