Shiba Inu Sweeps Past AVAX and LTC With More Than 300% Gains
Following a bullish surge over the past week, memecoin Shiba Inu is trending as one of the most traded digital currencies on major exchange platforms, recording more than 300% gains within days.
Over the past two weeks, the crypto industry has found a renewed verve as Bitcoin crossed the $55,000 mark for the first time in nearly four months and Ethereum traded at $3500 once more.
However, Shiba Inu's remarkable rise to the top 15 cryptocurrencies is particularly noteworthy. The memecoin, nicknamed "DOGECOIN killer" at its launch last year, now inches a few positions away from Doge, and could very well surpass Doge if its bull run continues.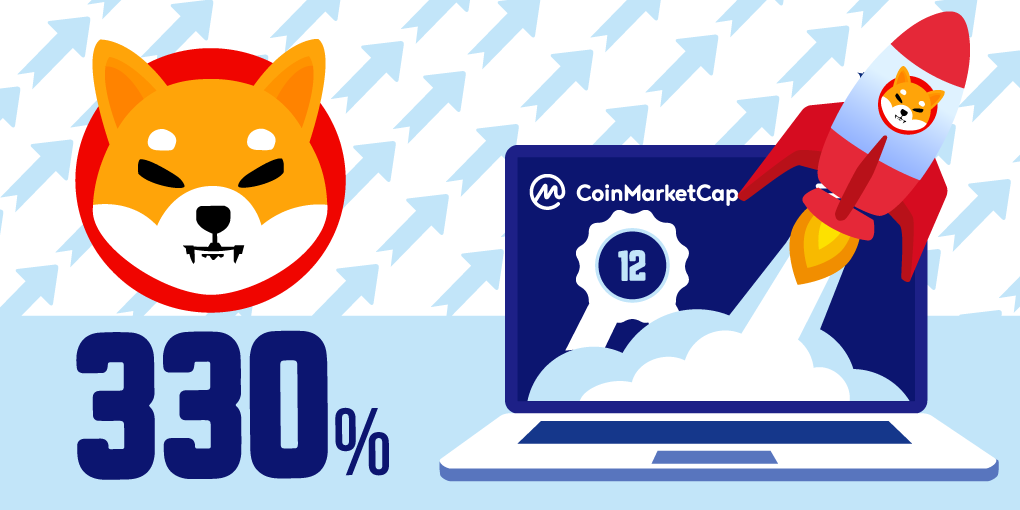 Now sitting as the twelfth largest cryptocurrency, SHIB has blazed past Avalanche (AVAX), Uniswap (UNI), and Chainlink (LINK) in the past 72 hours.
Price Rally Prompted By Tweet
After about 4 months of price inactivity, Shiba Inu first began its sudden surge following a Twitter post made by Tesla CEO, Elon Musk. The tweet contained a photo of his dog, a Shiba Inu named Floki. The "#SHIB" hashtag began to trend on Twitter barely hours later.
This movement coupled with SHIB's inclusion on the Coinbase app caused the token to experience a 35% spike in 24 hours.
Other developments that have contributed to the ongoing price rally are recent ecosystem updates including the implementation of the burn mechanism, and the release of Shiba Inu's decentralized exchange platform which has been dubbed ShibaSwap. There has also been a notable increase in the number of SHIB token holders.
SHIB Experiences Whale Buying Spree
Another occurrence that served as an enormous bolster for the token's rise was a massive whale buy. A mysterious SHIB whale purchased 6.3 trillion Shiba Inu tokens for an estimated 44 million USD over the past 2 days.
Demand for the meme coin has become so high, BONE and LEASH tokens, which are part of the Shiba Inu ecosystem, have experienced significant bull runs in their own regard.
SHIB holders expect to see a greater rise in demand for the digital asset as it makes plans to venture into the gaming industry. Shiba Inu's total market capitalization at time of writing sits above $13 billion USD, with its price resting at $0.000034, halfway to meeting DOGE.
You can buy or trade any of your preferred tokens for Shiba Inu (SHIB) on ChangeNOW without any hidden fees.
Welcome to the NOW experience! The ChangeNOW team presents you with the new community-inspired crypto wallet – NOW Wallet.