Avalanche AVAX Review 2021
Ever since people became aware of Bitcoin's scalability issues, they have been searching for faster, cheaper, and more secure systems and blockchains.
The goal is to create the ultimate decentralized network which is lightweight, scalable, and offers an abundance of use cases. One such project has managed to build a robust infrastructure capable of challenging the existing rivals and maybe overcoming some of them in the future.
That challenger is Avalanche. It's a unique system and consensus mechanism developed by some of the brightest minds in the blockchain industry. Avalanche is made up of several constituents where each part plays a separate role to make the network what it is. So, let's now take a look at what this ecosystem is all about and what makes Avalanche and its AVAX token stand out in a sea of other cryptocurrencies.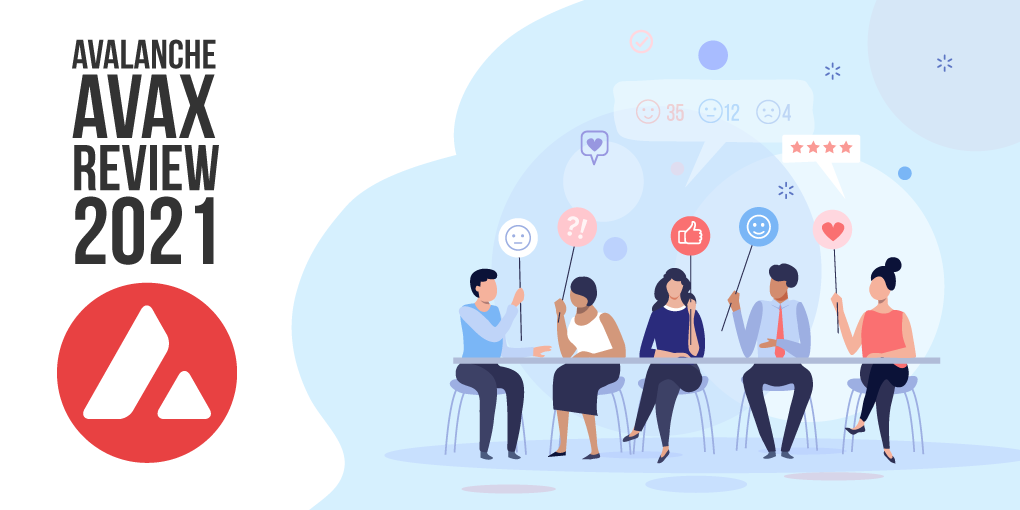 Avalanche (AVAX) in 2021
About Avalanche
AVAX Avalanche is a smart contacts platform with interoperable characteristics. It's scalable, extremely fast, and can be tweaked and modified for different needs and use cases. Its creators claim that the network can reach transaction finality and irreversibility in 1-3 seconds and has a maximum throughput of 4.500 transactions per second.
Avalanche is a decentralized network that allows developers to create their own blockchains. Still, it can also be used to store NFT artwork and for DeFi. It's interesting to note that the ecosystem is built up of three different blockchains that contribute to the main network in different ways. The network's native currency is the AVAX token.
The system was introduced in 2018, and it raised over $60 million from private investors and during its ICO stage. The AVAX crypto testnet went live in April 2020, and in September of the same year, they launched their mainnet.
The Avalanche ecosystem comprises over 1.000 validator nodes that secure its network. Whereas many other blockchains are vulnerable to 51% attacks, this system has built-in protection against it. 60%-80% of the network's nodes would have to turn rogue for its security to be considered compromised.
Other blockchains, such as Bitcoin, require plenty of energy and specialized hardware in the mining process. The Avalanche token is considered eco-friendly, and due to its unique consensus algorithm, it's fully functional on CPU alone.
Avalanche (AVAX) Team
The Avalanche blockchain was developed by Ava Labs – a team of experts in computer science, finance, law, etc. The founding members have experience working with complex systems in renowned companies such as Google, Microsoft, Morgan Stanley, NASA, and many others. The network was built for over two years until it was finally ready for public release.
Ava Labs was founded in 2018 by Emin Gun Sirer. He is a scientist and professor at Cornell University and the brain behind the idea of Avalanche. Emin has been an expert in the field of distributed ledger technology for over 20 years, and many of his Cornell colleagues and alumni lent him a helping hand during the development of the platform. Mr. Sirer is also known as the creator of the virtual currency Karma several years before Bitcoin came out.
The initial idea of an Avalanche-like protocol was made public in a document written by an anonymous group known as "Team Rocket". Mr. Sirer liked their proposal, improved upon it, and developed the Avalanche network we know today. Besides Emin, the founding members of Ava Labs are Maofan "Ted" Yin and Kevin Sekniqi. The current Ava Labs line-up consists of 67 different executives, managers, engineers, designers, and two advisors.
Avalanche (AVAX) Roadmap
The official Avalanche website contains the most essential AVAX news and updates, including the project's roadmap. The roadmap itself is divided into four parts according to quarters for 2021.
Here are some of the major milestones that the AVAX crypto project has achieved thus far:
Over $1 billion has been traded across all DEXs connected to Avalanche in Q1 of 2021.
+$10 billion worth of AVAX token assets have been staked on the network.
An Avalanche-Ethereum bridge was developed in Q1 of 2021. In Q3, a new upgrade resulted in this bridge becoming 5 times cheaper and 2 times faster than it was before.
In Q3 2021, the network introduced Initial Litigation Offerings (ILOs), making it possible to fund and invest in legal actions. If the verdict goes in the investor's favor, they will earn a percentage from the settlement.
According to available AVAX news, several exciting features are planned for Q4 of 2021. Subnet interoperability is one worth mentioning. If implemented efficiently, this upgrade could result in higher adoption rates among private and institutional investors. Other innovations we should state are decentralized identities and the Avalanche Name Space.
Avalanche (AVAX) Network
The AVAX Avalanche network is based on a new type of Proof-of-Stake (PoS) consensus algorithm simply called Avalanche. It comprises the best features from Bitcoin's Nakamoto Consensus and the Classical Consensus. Multiple blockchains called subnets make up the Avalanche ecosystem, where transactions are "gossiped" between different nodes until all of them have acquired the needed information.
This gossiping feature is the secret behind the system's remarkable transaction speeds. Even though this is a PoS coin, the infrastructure allows both PoW and PoS assets to launch the subnets without compromising network speed or security.
Avalanche subnets are made up of validators who cooperate to reach a consensus on the state of the blockchain they manage. Each subnet can create its own incentives and reward structure for validators. As a result, validators can decide which subnets they want to be part of and which to avoid.
The Avalanche network is made up of three different blockchains:
The Exchange Chain (X-Chain)
The Platform Chain (P-Chain)
The Contract Chain (C-Chain)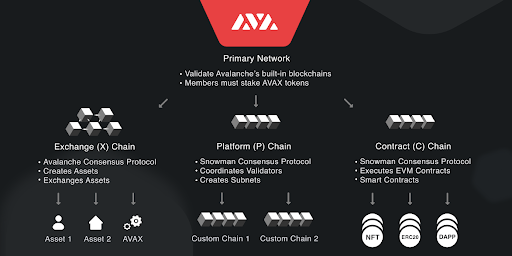 The X-Chain is responsible for all Avalanche token transactions and the minting of new coins. It allows developers to create new digital assets and exchange those across the subnets. The network's native AVAX crypto token is used for the transaction fees, similarly to how Ether is needed while transferring ERC-20 tokens on the Ethereum blockchain. As a measure against inflation, all transaction fees are burned.
The P-Chain handles matters regarding network validation, staking, and delegation. To become a validator, one needs to stake a minimum sum of 2.000 AVAX. A minimum amount of 25 coins is required for a user to participate in the token delegation. In contrast to some other blockchains, validators on Avalanche are not punished by seizing part of their stake for breaking consensus rules.
The C-Chain is responsible for smart contract operations. It's where developers write new applications which are compatible with the Ethereum Virtual Machine (EVM). Decentralized applications created on Ethereum can be imported via the C-Chain to leverage Avalanche's more robust network infrastructure. Smart contract transactions on this chain have a throughput of around 1.500 transactions per second.
How to Mine the Avalanche Token (AVAX)
AVAX Avalanche is a Proof-of-Stake currency, meaning it's not mined. Instead, the token is minted and can be staked to earn passive income. Staking is required to participate in the consensus and decision-making process. Network validators are rewarded with new coins for securing the network and verifying transactions. Additional rewards are reserved for nodes that remain online, active, and operational for more extended periods of time.
Avalanche is a decentralized network that allows anyone who can lock up the minimum amount of required tokens to run a node. The official validator stats show that in October 2021, there were over 1.000 network validators and more than 16.000 delegators. Staking rewards vary between 9%-11% and are currently set at 9.92% APR.
AVAX Price Prediction For 2021
The Avalanche token price has seen many ups and downs during 2021. It began the year between the $3-$4 mark. The AVAX coin price rose to over $50 in January-February before dropping to the $10 mark in June 2021.
This coin started a new bull run with the advent of summer. From July to September of 2021, the AVAX token price didn't just touch the $50 mark one more time; it jumped well above it to reach its all-time high of $79. All in all, the Avalanche ROI is an incredible +11.000% since it got listed on exchanges.
Analysts from Wallet Investor have shared their AVAX price prediction for the foreseeable future. They are bullish on the asset and expect the AVAX token price to reach a value of almost $100 in one year. Their 5-year forecast shows $243.
The Economy Forecast Agency shows somewhat different stats for the AVAX coin price. They are bullish long-term, but they predict a drop in value in Q4 of 2021 and at the beginning of 2022. According to them, the Avalanche token price will recover in the last months of 2022, where they expect a maximum valuation of $72. 2023 looks bearish as the year goes by. Their forecasters expect the most significant gains in 2024-2025 when the AVAX coin price can go above $100.
Where To Buy Avalanche Token and How to Trade It?
Many crypto enthusiasts want to know where to buy AVAX and how to store it properly? Avalanche has created its own AVAX wallet, and the coin can be purchased on several cryptocurrency exchanges.
Avalanche Wallets
One of the safest ways to store crypto is in hardware wallets. For example, AVAX Avalanche is supported by both Ledger and Trezor devices. Unfortunately, neither hardware manufacturers have native apps for this coin, but they can connect to them through 3rd-party wallets.
The Avalanche Wallet is the official online AVAX wallet which is also suggested by the company. It's a non-custodial and lightweight client that allows you to generate and store a 24-words seed phrase. Alternatively, the coin can be kept in multicurrency wallets such as Coinomi or Trust Wallet.
Avalanche Crypto Exchanges
Cryptocurrency investors looking for a safe place where to buy AVAX should visit our limitless crypto exchange ChangeNOW. This non-custodial service will allow you to swap the token for BTC, ETH, USDT, or a number of different fiat currencies.
Price tracking website CoinMarketCap can be used as an additional source of information on where to buy Avalanche token. Binance is on top of the list in terms of daily exchange volume. The coin can be traded for USDT, BTC, BUSD, EURO, and several other crypto assets.
Gate.io, Coinbase, and Huobi Global are also responsible for a big chunk of the trading volume. If you want more, check out KuCoin, Bitfinex, Bittrex, OKEx, etc.
Avalanche (AVAX) Bottom Line
Avalanche is a promising project with top-notch features and characteristics. Its brand-new consensus algorithm mixes together all the benefits of its predecessors and includes admirable results in terms of transaction finality. Moreover, it was founded by one of the greatest minds active in the cryptocurrency industry today.
Its revolutionary blockchain tech allows for the creation of new digitalized assets and subnets where the AVAX crypto plays an integral role. Furthermore, the developers have created a bridge with Ethereum that can be utilized to easily migrate projects from one network to the other. Or you can simply take advantage of the high-quality C-Chain blockchain for all your smart contract needs.
The native governance token can be staked to earn passive income. Avalanche has a precise emission schedule for AVAX with measures against inflation by burning excessive tokens. All of this and much more guarantees that we will keep hearing great things about this project in the years to come.