Rubic's Cross-Chain Swaps: Powered by ChangeNOW API
Are you ready to explore the exciting world of cross-chain swaps? Look no further than Rubic, one of the pioneers in the cross-chain market and a leading cross-chain swap aggregator. But Rubic is not just limited to token swaps. With a vision to unify cross-chain standards for the Web3 space, Rubic is transforming into an all-cross-chain solutions platform.
In this article, we'll dive deep into Rubic's mission, the integration of ChangeNOW's Exchange API, and how Rubic is revolutionizing the way developers and users interact with cross-chain technology. Get ready to discover the future of cross-chain swaps with Rubic!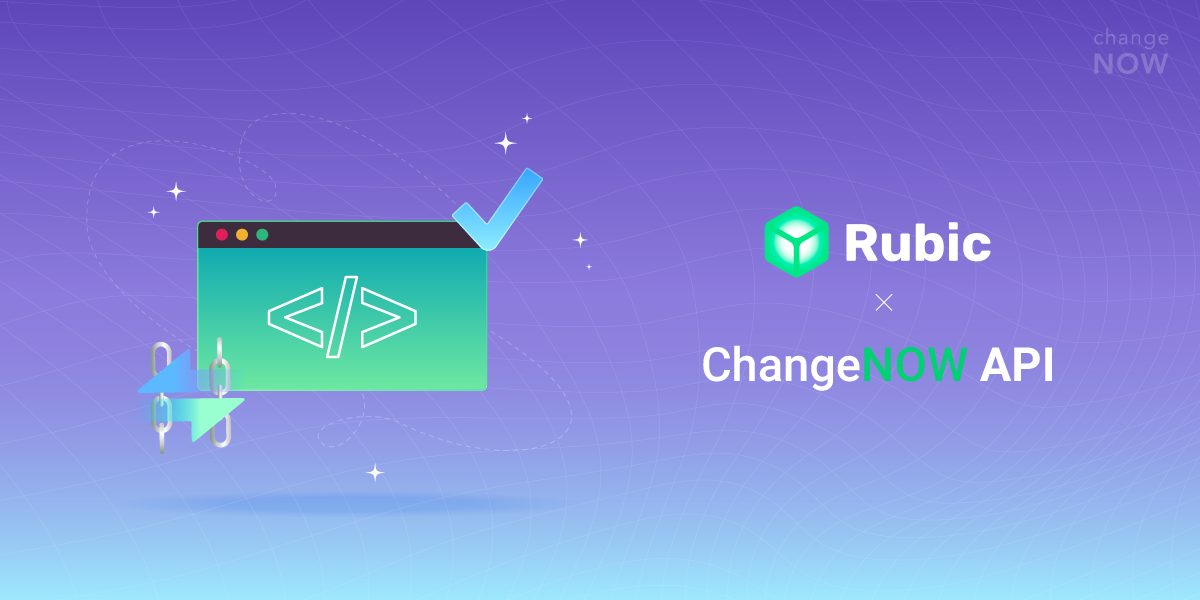 Rubic: Empowering the Web3 Ecosystem
Rubic's goal is to make cross-chain integration seamless and accessible for developers and users alike.
Right now, Rubic aggregates 60+ blockchains, 90+ DEXs and bridges, and enables swapping of 15,500+ assets with the best rates, highest liquidity, and transaction speeds - in one click. Users can do it here, but they also provide tools for dApps to enable cross-chain swaps. On top of that, Rubic's app and their cross-chain widget provide fiat on-ramp services, making crypto easy to access and buy.
Rubic strives to enable exchanges across any networks, be it zk, or any new promising chain. This means that regardless of the blockchain you're using, Rubic will have the tools to help you go cross-chain.
Introducing ChangeNOW's Exchange API Integration
As part of their mission to provide comprehensive cross-chain solutions, Rubic has integrated ChangeNOW's Exchange API into their platform. ChangeNOW is a fast, secure, and easy-to-use crypto exchange with a broad ecosystem of products. By leveraging ChangeNOW's API, Rubic is able to offer a wide range of cryptocurrencies and trading pairs for cross-chain swaps.
ChangeNOW's Exchange API integration allows Rubic users to swap their assets across 40+ blockchains, including popular networks like Ethereum, Polygon, Binance Smart Chain, and many non-EVM chains, like Bitcoin or Ripple. This integration significantly expands the liquidity available on Rubic, ensuring that users can easily execute their cross-chain swaps with minimal slippage.
Top Crypto for Swaps on Rubic via ChangeNOW
When it comes to cross-chain swaps on Rubic via ChangeNOW, there are several top assets that users frequently swap. These assets represent the most actively traded cryptocurrencies on the platform, providing users with a diverse range of options for their cross-chain transactions.
Here are the top assets for swaps via ChangeNOW:
These assets demonstrate the popularity and versatility of Rubic's cross-chain swap capabilities. Whether you're looking to trade tokens on Binance Smart Chain, Ethereum, or other networks, Rubic has you covered.
What also sets Rubic apart from the competition, is that Rubic.exchange is a solution that enables seamless communication and data transfer between EVM and over 30 non-EVM networks, such as Bitcoin, Litecoin, Ripple, Solana, Near, Osmosis, Ton, Waves, etc., enabling users to perform cross-chain swaps using a single interface.
Traditionally, to perform cross-chain swaps between EVM and non-EVM networks, users had to rely on individual bridges or CEXs, which often introduced additional complexities and risks. Rubic.exchange simplifies this process and serves as a bridge and a DEX at the same time, which enhances convenience and reduces friction.
The Rubic Experience: Easy, Fast, and Secure
Rubic is committed to providing an exceptional user experience, with a focus on simplicity, speed, and security. Users can execute on-chain and cross-chain swaps with just one click. The average swap time on Rubic is an impressive 90 seconds, ensuring that users can quickly and efficiently complete their transactions.
One of the key features of Rubic's cross-chain swaps is Smart Routing. This innovative technology ensures that users get the best deal across 90+ DEXs and bridges. Rubic's Smart Routing algorithm analyzes available liquidity and transaction fees across multiple platforms, directing users to the most optimal route for their swap.
Security is a top priority for Rubic. The platform employs automated monitoring to ensure the integrity of transactions. If a service is found to be compromised, Rubic immediately switches off transactions to protect users' assets. This robust security infrastructure gives users peace of mind when engaging in cross-chain swaps on Rubic.
Monetizing Cross-Chain Swaps with Rubic
With Rubic's SDK and Widget, dApps can provide the same functionalities as Rubic (the best deal across 60+ chains and 90+ DEXs and bridges) to their users. It's very convenient for token holders who want to set token sales on their website, for DEXs or GameFi dApps.
Rubic also offers opportunities for projects and developers to monetize their involvement in the ecosystem. By integrating Rubic's SDK or Widget, users can earn up to 30-50% of adjustable trading fees. This incentivizes users to participate in the Rubic ecosystem and contribute to its liquidity.
Integrating ChangeNOW's API: Your Next Step
Ready to take your dApp or crypto project to the next level with cross-chain capabilities? Integrating ChangeNOW's Exchange API into your platform is the key to unlocking the full potential of cross-chain swaps.
With ChangeNOW's API, you gain access to a vast array of cryptocurrencies and trading pairs, providing your users with a seamless cross-chain experience. By integrating ChangeNOW's API, you can tap into the liquidity of Rubic and other partner services, expanding your reach and attracting more users to your platform.
To learn more about integrating ChangeNOW's API and how it can benefit your project, read our article. We're here to assist you every step of the way, from the initial integration to ongoing support and maintenance.
Join the Cross-Chain Revolution with Rubic and ChangeNOW
The future of crypto space is cross-chain, and Rubic, in collaboration with ChangeNOW, is at the forefront of this revolution. With Rubic's comprehensive cross-chain solutions and ChangeNOW's Exchange API integration, users and developers can seamlessly swap tokens across multiple blockchains.
By leveraging Rubic's SDK and Widget, developers can easily integrate cross-chain capabilities into their dApps, enabling a new era of interoperability. And with ChangeNOW's Exchange API, users gain access to an extensive range of cryptocurrencies and trading pairs, ensuring liquidity and flexibility for their cross-chain swaps.
Don't miss out on the opportunity to be part of the cross-chain movement. Join Rubic and ChangeNOW today and unlock the full potential of cross-chain swaps!