RadioShack to Bring Crypto to Older Generation with Defi Launch
Popular American retail company RadioShack is helping to advocate cryptocurrency to baby boomers.
With only 8% of US citizens aged above 50 involved in crypto, the majority of the baby boomer generation are reluctant to embrace the relatively nascent crypto industry. Increasing studies are showing that there are more young bloods and millenials interested in cryptocurrency than there are boomers.
RadioShack aims to change these statistics and is confident that the only way to mass adoption is to integrate even older audiences. The company claims that by shifting focus to older non-crypto enthusiasts, it would be able to bridge the current generational divide and push blockchain technology closer to mainstream use.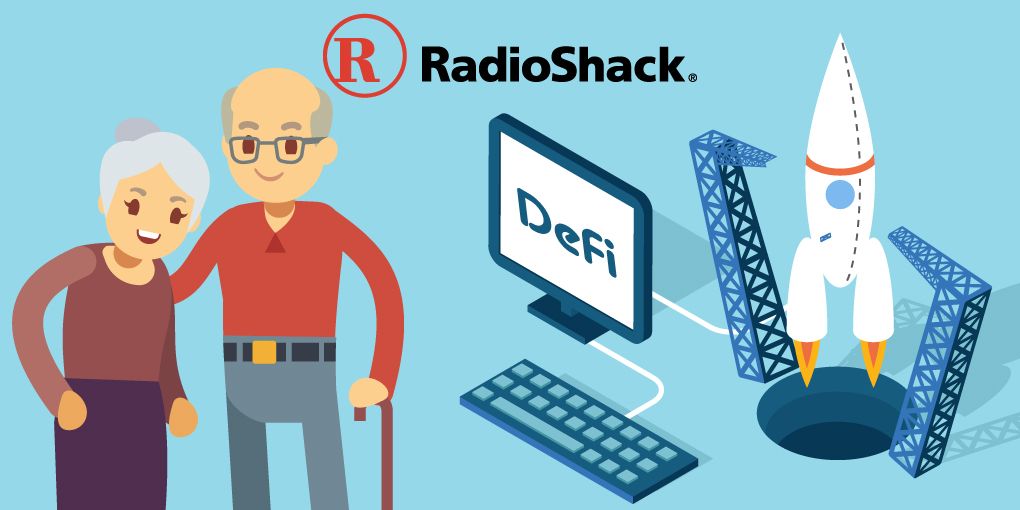 RadioShack Explores the DeFi Market
With a diverse consumer base that includes electronic-loving boomers, RadioShack is shaping to explore ways crypto can be subtly but efficiently introduced. The company is also counting on familiarity and trust to help boomers embrace a new concept of payment and investment.
"It is our hypothesis," the company stated, "that the best way for crypto to be more mainstream is for an established brand name in the tech space to lead the way."
In collaboration with the Atlas USV (Universal Store of Value) protocol, RadioShack's vision is to create a Decentralized Finance ecosystem. The DeFi ecosystem from RadioShack will begin with a decentralised exchange, which the business describes on its website as the "lowest hanging fruit that is full with options."
RadioShack says its DeFi exchange will allow users to send cryptocurrencies directly to each other instead of via a third-party exchange like Coinbase. RadioShack's exchange will launch on the Atlas protocol, which was started by Alex Mehr and Tai Lopez. The two entrepreneurs are also the brain behind Retail Ventures which purchased RadioShack in 2015 after the retail company filed for bankruptcy.
RadioShack is confident that as an "100-year-old brand", it will inspire confidence and familiarity with older generations who might have been reluctant to trust the industry.
What Next for RadioShack
According to RadioShack's proposal, the company hopes its recent move will inspire similar old organisations like Starbucks and Louis Vuitton to transition to blockchain. What's more, RadioShack sees a future where companies like Mercedes Benz and Starbucks might employ its Atlas protocol. For a company that has gone bankrupt twice in the last several years, it is an ambitious target, but RadioShack is not afraid to try.
RadioShack has already kickstarted plans for its RADIO token launch, even though the launch date has not been revealed yet. However interested investors can join RADIO's waitlist on the company's official page.
Welcome to the NOW experience! The ChangeNOW team presents you with the new community-inspired crypto wallet – NOW Wallet.