Fortifying POODL: The Journey Towards Enhanced Security on ChangeNOW
Are you ready to dive into the world of cryptocurrencies and explore the exciting possibilities they offer? Look no further than POODL Token, a project that combines innovation, security, and community engagement. In this article, we will take a closer look at POODL Token and its unique security measures. We will also explore how you can buy and exchange POODL Token on ChangeNOW, a leading non-custodial cryptocurrency exchange platform.
Understanding POODL Token: More Than Just a Meme Coin
POODL Token is not your ordinary cryptocurrency. Unlike many meme coins that come and go, POODL Token has established itself as a long-term project with a dedicated community. Its journey began with a group of developers who initially ran the project like a meme coin, pumping and dumping it before abandoning it. However, the community saw potential in POODL Token and rallied together to revive it.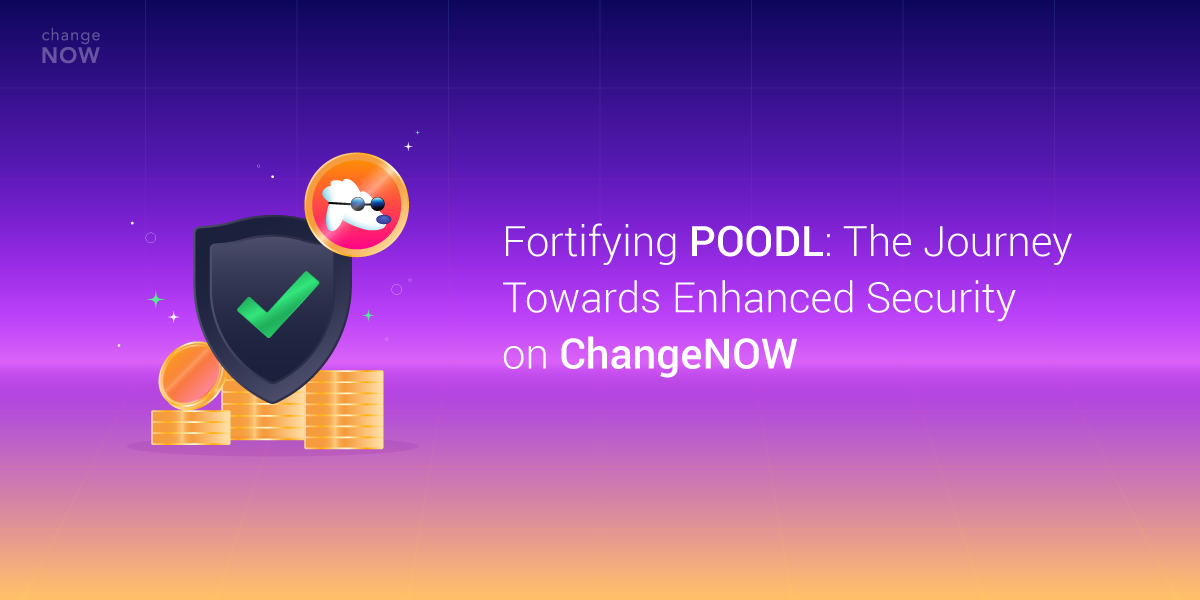 After reviving the token and creating the necessary infrastructure, the community faced a crucial decision: how to prevent a rug pull and ensure the security of their investments. Instead of relying on a bridge that could potentially still be manipulated by the original developers, the community decided to airdrop a new token to existing holders. This risky move paid off, ensuring the safety of the community's investments.
With a solid foundation in place, POODL Token started to focus on building utility and expanding beyond its meme coin origins. A community voting system was implemented, allowing token holders to actively participate in important project decisions. The team also sought out partnerships with other legitimate projects, further enhancing the value and potential of POODL Token.
POODL and ChangeNOW's Partnership for Enhanced Security
Collaborating with a reputable and secure platform is crucial for the success of any cryptocurrency token, and POODL has made a wise decision by choosing ChangeNOW as their partner. Here's how their partnership enhances security for POODL users:
Non-Custodial Way of Exchanging Crypto: As mentioned earlier, ChangeNOW doesn't hold users' funds. This means that during the process of buying or selling POODL, you retain ownership of your tokens throughout the transaction. Your assets are secure in your own wallet, and there's no need to trust a third party with your holdings.

Advanced Security Protocols: ChangeNOW employs state-of-the-art security protocols and technologies to safeguard user data and transactions. This includes encryption and regular security audits to identify and patch potential vulnerabilities proactively.

Reputation through Strong Partnerships: ChangeNOW's collaboration with reputable projects and platforms further solidifies their commitment to maintaining the highest level of security and trust. By associating with industry-leading entities, ChangeNOW reinforces their dedication to user safety.
The Benefits of Choosing ChangeNOW
By choosing ChangeNOW as your preferred platform for buying and exchanging cryptocurrencies, including POODL Token, you can enjoy a range of benefits:
Security and Privacy: ChangeNOW's non-custodial service ensures the security and privacy of your funds and personal information.

User-Friendly Experience: ChangeNOW's intuitive interface and streamlined processes make it easy for both beginners and experienced users to navigate the platform.

Fast and Efficient Transactions: ChangeNOW prioritizes fast transaction speeds, allowing you to quickly buy and exchange cryptocurrencies without unnecessary delays.

Wide Range of Supported Coins: ChangeNOW supports more than 900 cryptocurrencies, providing you with ample options for diversifying your investment portfolio.

24/7 Customer Support: If you encounter any issues or have questions, ChangeNOW's dedicated customer support team is available around the clock to assist you.
How to Buy and Exchange POODL Token on ChangeNOW
Now that you understand the security measures implemented by POODL Token and ChangeNOW, let's explore how you can buy and exchange POODL Token on the platform. Follow these simple steps:
Visit the ChangeNOW website: Go to ChangeNOW's website and select the cryptocurrencies you wish to exchange. Choose the desired amount and provide your POODL Token wallet address.
Confirm your Transaction: Review the transaction details and ensure everything is correct. Proceed to confirm the transaction.
Send your Funds: Follow the provided instructions to send your funds to the designated address. Be sure to double-check the address to avoid any mistakes.
Receive your POODL Tokens: Once your funds are received and the transaction is confirmed, ChangeNOW will promptly send your POODL Tokens to your wallet address.
With these easy steps, you can become a proud owner of POODL Tokens and join the ever-growing POODL community.
In Conclusion: A Secure and Exciting Crypto Experience
POODL Token offers more than just a meme coin. It presents an opportunity for crypto enthusiasts to engage with a project that prioritizes security, community involvement, and innovation. When you choose ChangeNOW as your platform for buying and exchanging cryptocurrencies, including POODL Token, you benefit from a secure, fast, and user-friendly experience.
So, why wait? Join the POODL community and embark on a thrilling crypto journey. Visit ChangeNOW today and start your adventure with POODL Token.
Disclaimer: The information provided in this article is for informational purposes only and should not be considered as financial or investment advice. ChangeNOW does not endorse any particular cryptocurrency and encourages users to conduct their own due diligence.