Oil ​​Giants Use Extra Gas to Mine BTC and Reduce Pollution
Major oil firm ConocoPhillips has begun to divert its extra gas to Bitcoin mining plants, instead of flaring them. This could reduce CO2 emissions by up to 63%.
The international oil giant aims to significantly reduce its carbon footprint by deploying its extra gas into productive initiatives. Instead of flaring extra gas, as is common with many oil firms, ConocoPhillips will use its excess resources to mine crypto instead. The oil giant has already kickstarted a BTC mining initiative in North Dakota. Its pilot BTC mining program in Dakota could set a template for similar schemes in other oil-rich sites as well.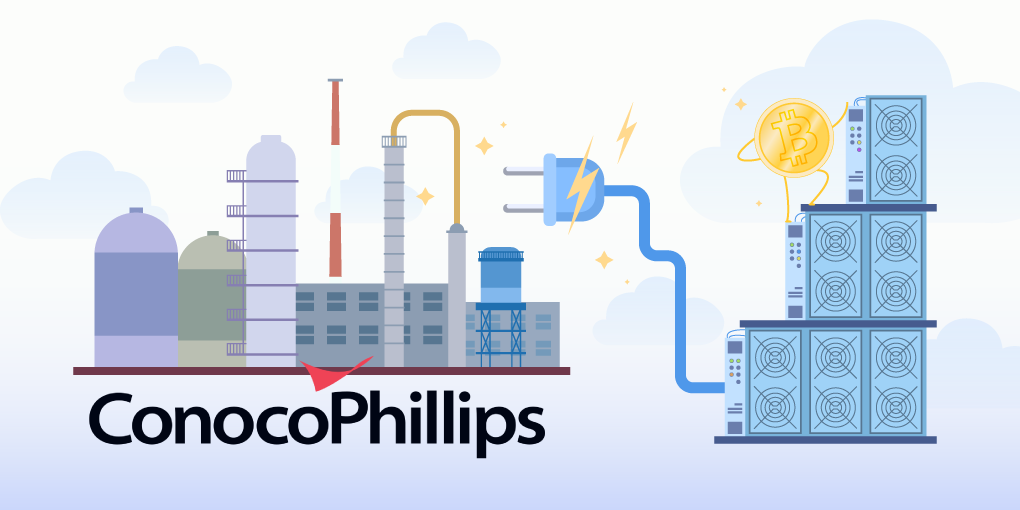 Flare gas is a natural by-product often encountered during oil drilling processes. Pockets of natural gas form in between pools of oil, which are then wastefully flared directly into the air by drilling firms. Rather than openly flaring its gas, ConocoPhillips says it is rather interested in safer and greener measures. The company aims to permanently eliminate "routine flaring as soon as possible, no later than 2030."
Its "green objective" has reportedly been in motion since last year. According to a ConocoPhillips presentation dated to the first quarter of 2021, the company stated its mission to achieve zero routine flaring by 2025. Its recent move into the crypto mining industry is its first step to achieving this.
ConocoPhillips will outsource its extra gas resources to a third-party Bitcoin mining plant. At writing, the oil giant is yet to reveal the identity of its contracted mining plant.
Bitcoin's Green Campaign
Attention was brought to Bitcoin's excessive carbon footprint only last year, following Tesla's concern about the harmful effects of Bitcoin mining. Since Tesla's u-turn on accepting BTC payments, there has been increased efforts to "make Bitcoin green." From Nayib Bukele's volcano mining unit to several innovative hydro plants.
2022, as it appears, is the year of redemption for the leading cryptocurrency in terms of environmental friendliness. Earlier this year, energy consumed by Bitcoin mining was reported to be about 58 percent green. Additionally, the coin is becoming an efficient way to salvage oil and gas pollution.
ConocoPhillips is not the only oil firm employing crypto alternatives. According to reports, another US-based oil explorer Crusoe Energy has taken advantage of Bitcoin mining. With more than 60 data centers and Bitcoin mining units powered by diverted extra gas, Crusoe has managed to remain profitable while reducing pollution. Crusoe's technology is estimated to have reduced its carbon footprints by at least 63%.
You can buy, sell or swap any of your preferred tokens for Bitcoin (BTC) on ChangeNOW without any registration.
Welcome to the NOW experience! The ChangeNOW team presents you with the new community-inspired crypto wallet – NOW Wallet. For safe and efficient asset tracking, try our crypto portfolio tracking app – NOW Tracker.