NFTs and the Metaverse Could Take Over the Music Scene
The metaverse is set to transform how musicians earn a living, while offering millions of listeners unmatched experiences. Could this be the future of music?
You've probably read about Grimes making millions of dollars from NFT sales or Travis Scott hosting a live concert in the metaverse. Over the past few months, the crypto scene has been abuzz with talk about these two developments.
Since NFTs and the metaverse first appeared on the crypto scene, both have experienced a massive rise in global acceptance and popularity. Versatile and usable across diverse sectors, the metaverse is shaping to be the future of socialization as well as digitalization. Its potential was enough for Facebook to do a total rebrand of its company, adopting the new name "Meta". More than anything, however, the metaverse is shaping up to be the next best thing to hit the music industry.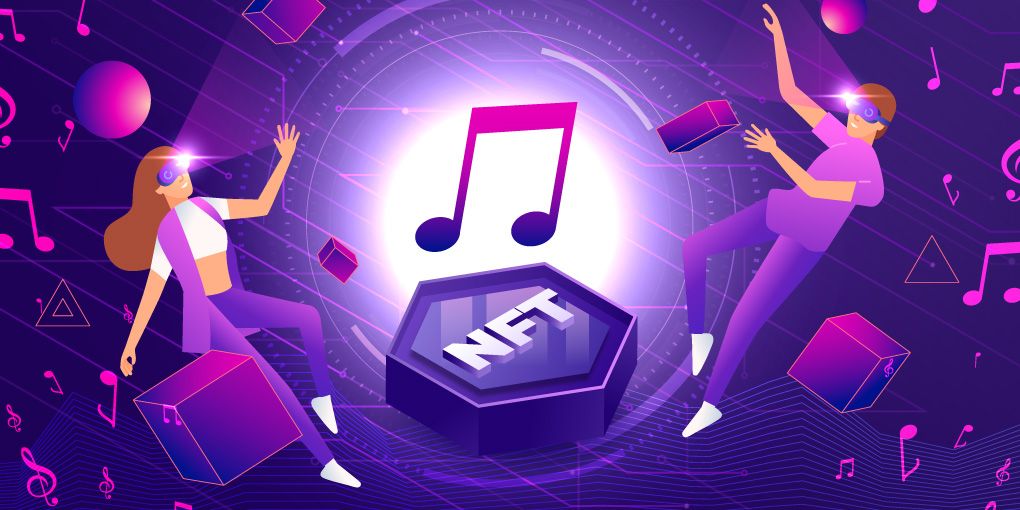 For decades now, the music industry has been evolving alongside technology, from vinyl records to the present era of streaming services such as Spotify and Apple music. Technological advancements have always played a huge part in how music is created, stored, and distributed, and NFTs and the metaverse are no different.
To begin to understand how exactly NFTs and the metaverse fit into the music industry, we have to clarify what exactly they are.
What Is the Metaverse?
Although at the moment it is impossible to fit the metaverse into one defining little box, one could refer to it as the future or the next generation of the internet. No one can predict what exactly it will shape up to be but the metaverse seems to promise the coalition of the physical and the virtual. By employing VR technology and augmented reality, the metaverse can become an effective way to merge real life and the digital world.
This makes it possible for users to have unique 3D experiences in the metaverse, and experience real-life (RL) activities in ways that were not possible before now. The metaverse makes it possible to go shopping, go to work, or attend an event with a friend miles away, all from the comfort of one's home. The developed metaverse is capable of existing as a layer above the "real" world and actions carried out there, translatable to the physical world.
In the same way, the metaverse offers novel ways in which art can be experienced. After the pandemic caused the cancellation of most events, people began to look for alternatives. Artists tried to host "quarantine concerts" on social media platforms such as Facebook and YouTube but there was a lack of charm to this, a general strangeness that was underwhelming. The experience of regular quarantine streams was unlike the surreal thrill that millions of Fortnite players experienced in the earlier months of the lockdown period.
Metaverse Concerts
Few months into the pandemic year, in April 2020, rapper Travis Scott would host a virtual concert in the free-to-play shooter online game Fortnite. More than 12 million players were in attendance and after it had taken place, Scott's concert was called historic and unprecedented as it provided a glimpse into what merging the metaverse and the music industry would look like.
The preparation for Scott's concert lasted for a few days and players were able to watch as a black stage was set up on Fortnite's Sweaty Sands beach. The rapper's real-life performance set compared to his magnificent Fortnite setup, appeared quite tame in comparison once Scott's show in the game began. The metaverse's act was colorful, surreal, stupefying, and ironically ineffable for a music performance.
This was because of the addition of even more imaginative features that could only have existed in a virtual space.
Scott's live concert was just one of a series of virtual performances that appear to have quite a hold on the music scene in recent times. The event that originally paved the way for other virtual concerts took place about a year before Scott's when American DJ Marshmello performed inside of Fortnite. With 10.7 million people watching, the in-game event at the time was one of the most memorable moments in Fortnite history.
Not long after Scott's show, another major in-game event took place on Fortnite. Pop singer Ariana Grande took the world by storm when she performed live at Fortnite's Rift Tour, a metaverse concert that went on for a few days, attracting up to 78 million players.
Grande's show employed similar stunning elements, from surreal imagery to otherworldly characters and even a few mini-games.
Following these events, more musicians are exploring the metaverse in ways that extend beyond regular real-life concerts. Hip-hop star Snoop Dogg, for example, is venturing into the metaverse with an initiative that is expected to redefine social interaction, a key aspect of the metaverse.
The artist is partnering with metaverse project The Sandbox to create a digital version of his LA mansion. Fans will be granted access to the mansion where they can view his collection of non-fungible tokens, attend parties and concerts, and even purchase a parcel of land in the neighbourhood.
The latest musical addition to the metaverse is the Swedish pop band ABBA which will host a live show next year from London. The avatars of the band members will appear as they did during a performance in 1970.
All of these developments point towards the limitless potential of the metaverse for artists and their audiences. Metaverse concerts completely redefine the concept of crowd-performer interaction. They give artists the freedom to express and bring into existence whatever creative bursts they might have, either generally or for a particular performance.
Additionally, with the metaverse artists can perform outside of the constraints of distance and time for both themselves and their audience.
The only notable drawback to metaverse concerts is accessibility as the servers that host a virtual show aren't always capable of holding an endless number of people without crashing. However, the pandemic and its aftermath gave rise to a whole new range of technological innovations that are mostly still in development. The next-generation internet has only just been born.
NFTs and How They Work
NFTs or non-fungible tokens are unique, one-of-a-kind pieces of digital content stored on the blockchain. What makes them different from regular crypto tokens such as BTC or Ethereum is that they cannot be exchanged or replaced with an identical unit of the same value.
Just about anything can be made into a non-fungible token – artwork, documents, music. As unique digital assets, these tokens can be viewed as certificates of ownership or authenticity.
Royal, a music-centred NFT investment platform, announced a $16 million seed-stage investment for founder Justin Blau aka 3LAU's latest initiative. The platform enables fans to co-own music as virtual assets and possibly make money from royalties with the artist.
Soon after this, Blau, a longtime supporter of NFTs, sold a tokenized album of his for a staggering 11.7 million dollars. And only a few months after both events, the artist's platform Royal shared news of another funding round, this time up to $55 million led by Andreessen Horowitz's 16z crypto fund.
Paradigm, Coinbase Ventures, Founders Fund, The Chainsmokers, Logic, Kygo, and a few others, all reportedly took part in the fund-raise. Over the same weekend as 3LAU's $11.3 million sale, singer Grimes auctioned off tokenized art pieces on NFT marketplace OpenSea for up to $5.8 million in 20 minutes.
How NFTs Meet the Music Industry
Over the past year, artists all over the world regardless of genre or mainstream popularity have hopped aboard the NFT train in various ways causing demand for the tokens to rise. Eminem, Katy Perry and more recently, Tony Lanez, are great examples.
Recently, an analysis firm released a report saying Musical NFTs will soon take the place of streaming platforms like Spotify. In this era, where most music is streamed online, the music industry is especially difficult for artists who haven't exactly attained worldwide popularity to make a living out of their music.
As they only earn fractions of pennies per stream, a small audience means they hardly make anything at all. According to a 2020 survey, singers in the top 1% are the ones receiving 90% of the streams. In addition to this, about 70% of the streaming profits go to the right holders on the platforms.
With NFTs, however, artists are essentially reintroduced to what it means to have absolute control over their work, giving them a whole new level of financial and creative freedom. Artists can sell a digital song to a fan while still retaining the copyright. However, the buyer then owns a digitally signed copy, similar to a limited edition vinyl. As an NFT, the piece of music bought would be the only one of its kind.
Fans are often willing to support their favourite musicians and actually owning a copy of that artist's music is much more meaningful than streaming it on a platform over and over again. Furthermore, the fan can choose to sell their copy of the song whenever they want.
This is especially important to upcoming musicians in this era where tours aren't exactly what they used to be. Not all artists are going to earn millions of dollars in a few minutes but with NFTs, they get the opportunity to make substantially more than they would on traditional streaming platforms.
Many agree that for the buyers, it's about forming a sort of connection with the creator or the artist. As venture capitalist Ben Horowitz puts it, "you're buying a feeling," sometimes for thousands of dollars.
It's not limited to just music either; artists can create all sorts of exclusive digital content for their fans. It could be merch or something similar to rapper Snoop Dogg's newly released non-fungible token.
Snoop released the NFT "Decentralized Dogg" in partnership with a digital artist Coldie on the NFT marketplace SuperRare. The token contains a stereoscopic 3D collage of 10 portraits of the rapper from different periods in his career as an artist. In addition, the token includes a short music piece with lyrics based on non-fungible tokens.
According to the rapper's investment partner Nick Adler, the NFT which was sold for 188 ETH or 778,381 USD is only the first of a series of moves Snoop has planned for the NFT and art space. Not exactly a shocker, as he has reportedly collected up to $17 million worth of NFTs reflecting his belief in the potential of this technology.
Another merit of the shift to NFTs is that they are more community-oriented, allowing artists to build a whole ecosystem that fans can actively participate in and support the musician. Additionally, NFTs allow the artist to have full control over their creations, especially upcoming artists. They can effectively eliminate the possibility of signing an unfavourable record deal or joining centralized streaming platforms and hoping enough people stream for them to make substantial profits.
With NFTs, an artist sharing their music can create a more intimate interaction between themself and the listener. And considering the number of protocols and platforms going live all over the world, 2022 already promises to be a game-changing year for artists in the NFT music industry.
Combined with the metaverse, the possibilities for NFTs are endless. Although both are fairly new to the scene, their potential to revolutionize the music industry is evident. All that's left to see is how recording companies respond to the change.