Exploring MySecure's Integration of ChangeNOW's Exchange Widget
Are you tired of complicated and time-consuming cryptocurrency exchanges? Look no further! MySecure, the popular P2P service, has recently integrated ChangeNOW's Exchange Widget into its platform, revolutionizing the way users trade cryptocurrencies. This seamless integration brings a wide array of benefits and opens up new possibilities for MySecure users.
MySecure: A Brief Overview
MySecure is a peer-to-peer trading platform that enables users to buy and sell bitcoins using any fiat currency, all without the hassle of verification that most services require. Operating as an escrow-based platform, MySecure ensures the security of funds without compromising on anonymity. With support for 13 languages MySecure caters to a diverse user base and provides a simple and user-friendly interface for both experienced traders and newcomers alike.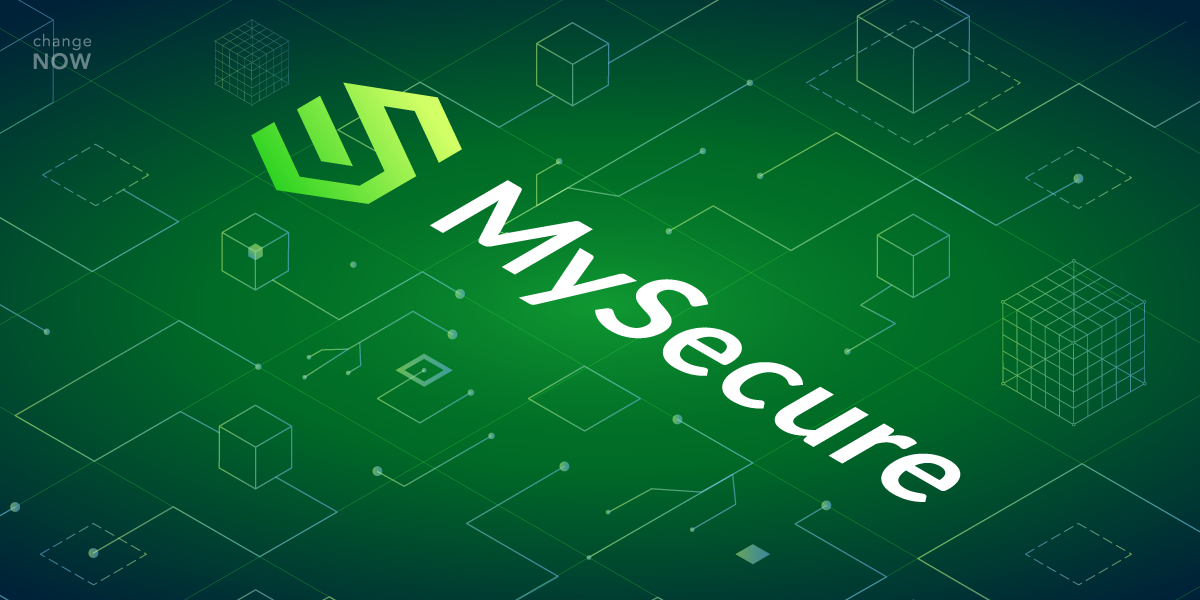 MySecure operates without the involvement of third parties, facilitating direct transactions between buyers and sellers. The service only creates a multisignature escrow address to receive Bitcoin, ensuring transaction security.
The process of conducting transactions on MySecure is as follows:
The user creates a contract on the platform for buying or selling Bitcoins.
MySecure generates a multisignature escrow address where the seller directly sends bitcoin from their wallet.
The buyer sends fiat currency or cryptocurrency to the seller's account using the agreed-upon payment method.
Once the seller confirms receiving the funds in their account, the Bitcoins are transferred directly to the buyer's wallet.
Advantages of the MySecure service
Full confidentiality: MySecure never collects users' personal information. The P2P service was created by professionals guided by the principles of freedom and decentralization inherent in the original concept of the internet and Bitcoin.
Quick registration: Registering on MySecure takes no more than a minute. Only an active email and a public Bitcoin wallet address are required. Users can optionally fill out their profile information visible to other participants.
Low fees: The transaction fee for each user is 0.25%, resulting in a total fee of 0.5% for the entire transaction.
Speed: All transactions on MySecure are executed rapidly. Users simply need to choose a suitable offer from the list of available options or create their own, follow a few simple steps, and the transaction will be successfully completed.
Multilingual customer support: MySecure offers multilingual customer support. Users can click on the "Contact us" button and describe their issue to submit a question.
Taproot addresses: MySecure supports Taproot addresses, enhancing transaction confidentiality.
Absence of country-based restrictions: The platform is accessible in any country worldwide. Despite the restrictions imposed by many services, MySecure allows users to trade bitcoin with individuals from around the globe.
Variety of payment methods: The platform offers a wide range of payment methods for conducting transactions. The team continually expands the list based on user preferences.
Community: MySecure has established a friendly community that provides support and encourages further development. The team promises to continue creating convenient services for all users, taking into account the interests and needs of the community members.
The Power of ChangeNOW's Exchange Widget
ChangeNOW's Exchange Widget is a tool that enables users to exchange cryptocurrencies directly on your website or platform while you earn from the trading volume. With a customizable and easy-to-integrate interface, the widget is an ideal solution for businesses that want to conduct cryptocurrency exchanges with a user-friendly interface, a vast selection of assets (more than 850), and favorable exchange rates. The widget is customizable, allowing you to customize the trading volume according to your preferences, making it an excellent way to earn revenue for your platform.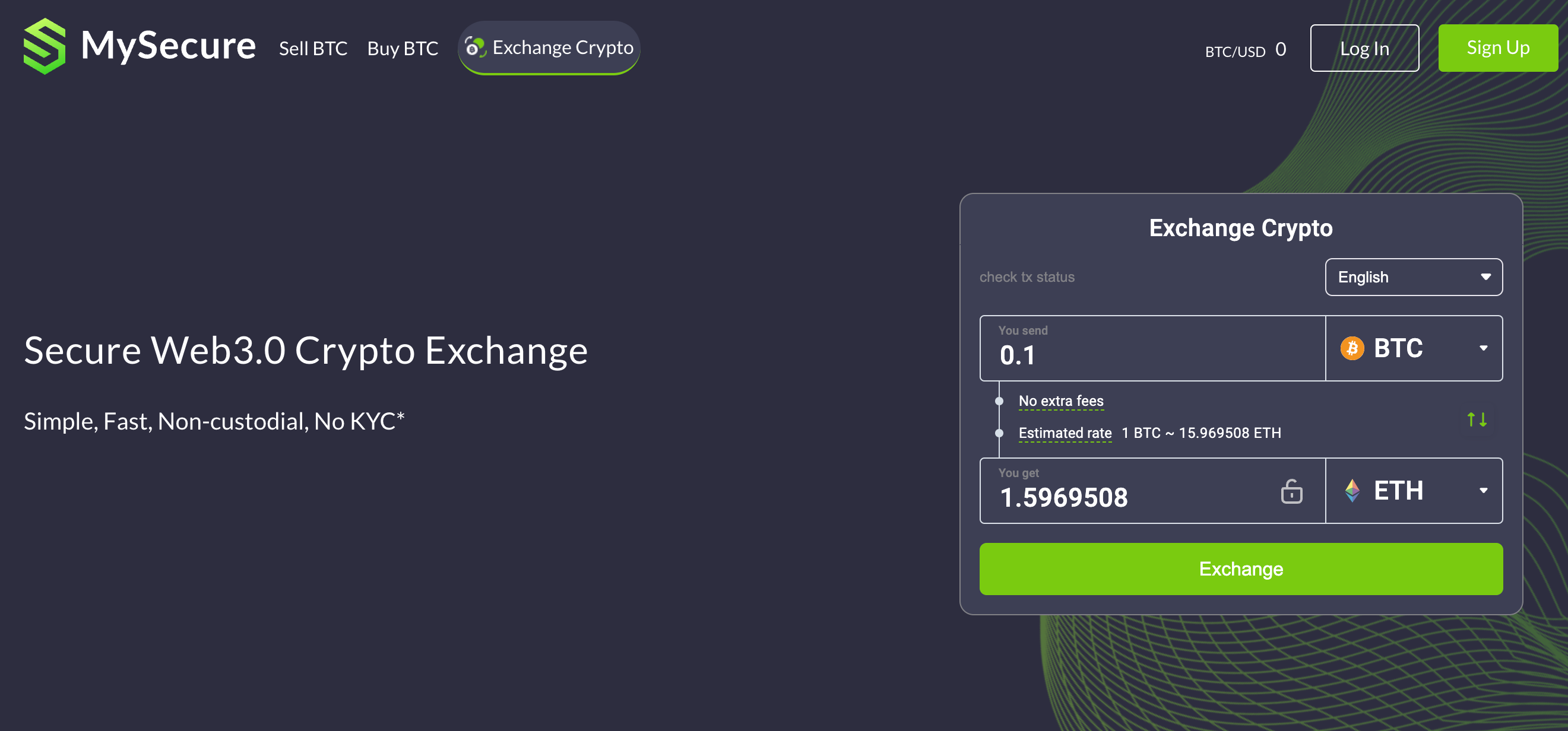 Let's explore the key use cases and benefits of integrating the Exchange Widget into MySecure:
Fast and Easy Exchanges
With ChangeNOW's Exchange Widget integrated into MySecure, users can enjoy lightning-fast and effortless cryptocurrency exchanges. The intuitive interface guides users through the exchange process, making it accessible even for those new to the world of crypto. Say goodbye to complicated order books and lengthy exchanging processes! Whether you want to convert ETH to BTC, XMR to BTC, or any other combination, ChangeNOW's Exchange Widget ensures a seamless and user-friendly experience.
Extensive Asset Selection
Exchange Widget provides access to a vast selection of more than 850 cryptocurrencies, giving MySecure users unparalleled flexibility in their trading activities. From well-established coins like Bitcoin, Ethereum, and Ripple to the latest projects in the crypto space, the Widget has you covered. Discover new investment opportunities, diversify your portfolio, or simply explore the ever-expanding world of cryptocurrencies. The possibilities are endless.
No Registration or KYC
ChangeNOW's Exchange Widget aligns perfectly with MySecure's commitment to privacy and decentralization. Users can enjoy the benefits of seamless exchanges without the need for registration or undergoing KYC procedures. This preserves the principles of anonymity and freedom that lie at the core of MySecure's philosophy. Say goodbye to sharing your personal information and hello to hassle-free trading.
Secure and Reliable
The integration of ChangeNOW's Exchange Widget ensures top-notch security for MySecure users. ChangeNOW employs advanced security measures, including encryption, to safeguard transactions and user data. Additionally, ChangeNOW's non-custodial approach ensures that users maintain full control over their funds throughout the exchange process. With ChangeNOW, your funds are in safe hands, eliminating worries about the security of your assets.
Conclusion
Integrating ChangeNOW's Exchange Widget into your platform is a fast and easy process that can provide significant benefits for your business. With a customizable interface, a wide range of supported cryptocurrencies, and favorable exchange rates, the widget is an excellent way to start exchanging digital currencies seamlessly. If you want to boost your revenue and provide your users with a seamless way to exchange crypto, integrate ChangeNOW's exchange widget into your platform today!
Ready to integrate ChangeNOW's Widget into your platform? Follow the step-by-step guide and offer your users a seamless way to exchange over 850 cryptocurrencies today!