How to Buy ApeCoin? A Step-by-Step Guide
ApeCoin is a new cryptocurrency launched by the Bored Ape community – enthusiasts passionate about the Bored Ape Yacht Club NFT.
This collection hit the market in 2021, and the newly released crypto token promises to spark interest in ApeCoin DAO and promote its use cases.
If you feel optimistic about the Ape token, this guide is for you – you will learn how to buy ApeCoin. ChangeNOW allows you to purchase APE without registration and hidden fees, and the whole process takes you just a few minutes.
What Is ApeCoin?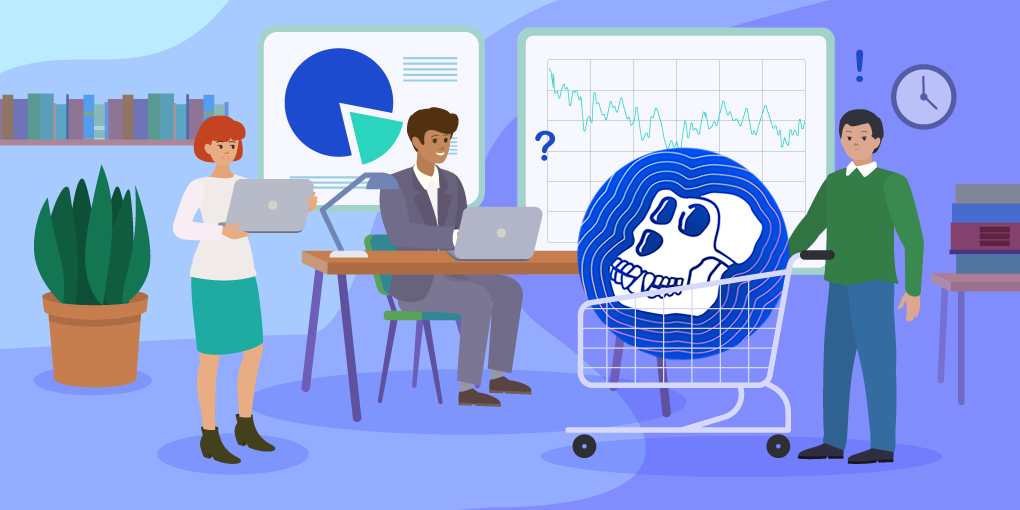 ApeCoin crypto is a new ERC-20 token that serves as a backbone of the Ape Ecosystem. It will power new products, services, and play-to-earn blockchain games launched by ApeCoin DAO and the team behind Bored Ape Yacht Club NFT (BAYC).
ApeCoin DAO is a decentralized autonomous organization where token holders will have a say in the project governance. There is a special council comprising web3 and gaming leaders who will execute the community-made decisions.
BAYC is an NFT collection of 10,000 funny apes that has become incredibly popular last year. Eminem, Paris Hilton, and Jimmy Fallon own some of these NFTs, and the total trading volume of the collection has reached $1 billion by 2022. BAYC owners have intellectual property over the apes and can commercialize them in any possible way. Owning an ape gives access to a private online club with member-only benefits.
How to Buy ApeCoin (APE)?
You can buy ApeCoin on ChangeNOW without registration and KYC in just a few minutes. The whole process includes 3 simple steps:
#1 Enter the currencies and the amounts
Head on to the APE token exchange page. Enter the currency that you'd like to buy APE with, and the amount. All fees are already included in the estimated rate: there will be no hidden charges.
Once you've set the details, click "Exchange".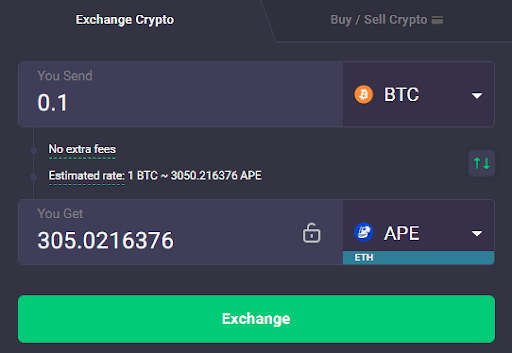 #2 Check the details and enter you wallet address
Take a look at the currencies and the amounts. If you set everything right, enter your wallet address, and hit "Next".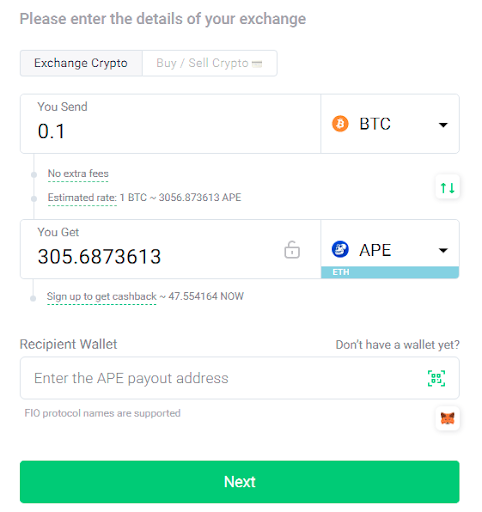 #3 Confirm and make a deposit
Make sure the details of your exchange are correct and press "Confirm". When you see the deposit address, enter your wallet and send the required amount of cryptocurrency to this address. We will pick the best exchange rate available at the market and send ApeCoin crypto to your wallet in mere minutes.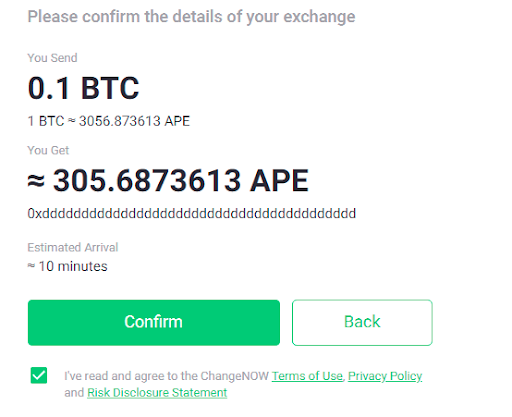 Where Should I Store ApeCoin (APE)?
One of the best ways to store Ape tokens is NOW Wallet. We designed this lightweight mobile wallet so you can enjoy secure crypto storage in an intuitive interface. The wallet is available for Android and iOS devices and allows you to access your crypto 24/7.
ApeCoin price is displayed in the "Wallets" section in any fiat currency that you choose; you can monitor the value of your APE holdings compared to other assets. Moreover, you can buy ApeCoin with other cryptocurrency or fiat money right in the app.
In NOW Wallet, you can store ApeCoin crypto together with 350+ other digital assets. We constantly increase the number of available coins and improve the wallet in general by adding new features such as staking, NFT storage, and many others.
We hope this guide helped you grasp how to buy ApeCoin, and now you are ready to add this new asset to your crypto portfolio. We wish you a pleasant experience with ChangeNOW and APE!
Also Read: