ApeCoin (APE) Review 2022
ApeCoin is the official digital token of the popular NFT project, Bored Apes. Why has it generated wild attention within hours of launch? Is it all worth the hype?
In today's culture, the triad of Web3 with art, entertainment, and gaming is gaining popularity. Consequently, these are all core concepts the ApeCoin leverages. The APE Foundation intends to manage the cohesive advancement of the APE ecosystem, while serving as a decentralized community where ApeCoin DAO holders can grow their developments.
What is ApeCoin (APE)?
ApeCoin (APE) is a community-controlled ERC-20 token designed to incentivize users and to fast-track the realization of a Web3 future. The creation of ApeCoin DAO is important to the growth and management of the global ApeCoin community and will determine the governance of the ecosystem in foreseeable times.
ApeCoin DAO members will be equipped to freely make their own choices as regards fund allocations, regulations, initiatives, and partnerships among others. In addition, the ApeCoin DAO membership is open to those who are holders of APE. APE can be utilized in games and services as a tool by third-party developers to engage in the ecosystem.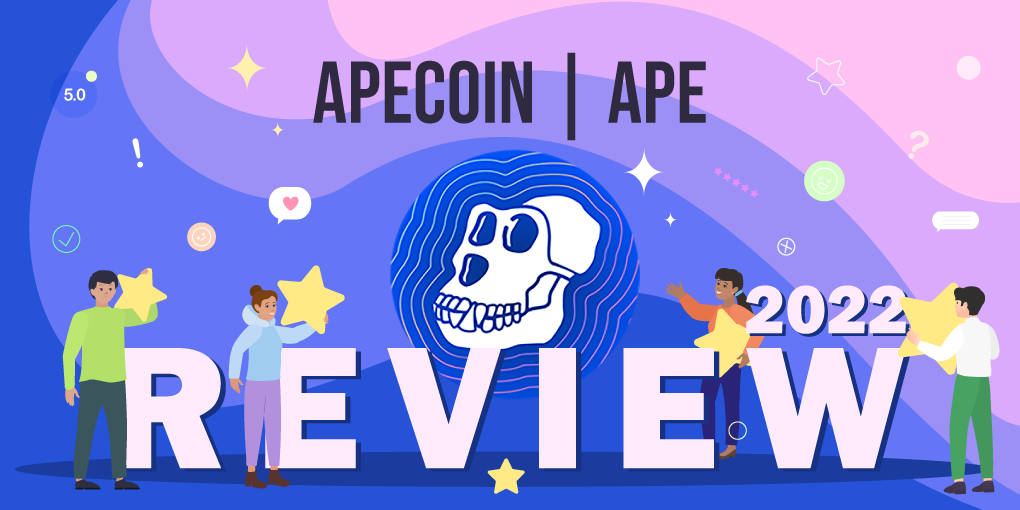 ApeCoin (APE) Team
ApeCoin was largely inspired by Yuga Labs' Bored Ape Yacht Club project. While the dev team has tried to downplay its influence in the project to encourage its tenet of decentralization, Yuga Labs remains a key component in the coin's creation.
According to its official website, APEs were created by ApeCoin DAO, a new governing body comprising all APE holders. The ApeCoin DAO, which is maintained by the APE Foundation, manages ApeCoin.
As of March 19th, there has been no definitive confirmation or rejection from Yuga Labs as to whether or not ApeCoin was established by them. Yuga Labs are the designers of the famous Bored Ape Yacht Club (BAYC). The company remains a core component of the APE ecosystem and will help in the formation of new products and services for the entire ecosystem. Yuga Labs is also not entirely excluded from the DAO. Considering the company possesses about 15 percent share of all APE, its influence on the coin's future is a good bet. About 35 percent of the coins in total will also be distributed between Bored Apes Yacht Club Founders (8%), the DAO's contributors, and the first holders of Bored Ape NFTs. The rest of the coin's supply belongs to new investors who might want to buy in.
The APE Foundation will oversee community DAO requests through a special council which will be led by some of the most innovative and experienced leaders in Web3, gaming, and technology.
The council's current members are as follows:
Alexis Ohanian (co-founder of Reddit), Amy Wu (Head of Ventures and Gaming at FTX), Maaria Bajwa (Principal at Sound Ventures), Yat Siu (Co-founder and Chairman of Animoca Brands), and Dean Steinbeck (President and General Counsel at Horizen Labs).
The founding board will spend a six-month term, following which DAO members will vote for Board members annually.
ApeCoin Tokenomics
ApeCoin is an ERC-20 token which means that it runs on the Ethereum blockchain and utilizes Ethereum's Proof-of-work (PoW) consensus mechanism.
The coin functions as a governance and utility token, representing voting power and providing access to products, respectively. According to its website, ApeCoin DAO's voting process will be functionally democratic – one ApeCoin will be equal to one vote. DAO members will also be allowed to delegate their votes to others they believe are in better positions to make decisions.
APE has a total supply of 1 billion tokens. Initially, a portion of the tokens for project contributors will be locked. Locked tokens will be released after 4 years, in accordance with the unlock schedule which began on March 17, 2022.
As earlier suggested, tokens will be shared among BAYC and MAYC members. 15% of the token supply will be given to NFT holders while 47% will be allocated to the DAO treasury and resources. Also, 15% will be granted to Yuga Labs and 1% of the token's total supply will be awarded to the Jane Goodall Legacy Foundation.
APE 2022 Price Prediction
Predicting prices can be a difficult business at the moment since the project is hardly 24-hours old. However, given the massive success of its sister initiative, BAYC, there may still be a lot of potential for a good push.
Since its listing on Binance, KuCoin, ChangeNOW, and other major exchanges, APE has surged by over 900%. After an initial spike to $28, the coin has since dipped from the hype to settle at $13 at press time. APE currently has a market cap of about $3.7 billion and a circulating supply of 277,500,000 units. The new coin is ranked 37 on CoinMarketCap in what has been a quick rise and is on the watchlist of over 69,000 people according to CoinMarketCap.
Data from Etherscan shows that ApeCoin has 28,080 holders at writing. Popular deep price predictors like Wallet Investor and Gov Capital are not exactly enthusiastic about APE, which is understandable considering the new coin has little chart data at present.
However, predictors like Crowd Wisdom recommend an early buy considering the buzz on the media, google searches, and initial performance.
How Can I Buy and Trade APE?
APE can be traded on over 30 cryptocurrency exchanges, including both CEXs and DEXs, and also kept in cryptocurrency wallets. Let's take a look at the available options.
APE Wallets
NOW Wallet is an excellent solution for storing your APE if you value privacy and security. The NOW Wallet is essentially a non-custodial wallet that ensures complete privacy and security. It is available in the form of a mobile app for iOS and Android smartphones.
Given that ApeCoin runs on the Ethereum blockchain, MetaMask (which can be installed on Google Chrome) is another alternative for a software wallet to store your APE.
The Ledger Nano S, on the other hand, is a very ideal and economical hardware wallet for storing your coins because it also permits the storage of many cryptocurrencies on the same device. This implies that ApeCoin can be simply stored with other tokens.
APE Crypto Exchanges
APE can be bought or exchanged for a variety of other cryptocurrency assets on the ChangeNOW limitless crypto exchange platform.
Furthermore, APE can be traded on large centralized exchanges such as Binance, Coinbase Exchange, Kraken, KuCoin, Gate.io, FTX, and Huobi Global, among others. It is also available on DEXs like SushiSwap, Dodo, and Uniswap.
ApeCoin (APE) Summary
ApeCoin seems to have a strong community supporting the project. Its founders rightfully positioned it as a proponent of a Web3 future. However, there may still be skepticism around its creators and Yuga Labs about the extent of Yuga Lab's influence in the project. ApeCoin DAO appears to have a solid structure in place regardless and has included the presence of high-class well-known council members.
With links to the BAYC project, the project could stand the test of time. Also, ApeCoin has been listed on several major cryptocurrency exchanges in a short time which could generate more attention to the project. We could see more listings and partnerships with APE as time goes on.