Hedera Hashgraph (HBAR) Review 2022
What if you could create a fast, secure, cost-effective, and fair cryptocurrency without relying on blockchain technology?
Thanks to the public network of Hedera Hashgraph, that is now possible.
Hedera is different from many of the other crypto projects in this industry. It's a network developed and created to be used by some of the world's biggest private and public companies and institutions. Boeing, Deutsche Telekom, Google, IBM, and LG are just some of these well-known brands.
Hedera Hashgraph takes advantage of distributed ledger technology but in a revolutionary way. This approach has secured the company lucrative institutional partnerships and significant adoption.
About Hedera Hashgraph (HBAR)
Hedera Hashgraph is a company registered in Delaware, USA, but it's governed by dozens of different organizations worldwide. The two co-founders of this crypto project created Swirlds in 2015. Swirlds is a software company that builds distributed apps. They also organized the funding rounds that collected the investments that subsequently resulted in the creation of Hedera Hashgraph in 2017.
Hedera doesn't use open-source software. The code is closed-source, but it's released as Open Review. That means that the code can be tested, reviewed, and even compiled. However, no one can use it for anything else, like creating their own fork.
With its hashgraph technology, the company has managed to create an efficient and secure network resistant to malicious attacks. Their aim was to take advantage of the strengths of the 3rd generation of public ledgers to provide fast, cheap, and energy-efficient transactions with confirmation times of just a few seconds. In addition, thanks to its revolutionary consensus algorithm, Hedera uses very little computational power to manage its network.
Hedera Hashgraph (HBAR) Team
Hedera Hashgraph was co-founded by Dr Leemon Baird and Mance Harmon. These two business partners have worked together on several projects in the past. It's worth mentioning that they co-founded Swirlds in 2015, the software platform that holds the patents for the hashgraph algorithm.
Both men are still actively engaged with the project. Dr Baird is the company's Chief Scientist, while Mr Harmon is the CEO. Hedera was designed based on Leemon Baird's research, and he was the one who wrote the original consensus whitepaper in 2016.
The leadership team consists of several other key players with plenty of experience in financial, tech, and government institutions. Most notably, the Hedera Council Chair, Brett McDowell, the Chief Compliance Officer Sam Brylski, and Young Cho, the Chief Financial Officer. Altogether, the core team comprises 13 different council members and managers.
Hedera Hashgraph (HBAR) Roadmap
Hedera's current roadmap can be found on the official website. In Q4 of 2021, the network improved scalability for the issuance of its NFT tokens. In addition, the ecosystem was given a facelift by introducing a React Native SDK.
The following improvements are scheduled to take place in Q1 of 2022:
A feature to execute Hedera mainnet transactions at a specific time in the future or once a required number of signatures is gathered.
The scalability of smart contracts will be improved with Hyperledger Besu EVM.
The network will be further optimized to boost performance and high throughput.
Less downtime for all Hedera nodes thanks to increased hashgraph automation.
A simplified Developer Portal.
In Q2 of 2022, the following changes are outlined in the roadmap:
Implementation of Hedera Improvement Proposals (HIPs) to better network functionality.
Further smart contract integrations with wallet providers, exchanges, and custodial services.
Improve decentralization with community-operated Hedera mainnet nodes.
Staking rewards will be introduced to incentivize network participants.
Hedera Hashgraph (HBAR) Network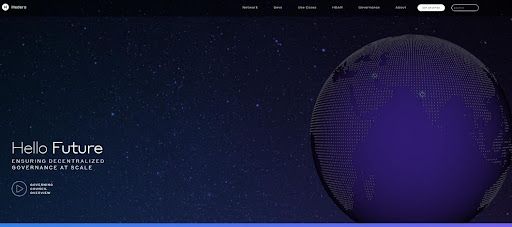 The Hedera Hashgraph cryptocurrency is not based on standard blockchain technology. Instead, it used Directed Acyclic Graph or DAG. A DAG is based on timestamped data sharing where nodes communicate with each other randomly.
This system of sharing information is called gossiping. It allows nodes to be made aware of transactions much faster than traditional blockchains. Since there is no blockchain on Hedera, there is also no block time. However, due to the speed that gossips travel, the network can achieve consensus on the state of transactions within 3-5 seconds.
The system is fair and secure because no nodes are given an unfair advantage regarding consensus. Each gossiping node shares everything it knows with its neighbors. That includes the entire history of past transactions. Since there can only be one version of the truth, nodes can quickly agree on what really happened.
Hedera Hashgraph is a Proof-of-Stake cryptocurrency based on an Asynchronous Byzantine Fault Tolerant consensus algorithm (ABFT). With all this power, the developers claim the network has a throughput of up to 10.000 transactions/second. Last but not least, Hedera's low energy consumption means that the average transaction fee is as low as $0.0001.
Despite being a closed-source network, the system is compatible with smart contracts. Developers can deploy their own Solidity smart contracts, build dApps, and perform atomic swaps. A token service platform is also available and allows minting and managing new tokens and NFTs.
Another use case of Hedera is distributed file storage. Customers can securely store their files and documents on the network, provide and revoke access rights, and distribute their data as they please.
The network's native token is called HBAR, and it has a total supply of 50 billion units. As of January 2022, over 18 billion HBARs are already in circulation, representing a little bit more than 1/3 of the maximum allocation. If required, Hedera and Swirlds could increase these numbers.
How to Mine Hedera Hashgraph (HBAR)
HBAR is not a minable asset. Nodes that are part of the network gossip with each other to reach consensus. Staking is currently not available. However, the roadmap predicts a staking program will be introduced during Q4 2022.
Hedera Hashgraph refers to this functionality as Proxy Staking. Nodes with a more significant share of staked HBARs have a greater influence on consensus. If you aren't operating a node, you will be allowed to stake your tokens with someone else and earn a share of the profits generated through transaction fees. A significant difference between Proxy Staking and staking on traditional Proof-of-Stake systems is that you can still carry out transactions with the former. Your tokens are not locked away and made unavailable. You can still use them as if they aren't staked anywhere.
Since the platform doesn't have a blockchain, Hedera validator nodes don't earn any block rewards. But they are incentivized to run their nodes with a share of the transaction fees. According to the current rules, 90% of transaction fees go to validators and only 10% to Hedera and Swirlds.
Hedera Hashgraph (HBAR) 2022 Price Prediction
Since it got listed on cryptocurrency exchanges, HBAR has proved to be a solid long-term investment. Its current ROI as of January 2022 is +65%. Hedera began 2021 trading at just over $0.08 a coin. In September 2021, HBAR reached its ATH when its value bounced above $0.57. On 31 January 2021, Hedera Hashgraph ended the year worth around $0.29/coin.
Analysts from PricePrediction.net have performed technical analysis on HBAR and come to the following conclusions:
The coin's price is likely to increase in the years to come.
During 2022, it's expected that HBAR will reach a valuation of between $0.50-$0.60.
In 3 years (in 2025), Hedera is predicted to be worth between $1.70 and $1.98.
With continuous momentum, HBAR could rise above the $4 mark for the first time in 2027.
PricePrediction.net analysts conclude their predictions with the year 2031, when the bull market is expected to take the coin to prices ranging between $15 and $19.
Digitalcoin forecasters have a different take on Hedera. They are still bullish long-term but predict a slow and steady price increase.
Their team foresees that the coin's value could reach almost $0.30 in 2022. Bounces between $0.40 and $0.50 are expected throughout 2025 before a slight backwards momentum is anticipated in 2026, when the value looks to drop to below $0.40. Digitalcoin predictions go as far as 2029, when a price change of over 300% is expected compared to today's valuation. HBAR's value should then be around $0.86.
How Can I Buy and Trade Hedera Hashgraph (HBAR)?
The HBAR coin can be purchased on some of the world's best exchanges. Storage possibilities aren't lacking either, and Hedera can be kept in hardware or software wallets, depending on your preferences.
Hedera Hashgraph (HBAR) Wallets
If you are looking for an easy-to-use mobile wallet for your HBARs, we suggest you try out our very own NOW Wallet. It will provide you with a safe environment to store your coins and buy crypto with your credit card or bank account.
Hedera is supported by Ledger Nano S and Nano X hardware wallets. Additionally, you will be able to keep it inside Atomic Wallet, BRD, Coinomi, Exodus, and Guarda.
Hedera Hashgraph (HBAR) Crypto Exchanges
If you want to get your hands on some HBAR coins, you can do that with the reliable ChangeNOW. The coin can be swapped with Bitcoin, Ethereum, and many other alts.
Hedera is listed on several centralized exchanges. The biggest trading volume stems from Binance and Binance.US. However, this digital asset can also be purchased on KuCoin, Huobi Global, Gate.io, Bittrex, and Bitstamp, for example.
Hedera Hashgraph (HBAR) Summary
Hedera Hashgraph is a cryptocurrency project oriented towards some of the biggest companies and corporations in the world. It's a closed-source system governed by a council that makes all the decisions. But that doesn't mean it's unsuited for the average Joe. On the contrary, Hedera is a public network with powerful technological specs. It's energy-efficient, fast, inexpensive, and achieves transaction finality within a few seconds.
One sought-after feature missing in this network is staking. Still, if everything goes according to plan, we might see this functionality implemented during 2022. That could then generate increased interest from the general public and a price attack on new all-time highs.
Also Read: