EOS Coin Review 2020
If you have been following EOS crypto news lately, you must have realized that the cryptocurrency is giving investors a potential investment opportunity. EOS is considered a controversial project due to its dubious implementation. It started with a $4 billion budget and a highly efficient team with significant experience. While the price prediction for EOS seems optimistic, industry players still believe that it can go downside any time. The primary difference between EOS and other competitor platforms like Ethereum is consistency and scalability. While EOS seems to be in a good position right now and is considered a better version of ETH in terms of speed and performance, marketers believe that if any of the competitor platforms surpasses EOS, it will shoot down. Therefore, it is extremely important to keep a close check on the market fluctuations if you are considering investing in an EOS coin. With that said, in our EOS coin review for 2020, we will discuss everything you need to know about the cryptocurrency, from what it is to how you can mine EOS coin and more. So, without further ado, let's get started.
What is EOS?
EOS crypto is a blockchain platform designed for the development of decentralized applications, also known as DApps. EOS is similar to Ethereum (ETH) when it comes to functionality, and if often considered as an improved version of Ethereum. What's interesting is that industry players have several names for EOS, such as Ethereum Killer and Ethereum on Steroids. EOS makes decentralized application development a lot easier, thanks to its operating system-like functions and set of services that such applications can make use of. The main objective behind the creation of EOS is to bring together the promises of numerous smart contract technologies as well as the best features out there, such as powerful computing support of Ethereum and security of Bitcoin. The vast EOS community is working harder to provide a massively scalable yet simple to use decentralized application platform for the everyday user. Currently, it is priced at US$2.37 and is among the top 15 cryptocurrencies in the world. The key features of EOS include:
EOS comes with parallel processing functionality where it helps to bring a strong foundation and continuous scalability for an application's high performance. The majority of the applications only boasts single-threaded capabilities that forces them to share the performance and capacity of only one single-threaded blockchain, resulting in the creation of hard scaling limits, and ultimately suffer from network congestion. This can cause platform-wide downtime. The parallel processing feature of EOS help curbs this downtime by processing multiple threaded blockchains simultaneously.

EOS comprises of a decentralized operating system that assists developers on multiple fronts, including communication between inter-applications, authentication, scheduling, permissions, and databases. The EOS.IO software incorporates collective features that can help the developers to simplify the process of designing and implementing decentralized applications considerably. The best part is that the decentralized operating system also helps in widening the potential amount of developers that can create their own DApps.

One of the significant features of EOS blockchain is that it is entirely self-sufficient and continuously evolving. In simple terms, it is a completely self-funding, independent, and distributed network with all authority on the chain. This means that EOS doesn't rely on an individual, or any single corporation or foundation.
EOS is one of the most diverse and eclectic global blockchain communities. The slow yet constant creation of new EOS tokens (5% annually) is distributed by the EOS community through the chosen smart contracts for funding growth and network operation. EOS has been created using the DPOS (Delegated Proof of Stake) ecosystem, which has previously released some of the significant smart businesses in the blockchain environment, including Steem and BitShares.
How does it work?
The main objective of EOS is to create a blockchain decentralized application platform that can efficiently and securely gauge to hundreds and thousands of transactions on a per-second basis. This is while offering an accessible experience to the users, entrepreneurs, and app developers. EOS aims to provide an all-inclusive operating system for decentralized applications through services like server hosting, cloud storage, and user authentication, among other aspects.
How to mine EOS?
As discussed earlier, EOS follows the Delegated Proof of Stake consensus protocol. This means that there are a total of 21 block procedures for creating new blocks and validating transactions. Therefore, each block producer needs to be chosen by the EOS coin holders via a permanent voting system. In short, it cannot be mined. The more votes, the higher the odds of becoming a block producer. Here, the number of votes implies the volume of own and DPOS EOS coins. Each time a block is created, the EOS.IO software will reward new coins to the producer. Under such conditions, the total number of coins created is then determined by the average of preferred payment, published by 21 producers. As discussed earlier, the EOS.IO software is integrated in such a way that it practices slow yet constant creation of new EOS tokens so that the annual increase in the supply doesn't exceed 5%. This restriction of remuneration of block producers ensures that the demand for EOS coins still remain intact.
Where to buy EOS?
If you are considering buying EOS token, you first need to understand the token ownership model, as EOS.IO works on this basis. In the model, each block producer is given resources proportional to how many tokens they currently own, which is known as their stake. There are a lot of ways to buy EOS coins in cryptocurrency and fiat. All you have to do is choosing the currency pair and the exchange, then get on with trading. The following are the top exchanges where you can trade EOC cryptocurrency:
Bitfinex
Gate.io
Huobi
Kraken
KuCoin
OKEx
Binance
HitBTC
Coinbase
The vast majority of these exchanges are accepted in all countries. However, their payment methods can be different. For example, if you are buying EOS through Coinbase, the payment method it prefers is fiat. On the other hand, if you are buying EOS crypto through Binance, you will have to pay in cryptocurrencies like Bitcoin BTC or Ethereum ETH.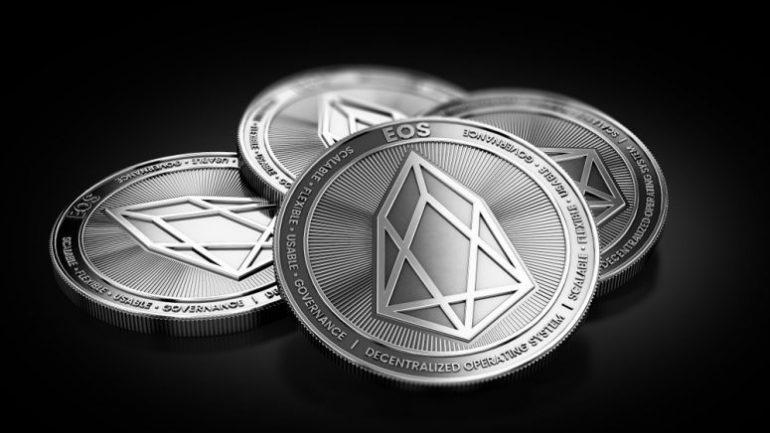 Buy EOS at ChangeNOW
As you can see that there are several exchanges to buy EOS. However, if you want a seamless transaction experience with total security, you can consider investing through ChangeNOW. The best part about investing through ChangeNOW is that it offers the provision of payment through both fiat and other cryptocurrencies. This includes cash, net banking, and credit and debit card, among other easy payment options.
What is the best EOS wallet?
In order to buy and store EOS tokens, you will need a credible EOS wallet. You will find many EOS wallets out there, but you need to choose one based on your requirements and EOS investment needs. Here is a list of top EOS wallets that you should look into.
Freewallet: it is one of the most secure EOS wallets out there where you can freeze your account in case you lose your device. Moreover, you can access this wallet from other devices as well. Freewallet is a multicurrency wallet that will store your EOS tokens securely.
Infinito EOS Wallet: it serves as a gateway for investors to maximize the potentials and usage of their cryptocurrencies. The wallet aims at building an ecosystem of blockchain services that includes ID/KYC solutions, exchanges, and other blockchain-related services.
SImplEOS Wallet: this wallet is solely made for the EOS ecosystem. It is integrated with all the functionalities and features available in EOS.IO operating system. The best part is that the wallet is available for Mac, Linux, and Windows platforms.
Scatter EOS Wallet: this is another handy EOS wallet that provides Chrome extension as well.
Conclusion
This is our complete review of EOS cryptocurrency. We have tried to cover all the critical aspects regarding EOS coin, which will help you gain essential knowledge. To learn more about EOS price prediction, please visit the following post in our blog.