STEPN Gains Over 70%, SHIB Pulls Back
STEPN (GMT) continued its impressive run this past week, leading the pack in what was a pallid week for the crypto market.
Bitcoin opened a little above $42k as the market entered Easter week. This was a 9.8% drop from its opening price of the previous week. The market had a significant positive correlation with the stock market this past week. Stocks experienced gloomy price actions attributed to Covid-19 lockdowns in China and the continued geopolitical tensions in Europe. Other factors implicated in the price drop include rising inflation, losses in the bond market, and the slow response of central banks to these building crises.
With the Easter holidays, Bitcoin and most altcoins began to trade sideways starting from Good Friday. Bitcoin dropped from $42k on Monday, April 11 to $40k on Friday, April 15. It traded at the $40k range from Friday down to Sunday, Easter day. Ethereum showed similar price movements. It dropped from about $3,200 in April to about $3,018 on April 15, then traded at this range till Easter.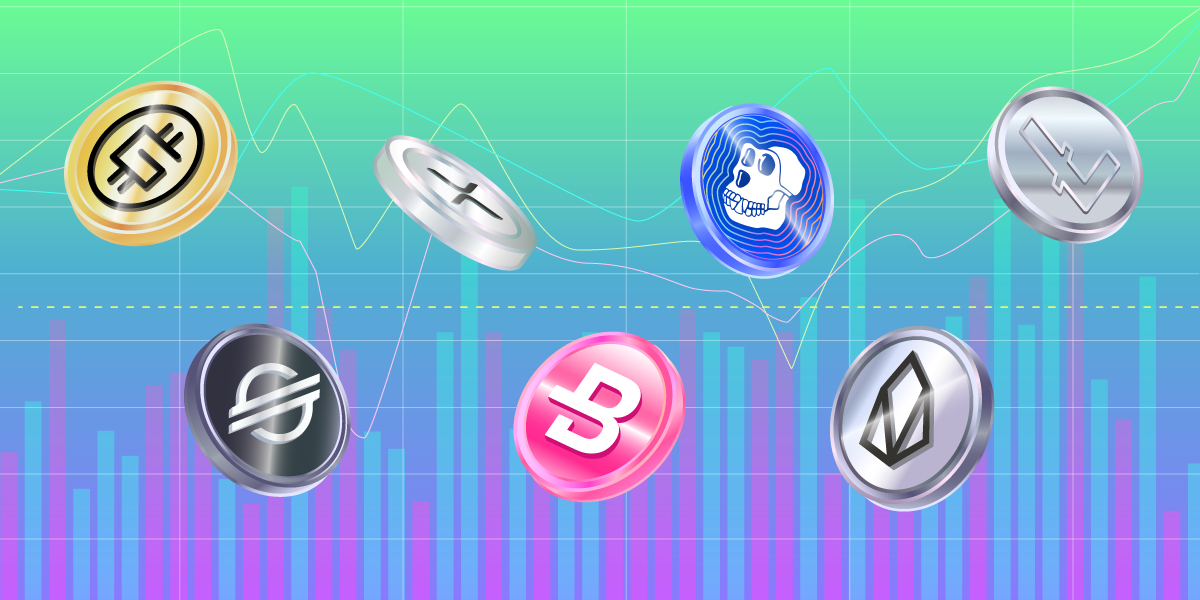 Top Gainers: GMT, APE Lead the Pack
STEPN (GMT)
STEPN has been a coin to watch since its listing on Binance in the first week of March. In 24 hours, the Web 3 lifestyle project with Social-Fi and Game-Fi elements soared 1,230% after it was listed on Binance. And it has not stopped being bullish.
Last week, STEPN grew by 70.18%. It started the week at $2.27 on April 11, peaked at $2.60 that same day, before closing the week at $2.55 on April 17. As at writing, the coin is currently pegged at $3.54.
ApeCoin (APE)
New entrant ApeCoin showed an interesting comeback this past week after trading downwards since the end of March. In two days, the market saw a rise in buying volume after the coin had consolidated at a support of $10.69. Despite Bitcoin and Ethereum dropping by 11% and 8% respectively, ApeCoin defied general market sentiments and gained 10%, hitting $12.24 between April 12 and 13.
There were speculations that the reason for this surge was the rumor that Robinhood, a retail brokerage firm, would list APE on its trading site. Despite the firm not confirming this rumor, the coin continued to head north, breaking the $12.6 resistance to trade at $13.43 on April 14.
THORChain (RUNE)
After launching its synthetic assets feature in March, THORChain spiked by 30% to trade at $5.28. This past week, the native token of the decentralized cross-chain bridge gained 17%. As of writing, the coin trades at $9.09 after gaining 7.45% in 24 hours.
EOS (EOS)
The recent bullish run of the market pumped EOS to $3 from its $1.83 support. Then it slumped by 28% due to Bitcoin plummeting below $40,000. This past week, however, saw EOS recover some of its gains. It added 20% in six days as it touched $2.7. With an intraday trading volume of $999 billion on April 17, EOS had an intraday gain of 128%.
Bitcoin Cash (BCH)
After losing over 23% of its value between April 5 and 12, Bitcoin Cash spiked to $351 from its $294 mark on April 14. As at writing, the Bitcoin fork has gained 10.53% in the last 7 days and currently trades at $338.
Ripple (XRP)
With the Ripple vs SEC lawsuit rulings favoring Ripple, XRP was able to gain momentum despite bearish market sentiments. As BTC dropped by 2.7% within 24 hours on April 15, XRP surged by 5% on the same day. It had an intraday trading volume of $2.53 billion, which indicated a 51% percentage gain.
Stellar (XLM)
XLM, the native token of the consensus protocol, Stellar, gained about 3% this past week. The coin opened the week at $0.202, and spiked to $0.209 on April 15, before returning almost to its opening price on April 17.
Top Losers: Fundamentals Were Not Enough For SHIB, ADA
Shiba Inu (SHIB)
Lately, Shiba Inu has been in the news for the right reasons. From being listed on Robinhood and massive accumulation by whales, to burning 2.41 billion SHIB and launching the SHIB Metaverse. Despite these and many more, SHIB ended the past week trading downwards. On April 17, the meme coin lost 37% of its value, with a 24-hour trading volume at $335,374,742.
Ethereum Classic (ETC)
In the last three months, ETC did well to recover about 78% of its value after plummeting to $22.51 in January from its September 2021 high of $76.71. As March drew to a close, it hit $52.10 and since then, the Ethereum hard fork has declined steadily. Last week, ETC went down by 8.4%, dropping to $37.42 on April 17 from its opening price of $40.87 on April 11.
Cardano (ADA)
After losing 22.5% of its value in two weeks, Cardano plunged further this past week. An intraday volume of $444.2 billion on April 16 indicated a 30% loss. However, with strong fundamentals (a hard fork coming in June and the development of over 400 Cardano-based projects), we expect to see a spike in the price of ADA.
Final Note
Since entering the financial market 12 years ago, Bitcoin has seen profits in April eight times and has only traded downwards thrice. Also, there are expectations that coins like Shiba Inu and Cardano would be supercharged by their strong fundamentals this April. Now, with these expectations plus Bitcoin's April history, can April 2022 prove to be a strong month for the crypto market with the ten days left?