ChangeNOW Statement on the BNB Chain Exploit
On October 7, SlowMist analytical company reported that the funds moved through ChangeNOW were used to finance a major attack on BNB Smart Chain.
Hackers exploited a vulnerability and stole 2 million BNB from the BSC Token Hub cross-chain bridge. The attackers moved funds through numerous crypto services before the hack, including ChangeNOW, Uniswap, SushiSwap, Curve Finance, PancakeSwap, and Alpaca Finance.
ChangeNOW has immediately conducted an internal investigation and shares the results.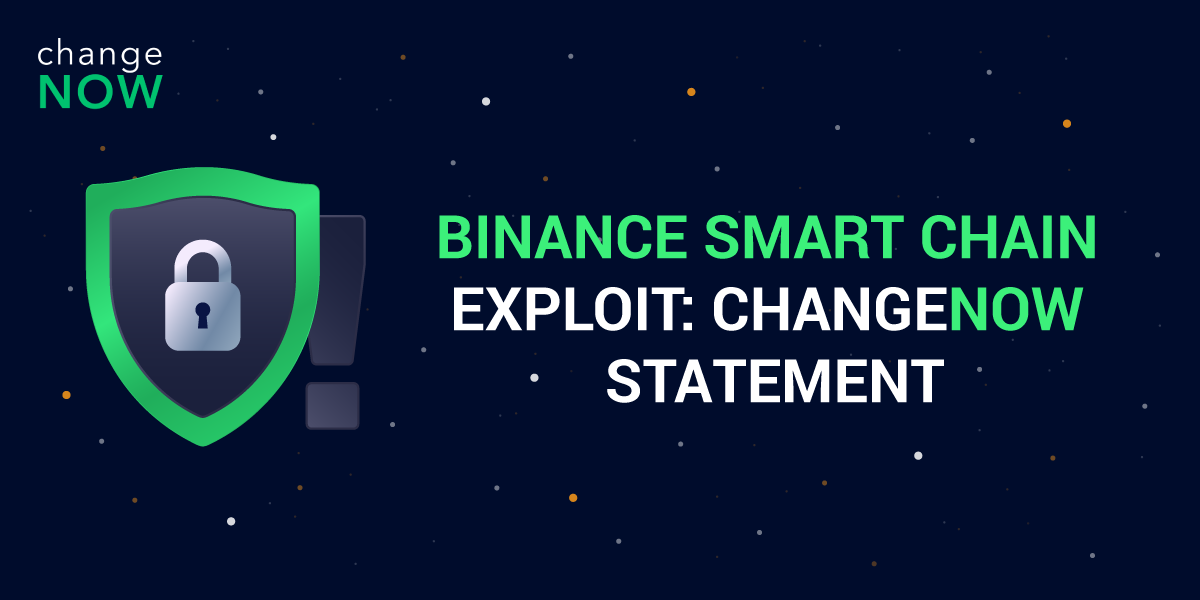 Last night, our platform received funds from an anonymous user to process a crypto exchange. The address was assessed by our AML system for any suspicious signs, and it was shown that it had never been involved in any malicious activity. The exchange was completed – the coins were sent to the recipient address that also didn't raise any red flags as the experienced hackers used a clean, freshly created address.
As soon as we learned about the hack, we immediately blocked all involved wallet addresses and contacted the concerned crypto platforms.
ChangeNOW's AML system monitors the source of funds that enter our platform and detects suspicious red flags. In case an illicit activity is suspected, we investigate the matter and partner with the crypto community and law enforcement to return money to its owners. This battle-tested approach has helped us return millions of dollars over the past years.
Binance Smart Chain Attack: What Happened
BSC Token Hub is a cross-chain bridge of the BNB Chain ecosystem: it allows moving tokens between BNB Beacon Chain (BEP2) and BNB Smart Chain (BSC, BEP20). Today, an exploit "resulted in extra BNB", according to CZ, so a double-spending attack took place. After the exploit, funds were sent to the Venus Protocol. The lending platform reassured that hackers will either repay the loan or vanish with the borrowed stablecoins and their collateral will be liquidated.
After the attack, CZ announced that all validators had temporarily suspended the BNB Smart Chain. Later, the activity in the network resumed. The hackers managed to hijack funds worth about $100M.
ChangeNOW Protects Customers
ChangeNOW continues to monitor the situation, and we are partnering with the community to do what we can to mitigate the consequences of the exploit. Overall, our service stands for Safe Crypto World for Everyone and has been tackling crime in the cryptocurrency space since our inception.
We love that the crypto community forms a united front in the face of hacker attacks and swiftly shows solidarity and mutual support. We're also glad to have received a token of gratitude from SlowMist for our fast feedback on the case.

When any partner or law enforcement agency needs our help, we do our best to cooperate fast and properly. This case will not be an exception.
We'll keep you posted on the matter,
ChangeNOW team