Celsius (CEL) Review 2022
Celsius is a centralized cryptocurrency lending platform with over a million customers that operates in the USA and several other countries.
Disclaimer: this text was written in mid-July, right after Celsuis filed voluntary petitions for Chapter 11 Bankruptcy relief. As of August 2, 2022, Celsius withdrawals remain suspended, and most platform's services are unavailable. Currently, the U.S. Court is deciding how to legally classify Celsius customers to prioritize the order or repayments. It remains unclear when and if they will get their funds back. ChangeNOW will monitor the situation.
Celsius offers users to borrow crypto, earn interest on deposits, exchange cryptocurrency, and send it to their peers for free. The native Celsius (CEL) token runs on the Ethereum blockchain.
Celsius has been much on the news since June 2022, when the company suspended withdrawals "due to extreme market conditions." This has sparked a major crisis and doubts that the company will pull through. On July 14, Celsius filed for bankruptcy. How is the platform dealing with the turmoil, and is there a chance for Celsius?
About Celsius (CEL)
Celsius is a centralized crypto lending platform that allows users to take loans and earn interest on cryptocurrency deposits. The company positions itself as a replacement to traditional banks. Celsius was launched in 2017, and the platform's native CEL token was issued in the ERC-20 standard one year later.
As of December 2021, Celsius had $24 billion of assets under management. According to Financial Times, this number declined to $12 billion by May 2022. The company claims to have over 1.2 million customers. As Сrunchbase reports, Celsius has attracted $860 million of investment since its launch.
The platform doesn't disclose the precise list of supported countries and the services available in each of them. Originally, Celsius was launched in the USA and was accessible to all Americans, but since 2022, only qualified investors are allowed after the platform was pressed by the Securities and Exchange Commission. It is known that Celsius is available in multiple European countries.
Celsius (CEL) Team
Celsius Network was founded in 2017 by Alex Mashinsky, S.Daniel Leon, and Nuke Goldstein – tech entrepreneurs and innovators. Celsius' team includes 600+ employees and is based in Hoboken, New Jersey.
Alex Mashinsky is the Co-founder, Chairman and CEO of Celsius. He has been working with internet technologies as a serial entrepreneur since 1994. Mashinsky has filed over 35 patents related to exchanges, messaging, and communication. As a founder of 7 startups based in NYC, Mashinsky has raised more than $1 billion.
S.Daniel Leon is the Co-founder and Chief Strategy Officer at Celsius. He is a business and social entrepreneur, angel investor, and Israeli activist. Leon has a proven track record of building organizations from the ground up, including companies and non-profit organizations. He is based in NYC and Tel Aviv.
Nuke Goldstein is the Celsius' Co-founder and President of Labs. As an experienced professional in software engineering, architecture, and innovation, he has worked in image processing, AI, IoT, and building P2P credit protocols using distributed storage and smart contracts. Goldstein has also been the founder of Sevenpop, an Israel-based interactive music technology provider.
Celsius (CEL) Roadmap
Although there is no clearly outlined official roadmap for Celsius, it is known that in 2022, the company is working at the following:
Fiat on-ramp. The opportunity to buy crypto with a credit card was added to Celsius in February 2022. It was only possible to buy USDC at first, but the list of available coins has expanded, and the team is planning to continue adding new assets.
Credit Card. A Celsius VISA Credit Card will allow the US users to earn rewards on their credit card spend while earning weekly rewards on crypto collateral. Users will be able to pay their credit card balance with fiat currencies, rewards, or stablecoins. It is unknown yet when credit cards by Celsius will become available.
Better geography. Celsius is to expand its operation to more countries.
More coins. The team is planning to add more coins to the fiat on-ramp and Celsius Swap.
CelsiusX development. The DeFi arm of Celsius Network forms the bridge between centralized and decentralized finance. It's planned to continue to improve CelsiusX in 2022.
Celsius Insurance. The company doesn't insure users' funds other than those stored in cold wallets by its custodian, Fireblocks. However, in February 2022, Alex Mashinsky announced that the team had listened to the community and would launch a self-insurance plan. "It will take us a few months but it will insure coins lent out to institutions and exchanges," – said the CEO.
As of July 2022, the Celsius team is focused largely on rescuing the company after the platform suspended all withdrawals and filed for bankruptcy. We will describe the situation in detail below.
Celsius (CEL) Network
Celsius Network allows users to open deposits in different cryptocurrencies at competitive interest rates. For instance, the maximum APR for a USDC deposit was over 9% as of June 2022 and over 6% for DAI.
The interest rate depends on several factors. A customer can earn APR in the cryptocurrency in which the deposit has been made, but if they choose to receive interest in CEL tokens, they will earn more. The more CEL you hold in your account, the better your returns are. The interest is paid out weekly.
Celsius users can take a crypto loan. A customer deposits cryptocurrency as collateral and borrows some stablecoins in return. The loan APR depends on the LTV (loan-to-value rate) – the higher the LTV, the larger is collateral and the lower is the APR. Overcollateralization serves as protection from collateral's volatility.
Other Celsius' products include:
CelPay— a crypto payment service that lets customers send cryptocurrency to one another and even those who don't have a crypto wallet. Money transfers are free of charge.
Celsius Swap— a trading platform with zero fees that supports over 40 crypto pairs.
CelsiusX— a DeFi service within Celsius that lets users earn from yield farming and other tools.
Celsius liquidity crisis in 2022
On June 13, 2022, Celsius suspended all withdrawals, Celsius Swap, and transfers between accounts "due to extreme market conditions" and "in order to stabilize liquidity and operations" while the company takes steps to preserve and protect assets. The CEL token dumped from $0.475 to nearly $0.09, but quickly recovered to $0.18.
The decision to suspend withdrawals was made amidst severe market volatility: Bitcoin had already plunged to $25,000 by then. However, experts say that the real reason for the decision was that Celsius wasn't earning enough to continue making interest payouts to its customers. The move might have been pushed by losses that Celsius suffered while working with high-yield (and high-risk) DeFi instruments. Here are some of the examples:
Celsius held Terra USD and became one of the first whales to quit the project when the main UST protocol Anchor lowered its interest rate. On 13 May, Celsius officially stated that the company removed Ether worth $500 million from Anchor.
The platform has been actively using customers' funds in Lido protocol. It allows for liquid staking: by sending ETH to the platform, Celsius received stETH that it used in DeFi protocols, for instance, in high-yield farming on Aave. The price of stETH should be equal to the value of ETH, but as Celsius began to experience difficulties, stETH depegged by 5%. As of June 14, Celsius held at least $475 million worth of stETH.
Celsius' credibility had been undermined, but the company attempted to recover. First, it repaid most loans in DeFi protocols such as Aave, MakerDAO, and Compound worth hundreds of millions of dollars. Second, on July 14, Celsius filed for Chapter 11 bankruptcy protection in order to "provide the company with the opportunity to stabilize its business" and do financial restructuring.
Experts question the future of Celsius: the company holds around $5.5 billion in liabilities and only $4.3 billion in assets, meaning there is a $1.2 billion deficit for customer deposits. However, the company claims it will "continue to operate in the normal course", supporting the restructuring process with $167 million in cash. The CEL token plunged to $0.50 amidst the bankruptcy news, but then quickly recovered to $0.80.
How to Mine Celsius (CEL)
It is impossible to mine Celsius (CEL) since it's a token based on the Ethereum network: all ERC-20 tokens are non-mineable. However, there are other ways to get CEL:
You can earn it as interest on the Celsius platform. Those customers who choose to receive interest in CEL have a better APR. Keep in mind though that Celsius Network is not available in some jurisdictions.
You can buy Celsius on a crypto exchange service, for instance, ChangeNOW.
Celsius (CEL) Value Data
As of July 12, Celsius is trading at $0.8, which is 9 times more than its month-old $0.09 low amid the withdrawal turmoil. The CEL recovery is a positive sign and an indicator that the token is not to repeat the scenario of the notorious Terra USD (at least not the same way). With 238 million CEL in circulation and a $189 million market cap, Celsius takes the 134th position on CoinGecko.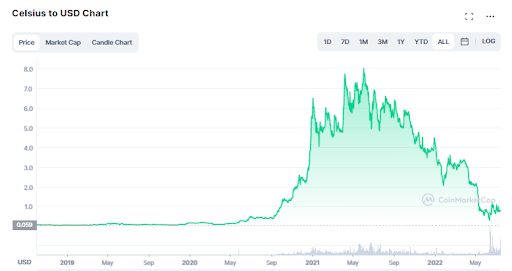 How Can I Buy and Trade Celsius (CEL)?
CEL can be purchased on centralized exchanges such as FTX, Huobi, Gate.io, and others. The token is also listed on decentralized platforms such as Uniswap and SushiSwap; however, these are currently experiencing a lack of CEL liquidity.
You can buy Celsius tokens instantly without registration and at competitive rates on the ChangeNOW cryptocurrency exchange service.
Celsius (CEL) Wallets
Celsius is an ERC-20 token, and you can store it in any wallet that supports Ethereum-based assets. Web3 options such as MetaMask and Trust Wallet will work.
A multi-asset go-to solution for storing your CEL is NOW Wallet. This mobile wallet with a straightforward interface allows you to keep Celsius together with hundreds of crypto assets. NOW Wallet is non-custodial, so you are in full control of your private keys. You can use it as a Web3 wallet and connect to dApps based on ETH, BSC, Polygon, AVAX C-chain. Built-in token swaps with cashback are available.
Celsius (CEL) Crypto Exchanges
It will take you several minutes to buy CEL on ChangeNOW — a limitless non-custodial cryptocurrency exchange service. The platform requires no registration, so you can save your time by proceeding straight to the exchange. Here, you can buy CEL for 380+ other cryptos or 60+ fiat currencies at competitive rates. ChangeNOW has 4.8 stars on Trustpilot based on over 7,000 user reviews.