Best Books on Crypto, Bitcoin, And Blockchain Technology
With the ever-growing interest in cryptocurrencies, comprehensive sources of information are needed for the general public.
There are various methods to learn about Bitcoin and crypto nowadays. The almighty social media giants like Twitter and Facebook have created platforms where you can follow thought leaders and influencers to stay up-to-date with what is happening on the market. However, those who prefer messaging boards and old-school internet forums can visit one of the oldest sources of everything Bitcoin – Bitcointalk.
YouTube is, obviously, another comprehensive source of information with thousands of clips and video material from all niches. Many people like to follow some of the world's most trusted media outlets for their daily dose of crypto.
But suppose you really want to raise your game. In that case, we suggest reading books written by some of the brightest minds in the cryptocurrency ecosystem. Find out how it all started, how to trade, what fiat money is, why we need blockchain technology, how to read charts and more.
In no particular order, here are some of the best books currently available about the crypto ecosystem.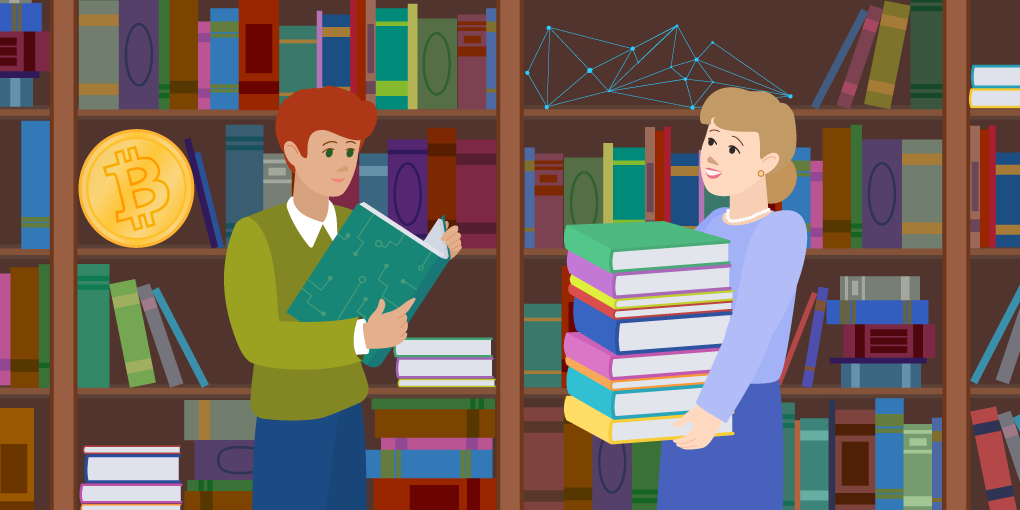 The Internet of Money, Andreas M. Antonopoulos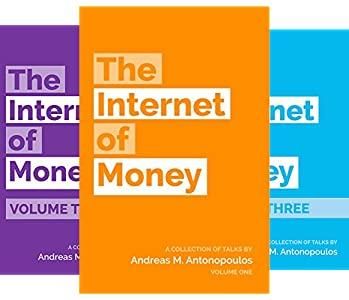 The Internet of Money is a 3-book series written by Bitcoin advocate Andreas Antonopoulos. The first volume was released in August 2016, book #2 came out in November 2017, and the last copy went on sale in December 2019. Each edition can currently be purchased for $12 as a paperback copy.
The book explains why Bitcoin is needed and why it became so popular today. Andreas talks about how crypto is not just a fancy type of internet money. It's a tool for the financial independence of billions of people worldwide, especially those who are unbanked.
The decentralized technology that Bitcoin relies on is revolutionary. And throughout the years, it has proven itself robust enough to withstand all attacks, sanctions, and FUD. In his books, Andreas writes essays to explain the historical reasoning why the first digital currency was born. He also delves into the political, social, and economic aspects of Bitcoin and describes what problems it resolves.
The Bitcoin Standard: The Decentralized Alternative to Central Banking, by Saifedean Ammous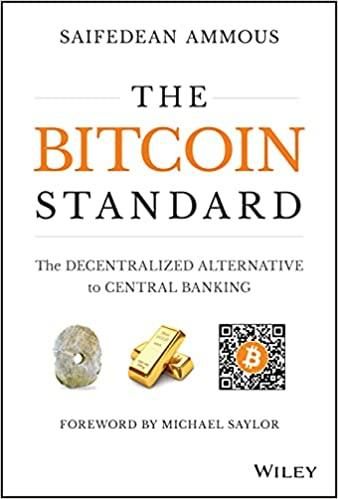 The Bitcoin Standard can be purchased on Amazon and costs $22 currently. It was written by Dr Ammous and explains how Bitcoin is a type of hard money suitable for cross-border payments. The piece has been translated into 21 languages and is considered a best-seller for understanding the economy of Bitcoin.
The book's purpose is to teach the readers why currencies were invented and what is sound money. It goes back to the beginning of civilizations to explain how seashells and different metals were used as trading instruments. From there, we went on to accept metal coins, gold, and finally paper money. Unfortunately, most of these trading instruments have failed. Dr Ammous explains that when a monetary system fails, its civilization collapses with it.
The Bitcoin Standard powers the readers with knowledge of how an internet currency is used to provide accurate and fully transparent records in a trustless manner without relying on banks and world governments. International value exchange and fast settlements are two essential features of this new system. The readers will also discover why Bitcoin needs so much energy, if it is used for good or evil, and if there is a central control of the entire ecosystem.
The Age of Cryptocurrency: How Bitcoin and the Blockchain Are Challenging the Global Economic Order, by Paul Vigna and Michael J. Casey
The Age of Cryptocurrency is an interesting introductory book to the world of crypto. It was written in 2016 by two Wall Street journalists and is about the great financial crisis of 2008 that motivated an unknown software developer (Satoshi) to create and release the Bitcoin code.
The book is about traditional financial systems and how people have lost their trust in them. The invention of blockchain technology and smart contracts was something that many welcomed with open arms. Millions of unbanked people worldwide now have access to a global and decentralized currency.
Crypto is owned and controlled by the people, and Paul and Michael are trying to teach their readers what they need to learn to manage it safely. The digital self-custodial economy is much different from what our parents grew up with.
Cryptoassets: The Innovative Investor's Guide to Bitcoin and Beyond, Chris Burniske and Jack Tatar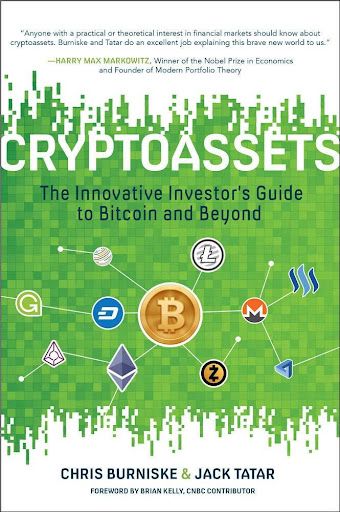 Cryptoassets was co-written by Chris Burniske and Jack Tatar, and it was released in October 2017. Both authors work as investors in venture firms specializing in decentralized technologies and digital currencies. Their book can currently be purchased for $28 on Amazon.
This piece doesn't only focus on Bitcoin. It's also about investing in alternative assets such as Ethereum, Ripple, Litecoin, Monero, etc. The readers will be taught how to research emerging technologies and manage their portfolios for maximum gains. A part of the book is dedicated to recognizing bubbles and hypes and how to stay away from them. Lastly, valuable recommendations for quality crypto exchanges and practical cryptocurrency wallets are provided.
The two authors make predictions on how cryptocurrencies could disrupt traditional investments, how blockchains have evolved to what they are today, and what subcategories of digital currencies exist. The readers can also find out what types of crypto investment opportunities there are, how to trade, and how to invest in initial offerings.
Confessions of a Crypto Millionaire: My Unlikely Escape from Corporate America, by Dan Conway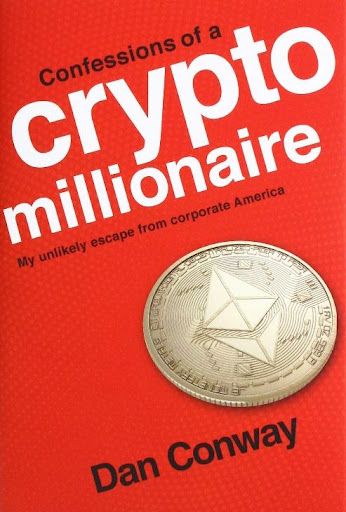 Confessions of a Crypto Millionaire is a memoir that describes the life of Dan Conway, a simple man trying to find his way around a giant US corporation. But the young executive is unhappy with his job. He is depressed and is fighting the demons of addiction.
Dan realizes that his career choice leads nowhere. The bureaucracy and corporate injustice can only bring failure and not success. In these moments, Mr Conway comes across the world of cryptocurrencies, and he immediately gets captivated by this strange industry.
Convinced that crypto is his pathway to a better future, Dan invests his life savings into Ethereum. That decision was a big gamble because he played with his own family's financial wellbeing. The book is a rollercoaster ride describing a man's struggles to keep his family together and break the corporate chains to achieve freedom and financial independence.
Dan describes how decentralized technologies changed his life. But he also focuses on the dangers that a whole generation of crypto investors don't see when they invest more capital than they should.
Mastering Bitcoin: Programming the Open Blockchain, Andreas M. Antonopoulos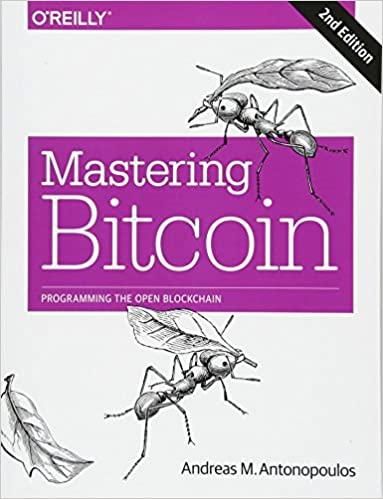 Mastering Bitcoin is another book written by Mr Antonopoulos. The piece has two versions: the 1st edition came out in 2014, and the 2nd edition was released in 2017. His book explains what Bitcoin is and how its underlying blockchain technology works. Andreas wants his readers to understand the technical aspects of crypto before investing their money.
The book provides essential knowledge to beginners and experienced developers alike. First, it introduces the readers to the concept of Bitcoin in a non-technical way. It then goes into more detail to explain the technicalities of cryptography, decentralized networks, how transactions are created, and what security standards are applied. Certain sections of the book are intended for software developers and engineers.
The updated edition of Mastering Bitcoin also describes the Lightning Network protocol and SegWit. In addition, the readers are introduced to payment channels and how to create them. There is also a segment on the different types of blockchain applications. Last but not least, Andreas explains what specific Bitcoin code segments achieve and how they were written by the developers.
Cryptocurrency: The ultimate go-to guide for the Bitcoin curious, by Paul Vigna and Michael J. Casey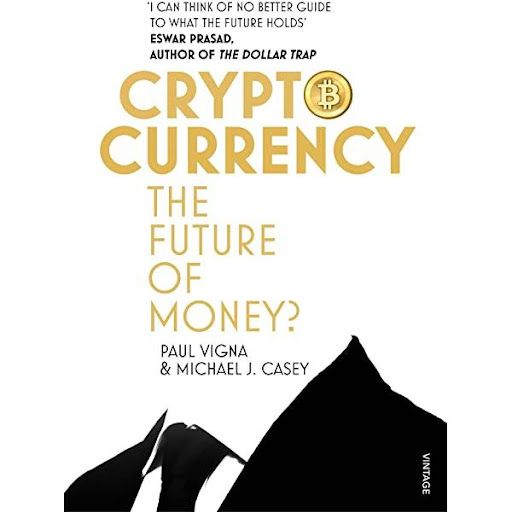 The last crypto book we will introduce today was co-written by the same duo of Paul Vigna and Michael J. Casey. They also partnered when they wrote The Age of Cryptocurrency. Their piece was released in January 2016, and it can currently be purchased for around £10 on Amazon.
It's a book meant for beginners and newbies, without too many technical explanations and jargon. For example, it explains how government-created fiat currencies work and how trust is essential to the system. But crypto changes all that. Cryptocurrencies are trustless. They don't require middlemen or the traditional banking infrastructure to be transferred from one part of the world to another.
The ultimate go-to guide for the Bitcoin curious explains the environment in which Bitcoin was born in 2008 and how an entire community was created around it. The two authors also include interesting predictions on how crypto could impact Wall Street and how the world governments might try to regulate it. The book introduces the audience to several famous crypto personalities. It explains how they began exploring the world of digital currencies.
Bottom Line
Crypto books provide the readers with a completely different experience than short articles or videos. They entail much more detailed information, written usually by experts in the field or professional authors. Books also have the advantage of not being sponsored by a particular company, organization, or cryptocurrency project. Unfortunately, that is not something that we can say about much of the content released in crypto news outlets.
The best way to acquire a complete understanding of this exciting new market is to get your information from multiple sources. That will empower you with the knowledge to realize why Bitcoin was invented in the first place and what problems crypto can solve. You are not late, and the crypto game has just started.