From Wanderlust to Crypto Trust: Ariva.world's Case Study on Embracing ChangeNOW's Widget
Ariva.world, an innovative platform revolutionizing the tourism and travel industries, has successfully integrated ChangeNOW's Exchange Widget to enhance its services and provide users with convenient and secure cryptocurrency swaps. This case study explores the collaboration between Ariva.world and ChangeNOW, highlighting the benefits of utilizing ChangeNOW's Widget and showcasing the unique features of Ariva.world's ecosystem.
Meet Ariva.world
Ariva.World is a decentralized travel and tourism portal based on blockchain technology that allows travelers to book their trips with cryptocurrencies. The platform's primary goal is to provide a convenient and secure mode of payment and settlement between participants who interact within the ecosystem on Ariva.World without any intermediaries such as centralised third-party entities or institutions. To achieve this goal, Ariva.World has integrated ChangeNOW's Exchange Widget.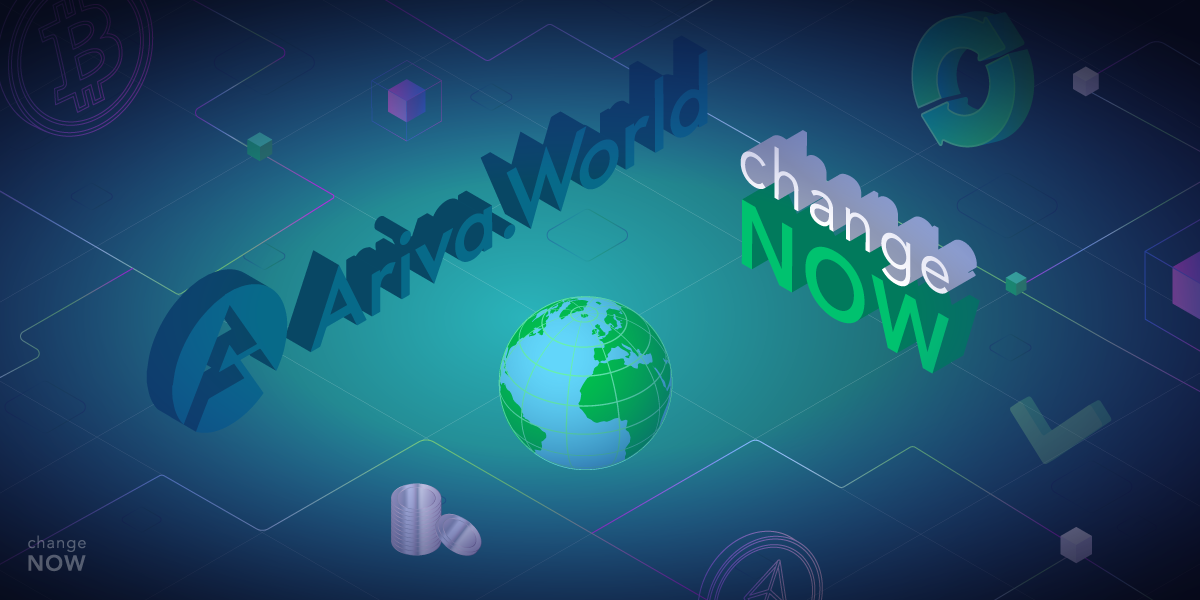 ARIVA: Revolutionizing Travel Payments with Cryptocurrency
At the core of Ariva.world is ARIVA (ARV), the native token designed to serve as a versatile utility token within the ecosystem. By facilitating seamless payment and settlement between participants on Ariva.world, ARV offers a secure and decentralized means of conducting transactions, eliminating the need for intermediaries.
Travelers can unlock a range of benefits by using ARV for their travel needs, including:
Freedom from Transaction Limits: ARV liberates users from the transaction limit restrictions set by banks on credit and debit cards during payments, both domestically and abroad.

Enhanced Security and Privacy: With ARV, travelers can avoid sharing sensitive credit card or bank account information with unfamiliar companies, preserving their privacy and safeguarding against potential data breaches.

Real-time Value Increase: Cryptocurrency transactions with ARV instantly reflect value increases in the wallet. This presents a unique opportunity for travelers to make their travel and vacations more affordable or even nearly free, thanks to the potential growth of cryptocurrencies.

Simplified and Cost-effective Payments: ARV eliminates the need to carry multiple alternative payment methods such as debit cards, credit cards, or cash. Travelers can make seamless payments using just one cryptocurrency, reducing the hassle and costs associated with traditional payment methods.

Elimination of Complex Currency Exchanges: Traveling to different countries often involves complex and expensive currency exchanges. ARV removes the need for such exchanges, allowing travelers to avoid excessive fees and save money during their trips.
Ariva Ecosystem
Ariva.world envisions a groundbreaking travel portal where giant tourism companies no longer monopolize the narrative, and unbiased customer reviews take center stage. This platform empowers thousands of accommodation facilities, yachts, transportation vehicles, travel services, and ticket booking companies worldwide to showcase their products. Simultaneously, thousands of travelers can share their experiences, ask questions, and make reservations easily, securely, and swiftly using a single new payment method.
Ariva.world goes beyond travel and introduces an extensive ecosystem consisting of Ariva Finance, Ariva Metaverse, and Ariva Club. Ariva Finance serves as a convenient and secure mode of payment and settlement within the ecosystem, eliminating the need for intermediaries. Ariva Metaverse offers users a virtual world to explore, interact, and own unique digital assets. Ariva Club rewards users for their contributions and participation, fostering a vibrant and engaged community within the ecosystem.
What is ChangeNOW?
ChangeNOW is a non-custodial exchange service that allows users to swap cryptocurrencies without having to create an account or deposit funds. It offers a fast, secure, and user-friendly platform for exchanging cryptocurrencies. When it comes to ChangeNOW's Widget, it allows businesses to integrate cryptocurrency exchanges into their platforms seamlessly.
Why Ariva.World Chose ChangeNOW's Widget
Ariva.World chose to integrate ChangeNOW's Exchange Widget due to its numerous benefits. Widget allows Ariva.World to offer its users a fast and secure way to buy and exchange not only ARV tokens, but more than 850 different assets all within their platform. By integrating ChangeNOW's Widget, Ariva.world has unlocked a new realm of possibilities for its users, enabling seamless swaps and enhancing the overall travel experience.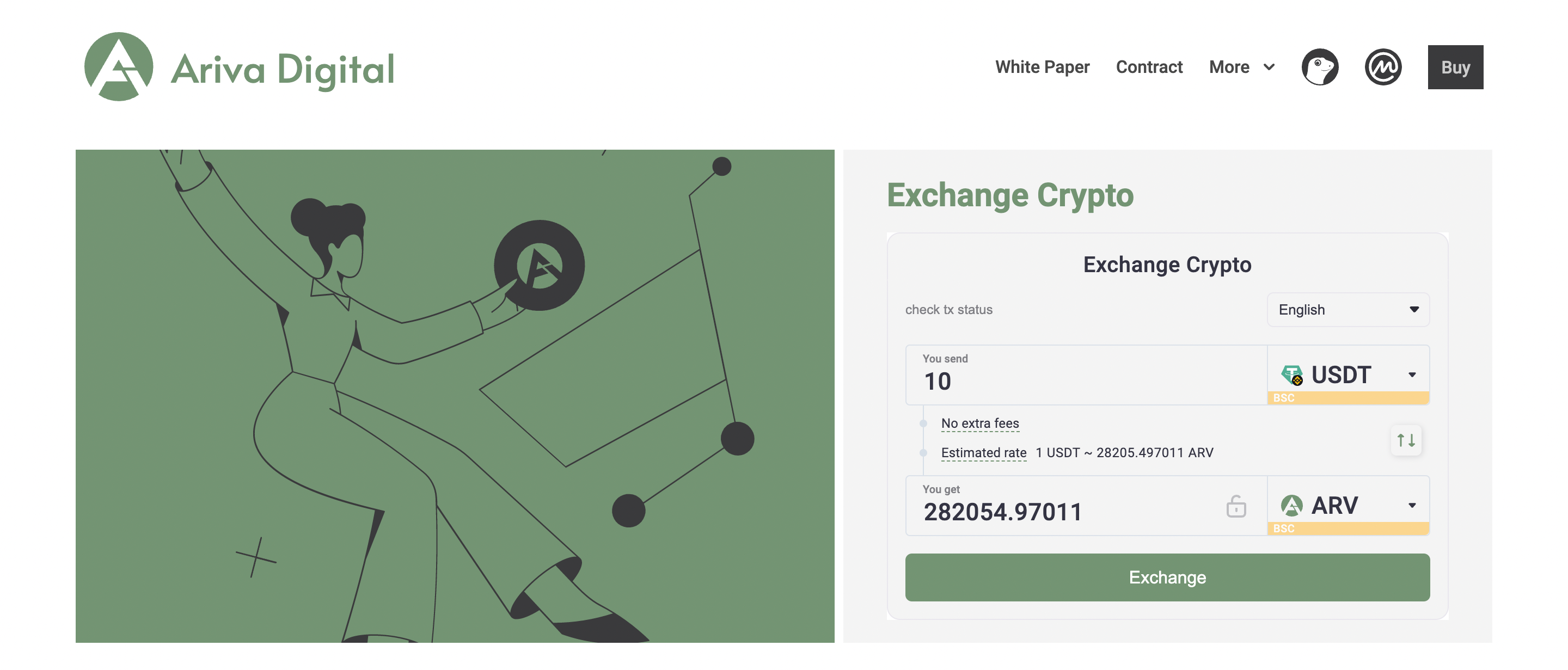 How Ariva.world Benefits from Integrating ChangeNOW's Widget:
Seamless and Secure Swaps: ChangeNOW's Exchange Widget allows Ariva.world to provide its users with a seamless and secure swapping experience. With a simple integration, Ariva.world users can effortlessly convert their ARV tokens into other cryptocurrencies without leaving the platform. This eliminates the need for users to navigate through multiple exchanges, ensuring a smooth and streamlined process.

Expanding Cryptocurrency Options: By integrating ChangeNOW's Widget, Ariva.world expands its cryptocurrency offerings beyond ARV. Users can now access a wide range of cryptocurrencies supported by ChangeNOW, giving them greater flexibility and choice in their transactions. This opens up new opportunities for users to engage with various blockchain ecosystems.

Enhanced User Experience: ChangeNOW's Widget integration enhances the user experience on Ariva.world by simplifying the process of exchanging cryptocurrencies. Users can seamlessly swap their ARV tokens for other cryptocurrencies without the need for additional accounts or complex verification procedures. This frictionless experience fosters user satisfaction and encourages increased engagement on the platform.

Security and Trust: ChangeNOW is known for its robust security measures and commitment to user privacy. By integrating ChangeNOW's Exchange Widget, Ariva.world leverages these security features, ensuring that user funds and personal information are protected during cryptocurrency swaps. This instills trust among users and strengthens Ariva.world's reputation as a secure platform for cryptocurrency transactions.
By embracing ChangeNOW's widget, Ariva.world leverages the advantages of seamless swaps, expanded cryptocurrency options, enhanced user experience and security. This integration aligns perfectly with Ariva.world's vision of revolutionizing the travel and tourism industries by integrating cryptocurrencies into the ecosystem.
Ariva.world Roadmap
As Ariva.world sets its sights on a bright future, their roadmap outlines the exciting developments to come. From Q3 2023 onwards, they plan to launch Ariva Cards, a prepaid card that allows users to seamlessly convert ARV tokens into fiat currency. They also aim to introduce merchant partnerships, expanding the acceptance of ARV across various travel-related businesses. Furthermore, Ariva.world plans to enhance the user experience with the introduction of a mobile app, enabling travelers to access the platform conveniently on their smartphones.
Conclusion
By embracing ChangeNOW's Widget, Ariva.world has further elevated its platform and provided users with a seamless and efficient way to swap cryptocurrencies. ChangeNOW's Exchange Widget integration ensures that travelers can enjoy uninterrupted and secure transactions within the Ariva ecosystem, adding another layer of convenience to their travel experiences.
If you're a regular crypto user or an avid traveler, it's time to explore the endless possibilities offered by integrating ChangeNOW's Widget into your platform. By doing so, you can provide your users with the opportunity to experience seamless swaps, enhanced security, and the convenience of using ARV and other cryptocurrencies for their travel needs. You can also find our step-by-step guide on how to easily integrate our Exchange Widget here.
Integrate ChangeNOW's Exchange Widget into your platform today to offer seamless swaps and enhance your users' travel experience.