Ariva (ARV) Review 2022
Ariva (ARV) was launched by Ariva Co. in May 2021. ARV aims to bridge the world of tourism and crypto, as the crypto industry influences international trade.
Tourism plays a key role in fostering civilization and international trade. It is one of the top industries in the world, contributing $8.8 trillion to the global economy and accounting for one-tenth of all jobs in the world. Yet, players in this mega-industry still experience complexities with making payments despite recent technology. It is for this reason that a group of anonymous individuals came together to spearhead a blockchain solution known as Ariva.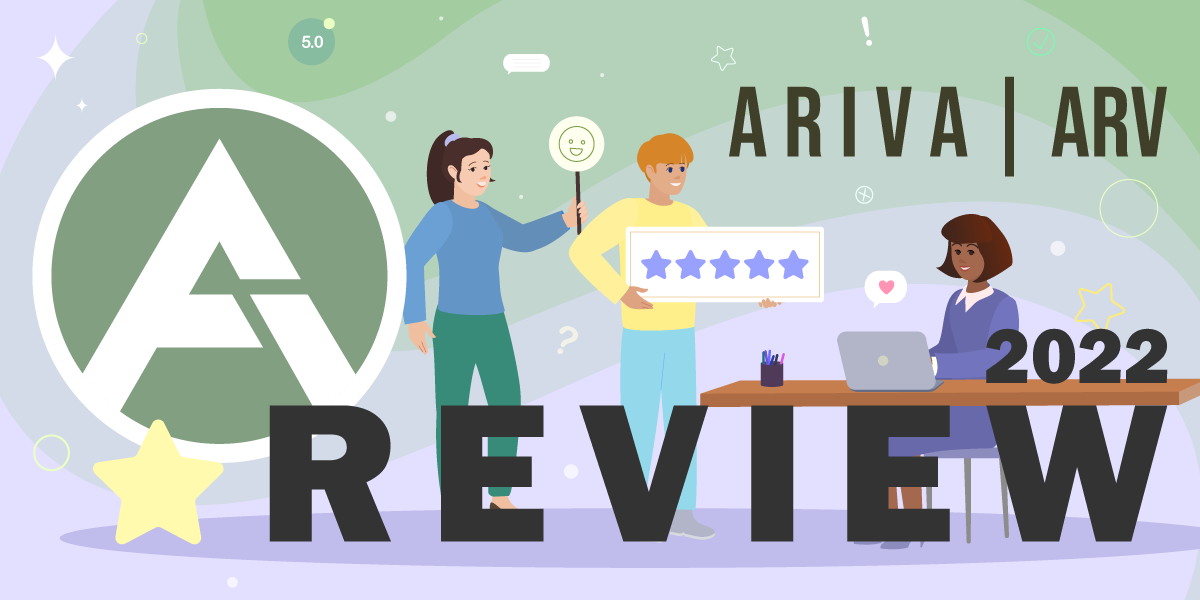 About Ariva (Main Idea and Brief History)
Ariva is a blockchain solution for the tourism industry. It is a confluence point for tourism service providers and users. For service providers, Ariva enables the improvement of tourism and travel services based on user experience and feedback. Tourists can likewise make bookings, offer reviews to service providers, and earn in crypto via reservations and content sharing.
Ariva is out to simplify payment solutions in the tourism and travel industry. It enables travelers to easily use crypto as a universal currency instead of going through the hassles associated with paying in the local currency of the destination country. With this universal payment solution, travelers would have no need for credit or debit cards.
To achieve its overarching objective, the project hopes to launch three products — Ariva.World, Ariva.Club, and Ariva.Finance. These products integrate three ecosystems, each dedicated to a particular aspect of Ariva's mission. Ariva.World is the premier Global Travel and Tourism platform fused with cryptocurrencies. Ariva.Club offers travelers a social media platform to share travel/tourism-related experiences. And Ariva.Finance serves as a blockchain-based payment gateway.
The Ariva ecosystem is powered by its native utility token ARV, which is used for payment within its universe. Users can use the token for reservations, car rentals, and other payments, which they can make anonymously if they want.
Ariva (ARV) Team
Not much is known about the Ariva team since they are anonymous. Ariva, however, assures that its team is made up of experts in different fields.
Ariva (ARV) Roadmap
According to its official website, ARIVA says it has a "long-term and permanent infrastructure designed to be integrated into the real world". The company's roadmap includes a planned launch of its mobile apps, to its opening of a metaverse.
Sitting chiefly in Ariva's plans is its proposed launch of the Ariva Wonderland. The Ariva Wonderland will be a virtual universe where time is as flexible as its existence. According to its website, users will be able to travel anywhere anytime in the present, past, and future.
Asides from time travel, earthers in Ariva Wonderland can own land pieces, personalize their avatars, assets, and anything else in Ariva Universe using NFTs.
While the rest of Ariva's roadmap can be found on its site, here is a proper breakdown of the team's plans for Q1 and Q2 of 2022:
Q1 (2022)
Blockchain For Travel Forum in Dubai
Ariva.Digital Version Update
Launching Ariva.World Dubai Company
Ariva.World Release Candidate
Launching Ariva.World Android and iOS Apps
Launching Ariva.Finance Payment Gateway
Launching Ariva.Game Metaverse Website
Publishing Ariva Wonderland Whitepaper
Launching Ariva Wonderland Pre-Alpha Test
B2B Business developments
Q2 (2022)
Growing Global Marketing Campaigns
Continuing Ariva Wonderland Land Sales
Ariva Wonderland NFT Marketplace Version Update
Ariva Wonderland Map Version Update
Launching Ariva Wonderland Creator Editor
Ariva.World Version Update
Adding Additional Languages to Ariva.World
Partnership for Ariva Debit Card and Pos Machine
Ariva Presentation in GTF Leaders Summit in Washington, D.C.
Completion of Preliminary Preparations for Ariva Blockchain
Ariva Creator (Editor design (UI) Realization for Ariva Wonderland
Listing new trading pair on major exchanges
Ariva (ARV) Network
The ARV token is a BEP-20 token that runs on Binance Smart Chain. The project also plans to develop its native blockchain to provide a unique ecosystem for all its products.
How Can I Buy and Trade Ariva (ARV)
One can purchase or swap ARV on ChangeNOW instant exchange platform. With ChangeNOW, a user can activate the fixed rate flow which locks the exchange for 2 minutes in order to shield the user from market volatility.
Other exchanges for trading ARV include Huobi Global, Gate.io, HitBTC, and Bitrue.
Ariva (ARV) Wallets
For utmost privacy and security, users can store their ARV in a non-custodial wallet such as the NOW Wallet. This wallet, which is available for Android and iOS devices, facilitates crypto swaps and purchases using a credit card or bank account.
Other wallets for storing ARV include Trust Wallet, Metamask, Coinbase, Ledger and Freewallet.
Ariva (ARV) Summary
Ariva has taken giant strides thus far that stamp its identity as the tourism cryptocurrency of the near future. With Ariva, the tourism industry could unknot a major complexity that has plagued it over the years.