zkSync Comes to ChangeNOW: A Major Step Towards Lightning-Fast Crypto Swaps
Exciting news for all the crypto enthusiasts! ChangeNOW, your top-notch crypto exchange platform, recently integrated zkSync, a unique protocol for low-cost payments on ETH. This integration brings lightning-fast transactions and an overall improved user experience to ChangeNOW users.
In this article, we'll delve into the captivating realm of zkSync, exploring its remarkable features and how ChangeNOW is bridging the gap between crypto enthusiasts and the transformative power of zkSync.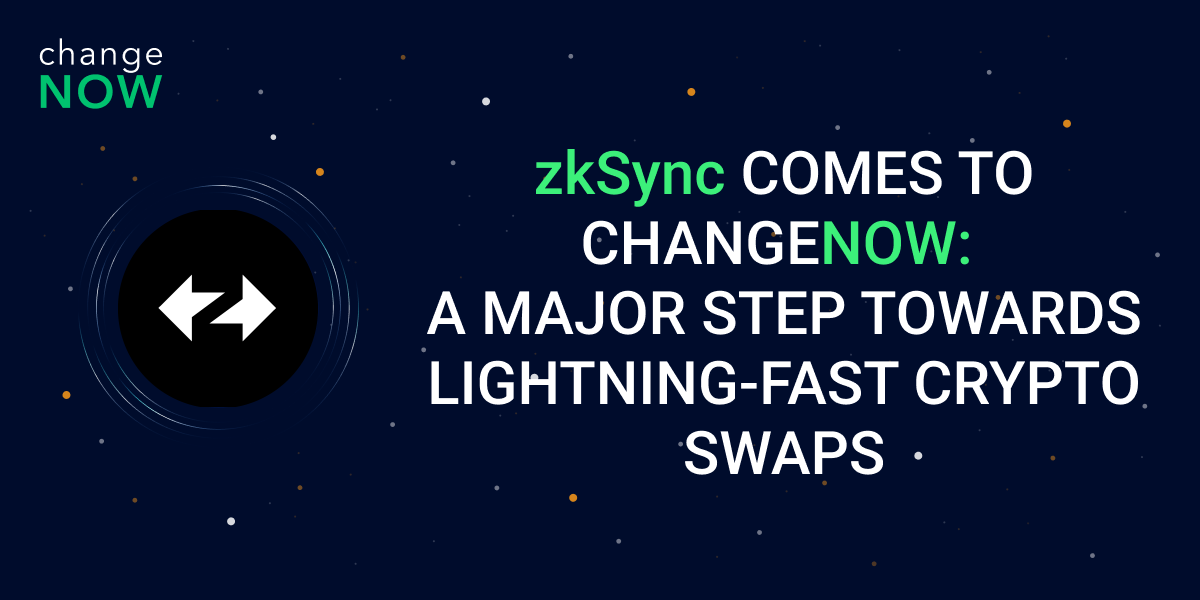 Understanding zkSync Era: A Revolution in Scalability
zkSync is a cutting-edge Layer-2 protocol that aims to solve the scalability challenges faced by Ethereum. Built on the innovative ZK technology, zkSync offers a hyperscalable solution that can process an unlimited number of transactions without compromising security or incurring high costs. This revolutionary protocol not only increases Ethereum's throughput but also preserves the core values of freedom, self-sovereignty, and decentralization at scale.
With zkSync Era, users can experience lightning-fast transactions and lower fees, making it the ideal solution for crypto swaps and everyday transactions. The integration of zkSync on ChangeNOW opens up a world of possibilities for crypto enthusiasts, allowing them to enjoy the benefits of zkSync's scalability and security.
The Power of zkSync: Key Features
Hyperscalability for Limitless Transactions
One of the most significant advantages of zkSync is its hyperscalability. Unlike traditional blockchain networks, zkSync inherits 100% of Ethereum's security while achieving unparalleled scalability. This means that zkSync can process a high volume of transactions without compromising on security or incurring exorbitant fees. With zkSync, users can enjoy seamless and lightning-fast crypto swaps, making it a game-changer for the crypto community.
Enhanced Security and Trust
Security is a paramount concern in the world of cryptocurrencies. zkSync addresses this concern by leveraging the robust security of Ethereum. By inheriting Ethereum's security, zkSync ensures that users can trust the protocol with their funds. Additionally, zkSync has undergone extensive testing and security investment, including audits and bug bounty programs. This commitment to security provides users with the peace of mind they need when transacting on the platform.
Exceptional User Experience
User experience plays a crucial role in the adoption of any technology. zkSync understands the importance of delivering a seamless and user-friendly experience. The protocol combines self-custody with intuitive and delightful user interfaces, making it easier than ever for users to navigate the world of crypto swaps. With zkSync, users can enjoy the benefits of scalability without compromising on user experience.
Thriving Ecosystem and Prominent Support
The growing popularity of zkSync is evident in the increasing number of projects and developers that have expressed interest in deploying on the protocol. Over 200 projects, including influential names like Chainlink, SushiSwap, Uniswap, and Aave, have registered their interest in zkSync. This widespread adoption demonstrates the trust and recognition that zkSync has gained within the crypto community. Furthermore, zkSync has received backing from top investors, solidifying its position as a leading Layer-2 solution in the crypto space.
ChangeNOW - Your Trustworthy Bridge to zkSync Era
ChangeNOW, a renowned cryptocurrency exchange platform, has taken a major step towards revolutionizing crypto swaps by integrating zkSync. With this integration, ChangeNOW becomes a bridge for crypto enthusiasts who want to experience the benefits of Ethereum on zkSync. By leveraging zkSync's scalability and security, ChangeNOW offers users lightning-fast crypto swaps and enhanced user experiences. This integration opens up a new realm of possibilities for traders and investors, providing them with a seamless and efficient platform for their crypto transactions.
Getting Started with zkSync on ChangeNOW
If you're eager to experience the future of crypto swaps on zkSync, ChangeNOW makes the process simple and straightforward. Follow these easy steps to get started:
Visit the ChangeNOW website.
Select the Ethereum (zkSync Era) from the list of currencies.
Enter the amount of the Ethereum (zkSync Era) you want to get.
Click on the "Exchange" button.
Enter the recipient's wallet address.
Confirm the transaction details, including the exchange rate and fees.
Send your crypto to the specified address.
Wait for the transaction to be processed, which usually takes a few minutes.
Once the transaction is completed, you will receive ETH on zkSync in your wallet.
Now you can enjoy the benefits of lightning-fast transactions and lower fees, all while preserving the core values of decentralization and security.
Embracing the Future of Digital Payments: zkSync on ChangeNOW
With the support of top investors and a thriving ecosystem, zkSync is set to revolutionize the crypto space. As zkSync Era prepares to launch its token, ChangeNOW aims to be at the forefront by integrating it as one of the first exchanges, ensuring our users don't miss out on the incredible opportunities it presents. Stay tuned for more updates on this front!
Try ETH on zkSync on ChangeNOW and experience lightning-fast transactions and enhanced user experiences. Join the revolution now!