Why Should I Join Crypto Discord? 4 Reasons
Crypto enthusiasts chat in Telegram, follow thematic Twitter channels, and some of them stay in touch with their team members in Slack and Zoom.
Discord brings together the best features of these platforms – it offers both news feed and live talks in chats. In the crypto domain, there are Discord servers (communities) where users can stay in touch with their favorite projects, learn about trends and discuss them with other members, find opportunities to raise money, and much more.
In this article, we will explain how Discord can be of service to you. You will learn to find suitable servers and make them a source of knowledge, inspiration, and maybe even profit.
Why Discord Is Not Just About Gamers
Discord was created by gamers and for gamers as a platform where players could communicate. It's organized into servers – communities for specific games, and these are divided into channels and voice chats dedicated to certain topics. Together, they form a great environment where users can talk while the game is going.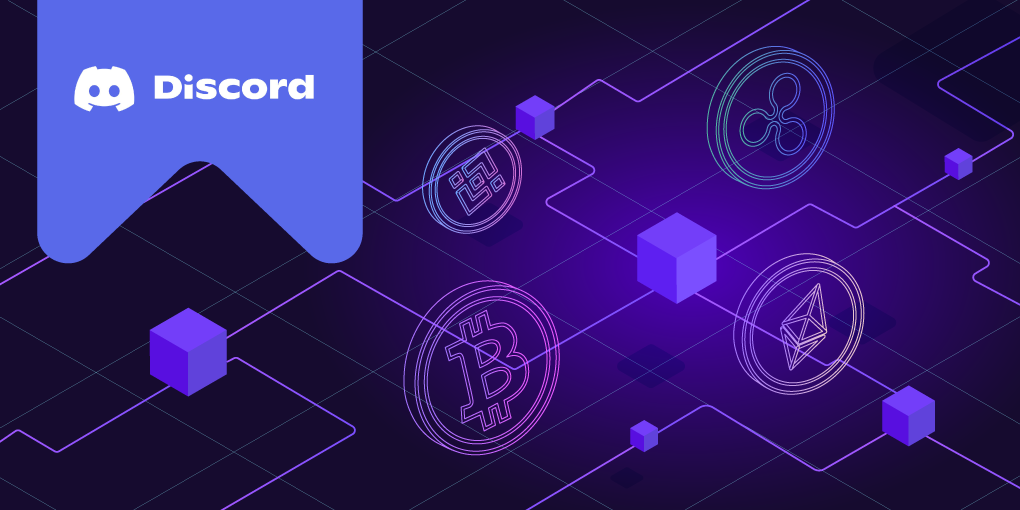 One of the basic people's needs is to stay in touch with each other. Over the years, it has become clear that Discord meets this demand not only for gamers. As the platform's team is very attentive to users, it decided to embrace new cases for their project. This is how homework study groups and music jam sessions emerged in Discord, and even big companies started to use it as a place for their corporate meetings. Eventually, the platform was adopted by crypto enthusiasts as well.
4 Reasons to Join Crypto Discord
Discord may not be as popular as Telegram or Twitter, but it boasts a bunch of features that attract hundreds of thousands of crypto lovers. There are news feeds, NFT drops announcements, trading signals, update discussions, and much more. You can stay in touch with your favorite crypto projects — and not only by reading what they post, but by engaging in live conversations. Discord is also a perfect place to find like-minded people – if you want to launch a project on your own, you can search for developers, designers, and partners.
However, remember that Discord is an anonymous community, and avoid sharing any personal information with other users before you know each other well enough. And of course, never share your private keys and any other sensitive information – if someone DMs you with such requests, blacklist them and report them as scammers.
Now, let's see what you can do in the crypto Discord.
Follow and discuss news from favorite crypto projects
In Discord, there are plenty of servers dedicated to specific coins and platforms. The links provided below are invitations to these servers. If you're new to Discord, you'll be asked for a lightning-fast signup before entering the server. Most of the groups will require you to accept their rules and verify that you're human – this helps communities to filter out bots so they don't spam the group with advertisements. Once you're done with the verification, you will be allowed to see the content and participate in discussions.
Now, let's review some of the most thriving crypto servers in Discord:
These are just some of the Discord servers focused on specific projects. Use the Search page in Discord to find a community that you wish to stay in touch with.
Your live feed from news sites and social media in one place
Some servers in Discord collect crypto-related news from various feeds and present it in a single channel. Thus, you can track everything that's going on in the crypto world without leaving the app and browsing numerous sites and social media platforms.
r/CryptoCurrency is a popular server of this kind (and one of the most renowned Discord crypto communities in general). It brings together news, discussion, and analysis on various topics. Once started as a small Reddit community, the group now hosts conversations on DeFi, trading, NFTs, altcoins, mining, and much more.

Discord is a place to track NFT drops announcements
Discord is home to many flourishing NFT-related communities. Drops of new collections are extensively presented and discussed here:
NFT Calendar posts the information on the upcoming airdrops and collection releases daily. There's a special NFT drop whitelisting procedure in the server, so you can rest assured there are only valid projects. They are listed on marketplaces like OpenSea and Rarible, and the release dates are indicated.
NFT Drops Daily is a community that also focuses on drops and giveaways announcements.
NFT is a server where you can find news on non-fungible tokens related to sports, gaming, music, and other domains. In the "introduce yourself" channel, users write how they can be of service to each other – so if you're thinking of creating your own NFT collection, use it to find an artist, a developer, or a partner for your business.
Discord is one of the best means to collect feedback from the community
A live unedited discussion is one of the best things in Discord. There are community chats in Telegram where crypto projects can initiate conversations on different topics, but they don't have the functionality of Discord that separates these discussions into channels. If a crypto platform wants to collect users' opinions regarding recent updates or anything else, Discord is the best way to do that – community members see what their peers write and actively engage in the conversation.
ChangeNOW Embraces Discord
Given all the perks of Discord, we see it as a great place to strengthen connections with our community and become even more helpful to you. Here's what we offer:
Live discussions of exchanges, updates, new listings, and more
Feed from all our media – the best of ChangeNOW news and updates in one place
You are welcome to ask questions, raise concerns, and voice your proposals about what you think we should improve
We will reward you for your activity. Stay in touch to learn more!
Here, check out our Discord server. If you're new to Discord, settle in, try its features, and see how cool the platform combines news updates and their discussion. Hope you like the platform, and we are looking forward to seeing you on our Discord server.
Welcome to the NOW experience!
Yours,
ChangeNOW team