Weekly Wrap: FTX Fiasco Triggers Market Contagion
Unfavorable developments surrounding key market players have kicked off a downtrend among major tokens as BTC, ETH, and others slump.
Most altcoins were trading in the green at the start of the week, faithfully clinging to gains from a rally going back a week. However, the controversy surrounding crypto exchange FTX caused the platform's native token to record remarkable losses. This has spilled over to other crypto assets as prices return to levels last seen in 2020. The total crypto market cap has effectively slipped beneath $1T, losing nearly $40B on Tuesday alone, and a heavy $131 billion on Wednesday.
This past week, Bitcoin pushed its way past the $21k price point, hitting a peak of $21,446. Unfortunately though, amidst the contagion, the world's leading cryptocurrency has plunged into the red losing nearly $4k in the early hours of Tuesday. While it made some initial recovery to $18,237, it slipped by some 8.86% more. BTC now trades at $16,621, a price point last seen at the tail end of 2020. Interestingly, all this fiasco comes as the premier crypto draws closer to the 14th anniversary of its whitepaper release.
Ethereum was unable to evade the negative movement falling by 23.65% in the past week. The crypto second-in-command had been consolidating around the $1500 range. However, the token entered the red on Tuesday for a sharp plunge to $1,200 and even under.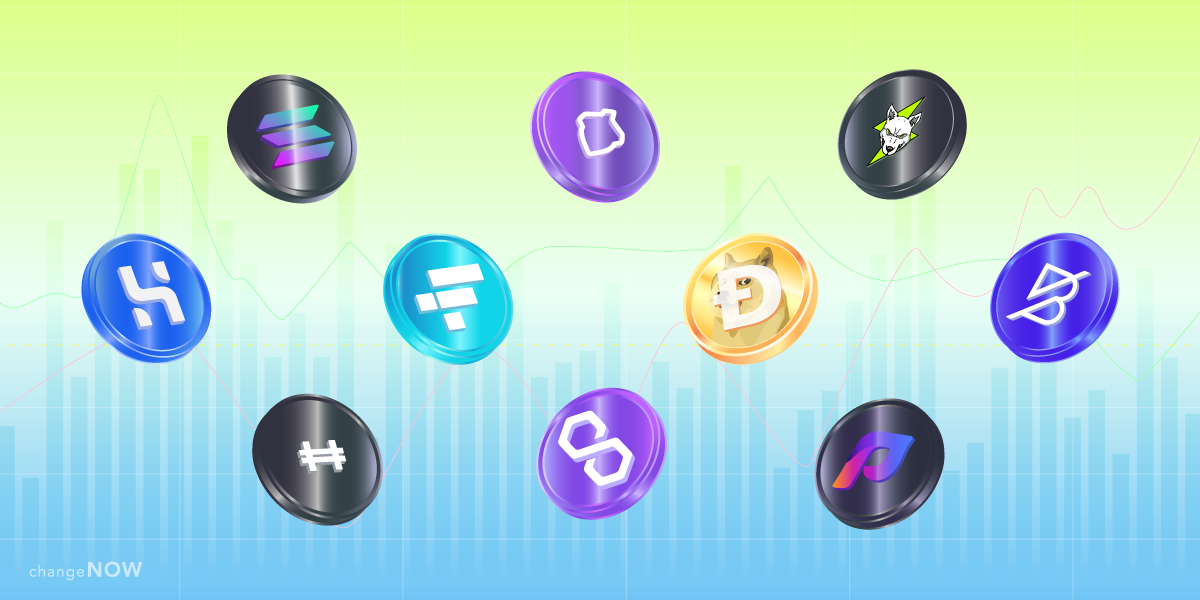 Top Gainers: BAND and MATIC Surge on the Back of New Developments
Petals (PTS)
Web3 social platform Petals saw its native PTS token draw in triple-digit gains this past week after spending the past 3 weeks trading in the red. PTS rose in short bursts as it moved from a starting value of $0.001149 to its current trading price of $0.0036. The token recorded a 213% increase throughout its journey stopping to consolidate at various points along the way.
Band Protocol (BAND)
The cryptocurrency fueling cross-chain data oracle platform Band Protocol added over 70% to its value this past week. BAND saw very bullish movement on the heels of a proposal for a mainnet upgrade to improve the platform's throughput and the overall developer experience. The token started the week trading at $1.1623, however, the positive price action carried BAND to a 3-month high of $3.62. The digital token has retraced to trade at $$1.98 at writing.
Volt Inu V2 (VOLT)
Hyper-deflationary token VOLT made the week's list of top gainers with some explosive trading in the past 7 days. The coin began climbing early with no apparent catalyst spurring the surge and was able to accrue 55% worth of gains. The price pump saw VOLT hit a monthly high of $0.000001172, however, the last 24 hours have seen the token give up 16.20% of the addition to its price for a current trading value of $0.000000848.
Telos (TLOS)
The native token for smart contract blockchain Telos witnessed a 32.18% surge in price last week. For the first few days of the week, TLOS traded at around $0.1512. However, an upswing followed the network's collaboration with multichain DeFi Hub ApeSwap for its Telos Fuel program. TLOS recorded a 90-day high of $0.2306, at press time the coin is worth $0.2002.
Polygon (MATIC)
Blockchain platform Polygon's MATIC token accumulated gains of 10.93% in the past 7 days. The token had been charting bullishly in recent times as several reports emerged regarding the network's integration with various projects. MATIC continued the trend this week even hitting $1.29 for a 3-month record. At writing the digital currency has retreated to sit at $0.9864.
Top Losers: FTT Loses Extend to DOGE, SOL Among Others
FTX Token (FTT)
Crypto exchange FTX's local FTT token led this week's top losers after sinking by over 85% amidst controversy surrounding the platform. FTX token began to fall amidst speculations of insolvency and dropped even further as Binance shared plans to offload its holdings and began moving forward with them. The consolidated at around $24 for most of the week, however, on Tuesday, news of an acquisition by Binance sent the token spiraling to a low of $3.15. In the last 24 hours, FTX has seen further lows, plunging to $2.24.
Hashflow (HFT)
HFT, the governance token for the decentralized exchange Hashflow, recorded a 74.64% price decline in the past few days. The token started the week with a trading value of $2.58 after its November 7 launch but failed to stay at the price point plunging almost immediately. HFT fell to about $1.01 and embarked on a steady decline. At press time cryptocurrency is worth $0.6402.
HUSD (HUSD)
Fiat-collateralized stablecoin HUSD has continued to sink over the past 2 weeks, charting a 38.62% decrease in the last couple of days. The token began spiraling after Huobi Global delisted it; early into the week, it made a short-lived attempt at recovery but soon returned to its decline eventually recording a yearly low of $0.2067. HUSD is worth $0.2118 at writing.
Solana (SOL)
It was quite a hectic week for Solana, the blockchain protocol's native currency started out trading at around $31.82, however, news of a partnership with Google caused the token to enter an uptrend. SOL's rally was fleeting, however, as the token erased its gains with losses worth 52.77% which Alameda's insolvency rumors undeniably had a hand in. SOL is currently trading at $15.15.
Dogecoin (DOGE)
Leading meme token Dogecoin has lost some of the gains from last week's Musk-fueled rally. The unstable market shaved off 37.98% of the digital token's price as it was caught in the crosshairs of the FTX-Binance debacle. DOGE started the week trading unsteadily at around $0.1381 but continued to slip as the week wore on, leading it to Monday's visible downturn and a current valuation of $0.0871.