Ripple Lawsuit Nears End Amidst Increasing Crypto Roles
Ripple's long-dragging lawsuit with SEC could end soon as crypto continues to play major roles in the ongoing war between Russia and Ukraine.
New Speculations on the SEC vs Ripple Lawsuit
The high-profile case involving the SEC and leading digital payments company Ripple has reportedly drawn to an end. While speaking with media network Fox Business, Ripple CEO Brad Garlinghouse revealed that according to its chairman the SEC will drop certain cases shortly.
Rumors have begun making the rounds, including a tweet saying an official confirmation is imminent. This is not the first time a settlement between both parties has been discussed. In 2021, Ripple and the SEC attempted but were unable to reach an agreement regarding the lawsuit.
The speculated settlement is expected to favor the blockchain platform. Judge Sarah Netburn recently reviewed the pertinent data, and most of it reportedly points toward caution on Ripple's part during the XRP launch.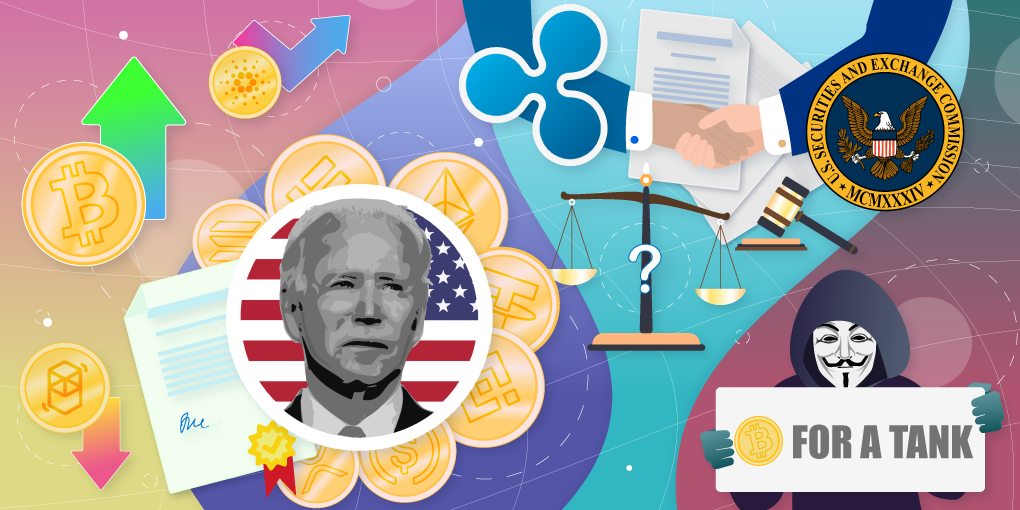 Anonymous Offers Bitcoins for Surrendered Tanks
Famed hacker organization Anonymous weighed in on Russia's recent invasion of Ukraine. Via Twitter, the hackers warned that if Putin failed to desist, he would be forced to deal with "unprecedented cyber attacks" from various regions globally.
The hacker collective supposedly made good on its threat. They claimed to have taken possession of up to 250 BTC ($10 million) following attacks on several Russian government websites in just 48 hours. Anonymous sent out a message to Russian troops as well, offering 1.3 Bitcoins to surrendering tank crews.
As the western world makes efforts to cut off Russia's financing, digital assets have drawn the attention of both sides. Ukraine's Vice Prime Minister Mykhailo Fedorov shared that they were setting up an "IT army" as the battle extends to the digital plane.
Early Fantom Developers Exit The DeFi Industry
After Anton Nell and Andre Cronje announced their departure from the DeFi space, cryptocurrency Fantom has faced significant losses. Nell's tweet revealed, however, that this was far from a hasty decision for both key team members. The Fantom foundation assured users that development would continue unimpacted by the news.
"There are 40+ people working at Fantom," read the response tweet. However, following the 16% plunge in price, it appears Fantom has been affected to some extent.
Development should carry on steadily although Nell and Cronje played huge roles in the platform's initial growth. With its foundations firmly in place, Fantom's future in the crypto space is not tied to the presence of its former workers.
Biden's Office Finalizes Order on Crypto Regulation
With Russia bypassing sanctions using cryptocurrency, an industry-wide crackdown is ongoing. Lawmakers globally have tightened regulation and US president Joe Biden has signed off on a related order. The order in question had been awaiting completion since last year; it details the nation's strategy regarding the crypto space.
Anonymous sources with information on the matter claim the order requires federal institutions to review crypto-related administration. They will also have to consider the role of digital assets in the nation's economy and security. Further down the year, these entities will have to deliver a report on their activities concerning the crypto industry.
Ukraine-NATO News Elicits Bullish Response from Cardano
Price charts have revealed bullish behavior from Cardano in the second half of the trading day. This came after news that President Volodymyr Zelenskyy was considering dropping Ukraine's pursuit of an alliance with NATO. This was Putin's stipulation for the attacks to cease, and the announcement resulted in remarkable changes across the crypto market.
Cardano experienced a price surge on Tuesday, scaling 3.4%. The world's largest digital currency was not left out as it climbed up 3.6%. Equity markets made similar moves with NASDAQ rising by 2%, however, commodity markets reacted negatively as WTI dropped by 4%.
Bitcoin Crosses $41,000 Following News on Impending Crypto Policy
Bitcoin's price is up 8% over the past day after the US Treasury Secretary, Janet Yellen's office leaked certain information by accident. Yellen's statement regarding President Joe Biden's order on crypto regulation went public one day early.
According to the official, Biden's order could potentially help resolve certain financial risks. It would entail a more thorough approach to regulating digital assets. It would also require facilitating advancement while still "protecting consumers and investors."
Following the news, Bitcoin hit the $41,000 benchmark, Swissquote researcher Ipek Ozkardeskaya says it could ostensibly go all the way to $45,000. Crypto expert Sotiriou stated that although the new regulation might initially be a drawback, in the long run it will pay off.
You can buy, sell or swap any of your preferred tokens on ChangeNOW without any registration.
Welcome to the NOW experience! The ChangeNOW team presents you with the new community-inspired crypto wallet – NOW Wallet. For safe and efficient asset tracking, try our crypto portfolio tracking app – NOW Tracker.